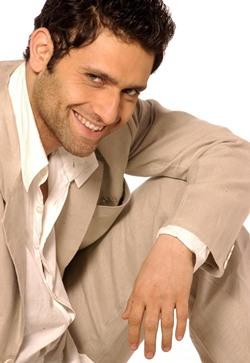 The troubled actor recently reached out to Mahesh Bhatt for work.

For those wondering where actor Shiney Ahuja has disappeared, here comes an update.

The actor, who was convicted of raping his domestic help and later released on bail in 2011, has approached Mahesh Bhatt to salvage his career.

A source close to the Bhatts confirms, "Shiney visited Mahesh Bhatt recently.

"They have worked together in a couple of films and Shiney confided in Bhattsaab that he is jobless and desperately needs work. Bhattsaab is known to bail out a lot of people in the entertainment industry who are caught in crises. He has agreed to cast Shiney in a film, to be produced by Vishesh Films."
Bhatt too confirmed the report.

"I responded to him in a humane manner because he had come to seek my support. We've worked together on two films -- Gangster and Woh Lamhe. I am trying to find a place for him in one of our productions."
While the veteran filmmaker is open to helping Shiney restore his career, he is also aware that it's a losing battle.

"According to some, his reputation has been tarnished beyond repair. I don't suffer from delusions of grandeur. But we all need to give him the right to be looked upon as innocent until proven guilty by the highest court of the country," Bhatt said.
Shiney's last film, Ghost, that released in 2012 was a big flop.
Earlier this month, he was seen at filmmaker Anurag Basu and composer Pritam's Saraswati Puja celebrations with his wife.

Anurag had earlier offered Shiney the role of Ileana D'Cruz's husband in Barfi! but the actor had turned it down.