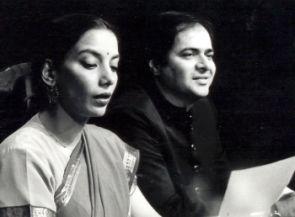 One of Indian cinema's finest actors Farooque Sheikh was on a holiday with family in Dubai when he suddenly succumbed to a massive heart attack.

At the time of writing, his wife Roopa and daughters Shaista and Sanaa were desperately trying the actor's body back to India.

Devastated by the suddenness of the tragedy, Shabana Azmi -- Farooque's co-star for 21 years in the play Tumari Amrita -- said, "I can't believe he's gone so suddenly and so cruelly. Farooque was in Dubai with his wife and daughters when he suddenly suffered a massive heart attack. He just collapsed. Is that any way to go? Now, his wife and daughters are trying to get him back to India, not knowing how to cut through the international diplomatic rules."

Shabana, who did some of her best films with Farooque, including Sagar Sarhadi's Lorie, Kalpana Lajmi's Ek Pal and Muzaffar Ali's Anjuman, not to mention the long-running Feroz Abbas Khan's play Tumhari Amrita, couldn't
believe the news.
"We were close friends from before we worked together. We were in college together. I can't believe he's gone," she says.
Farooque, who began his illustrious film career with M S Sathyu's
Garm Hawa,
went on to do some iconic Hindi films like Sai Paranjpye's
Chashme Buddoor
and Sagar Sarhadi'a
Bazar
. He was last seen in the December 2013 release, Sanjay Tripathy's
Club 60.
Incidentally, Farooque's father had also passed away in his 60s of a sudden massive heart attack.