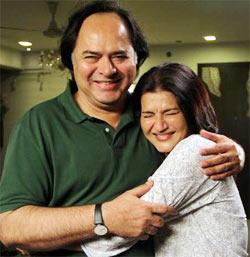 Sarika worked with Farooque Sheikh in his last film, Club 60, that released earlier this month.
She tells Patcy N what a foodie Farooque has always been, and the huge loss to the film industry.
F
arooqueji was in great health, physically, mentally and emotionally, during the shooting of
Club 60
. He was such a positive person.
It was such a shocking news for us when we woke up this morning. I could not believe it because he was in good health and a positive state of mind.
He was very adaptive. He was an important actor in Indian cinema but more than that, he was very decent, happy and intelligent. I don't know which aspect of his personality I should talk about because he was so complete. You could talk to him about anything, from politics to films.
He was very passionate about his favourite movies. If he liked a film, he would call or text and recommend the film. He would also say which actor or director was good. He was a true cinema fan, and that is very rare in
an actor at his stage.
He was a foodie. In fact, our last SMS was planning our next 'food' outing. We were discussing restaurants where we could all go. It was a huge discussion, like planning the government!
We were discussing places where we have been and the good and bad dishes served there. The main discussion was between him and Satish Shah -- they have been friends for 40 years.
Farooque Sheikh had a great sense of humour. He would tell us many stories and sometimes, in the middle of the shot, we would suddenly start laughing. Because our directors had a very good sense of humour, they would also laugh. Then we would start shooting a sad scene!
My favourite Farooque Sheikh films are Yeh Jawaani Hai Deewani and Club 60.
I liked Club 60 because it was a very one-dimensional film. It is not an easy role at all. I made friends with him during that film.
I don't regret working with him earlier because I think it was our destiny to work together later on in Club 60.
Farooque Shaikh's death is a very big loss.