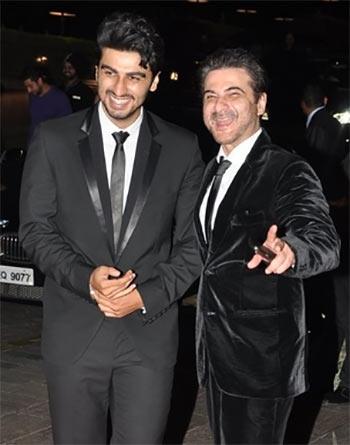 'Arjun and I have lived under the same roof for most of our lives. I was the one who used to take him out.
'The first drink he had was with me. He has travelled a lot with me and the first time he went to a club was with me in New York.
'I have also fired him when he was young because of his eating habits.'
Sanjay Kapoor talks Tevar, and more.
"I am confident that Tevar will be loved by everyone," Sanjay Kapoor announces boldly, during an interview about his production debut, Tevar, starring his nephew Arjun Kapoor.
The actor-turned-producer was last seen in a cameo in Zoya Akhtar's Luck By Chance.
In this candid conversation with Sonil Dedhia/ Rediff.com, Sanjay tells us why Arjun is the perfect choice to play the lead role, and why he did not get his due as an actor.
Tevar is your first film as a producer. Are you feeling the pressure to deliver a hit?
Yes, there is some pressure. At the same time, I am happy that people love the trailer and the songs.
We are all very happy with the final product and hopefully, the film will do well.
What took you so long to take the plunge?
Back in 1998, I wanted to become a producer, before Sirf Tum had released.
I thought I should get into production because I'm more practical and commercial. I always knew I'd be a good producer. I'm a people person. I'm great at managing things.
But when Sirf Tum became a hit, I put my plans on hold.
In the past few years, you have hardly acted in any films. What have you been doing?
I didn't set up a jewellery shop on Linking Road in Bandra! (laughs) People only know what they read in newspapers.
Tevar has been in the making for two-and-a-half years. We had been hearing various scripts.
Amit Sharma wasn't signed as director in the first go; we had lots of directors in mind and had to shortlist them.
I was involved in everything, from the music to selecting the locations.
Shooting is the easiest thing to do; it's the process before that is tedious. You have to hire the right man for the right job.
The basic plot of Tevar -- of a boy rescuing a girl from a local politician, who wants to marry her -- is not new. How do you differentiate Tevar from the rest?
My father was a producer and as a kid, I would sit with him and other learned people and they always said one thing: There are only two scripts in Indian cinema -- Ramayana and Mahabharata.
All the screenplays revolve around these two great screenplays.
The differentiation factor in Tevar comes with its casting. Arjun (Kapoor, who plays the lead) hasn't done something like this before.
We also have a new director (Amit Sharma) who has a fresh take on the subject.
We haven't shot in exotic locations but the film is still mounted on a big scale and that makes it look different.
Was Arjun the obvious choice?
We wanted a young person to do the film. I feel in the younger generation of actors, only Arjun could fit the bill.
Even if the film was made by someone else, I am sure their first choice would be Arjun.
It's not that he is cast in the film because he is my nephew.
Why do you say that only Arjun would fit the bill from among the younger generation of actors?
When I was making the film, I realised Arjun's body language is extraordinary when doing action scenes.
Since hum bhi actor reh chuke hain, (since I too was an actor) I know that action is not just about jumping, running, kicking or doing a stunt. It's your body language that makes it look real and believable.
He has done movies like Ishaqzaade; he is the only one in the young lot who has done this kind of film. He was fantastic in Gunday too.
With Tevar, he has taken his performance to a different level.
New actors know everything but don't have the rawness. Arjun was an exception. With time, he has improved his performance.
When I saw him performing live in front of the camera for the first time, I realised he has reached a point of perfection.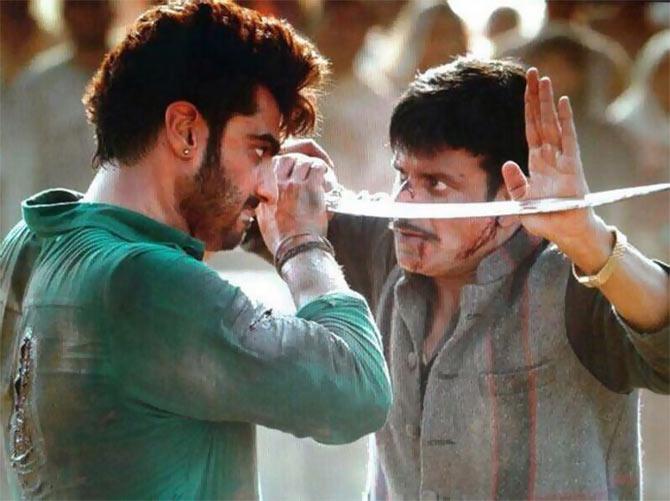 Image: Arjun Kapoor and Manoj Bajpayee in Tevar
You could have easily returned to acting with Tevar, probably by playing the antagonist in the film.
Tevar was not meant to push my career as an actor. Tomorrow if I feel that there is a role and I feel I am a great choice for it, I will definitely take it.
For Tevar, I felt that Manoj (Bajpayee) was a better choice. For me, the film is more important than me coming in as an actor.
With Manoj coming in, Tevar suddenly looks more believable. He has this knack of bringing respectability to the character.
If I get a good role with a good director, I will surely do it. I am doing Shaandar with director Vikas Bahl.
How has Shaandar shaped up?
The film looks fantastic. Two songs have yet to be shot and I am very positive about the film.
It was really amazing to work with Shahid (Kapoor), Alia (Bhatt) and Pankaj Kapur.
Do you feel bad that you haven't got your due as an actor?
I don't feel bad but I believe I deserved more. I have done good films. Now I am turning a new page in my career and I hope I do well as a producer (smiles).
Your elder brother Boney Kapoor has been a successful producer. How much did he help you with your first production?
I am a fortunate person because people who are not related to Boney take his advice. He has produced more than 40 films and some of them have been blockbusters.
When I was an actor, he produced several of my films. But I never saw him on the sets because I guess he was the first person to produce five films at one time.
Boney would sit in the living room and make films on the phone! He would give instructions over the phone to his assistants on various projects.
With Tevar, he was a hands-on producer. He knew it was my first film as a producer and it also starred his son Arjun in it, so he took special interest in the film. I hope he is always there to guide me.
Anil Kapoor is a producer as well. Now that you have become a producer, can we see the three of you coming together to revive your father's production house?
I don't think so because we are all individuals, with our own opinions about what kind of content we would like to produce.
When three of us can manage on our own, make more films, and make our father more proud, why should we come together to make one film? (laughs)
Was Arjun given preferential treatment on the sets?
Not only Arjun, we pampered everyone on the sets.
One thing that we have learnt from our father is to keep the unit happy.
I think we pampered Manoj (Bajpayee) a little bit more (laughs). Kehte hai na ki ghar ki murgi dal barabar (winks).
I took advantage of Arjun by using his vanity van all the time. I would eat my food in his van, steal the chicken tikka from his dabba, and hold all my meetings in his van.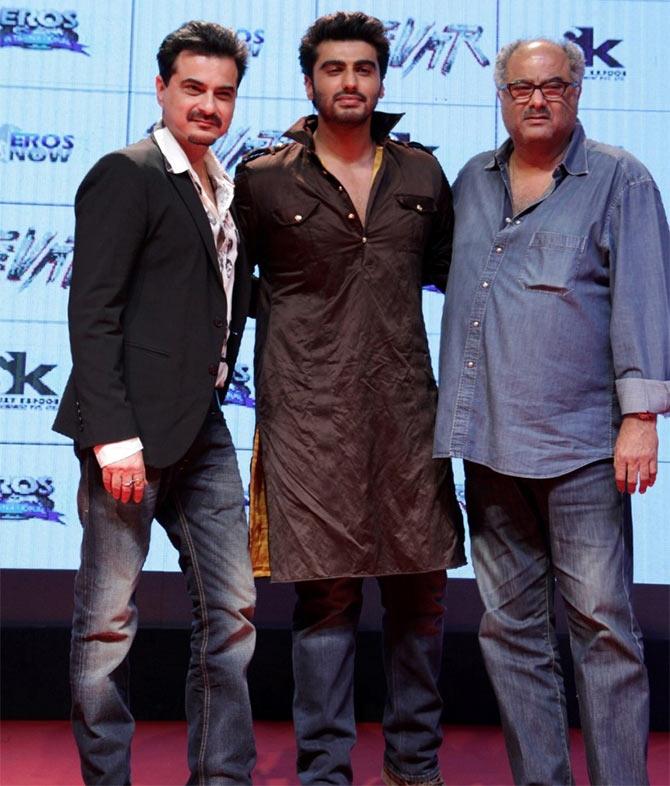 Image: Sanjay, Arjun and Boney Kapoor. Photograph: Pradeep Bandekar.
What kind of relationship do you share with Arjun?
I have a lot of nieces and nephews but Arjun and I have lived under the same roof for most of our lives. I was the one who used to take him out.
The first drink he had was with me. He has travelled a lot with me and the first time he went to a club was with me in New York. So I share a special bond with him.
I have also fired him when he was young because of his eating habits (laughs).
Is there a possibility of Arjun not being in a film produced by you?
Yes, it's possible. If I love a subject and Arjun doesn't fit the bill, I will go ahead and make it with other actors.
I will not let go of a subject just because I can't cast Arjun.
What kind of films would you like to produce?
I want to make good films. I don't think 'Arjun ke liye subject suna do.' (Let me hear a subject that suits Arjun)
I hear a subject and if Arjun fits in then great. I make him hear the script and he will decide whether he wants to be a part of the film.
I have learnt this from Boney. As a producer, he never asked directors or scriptwriters for a story that could have Anil or me in the lead role.
Several films from the 1990s are being remade today. Would you like to remake any of your films which you think did not get their due?
Prem was one film that did not get its due. It was a great subject. In fact, others who were inspired by it made blockbusters but our film, for some reason, did not work.
It is all about the timing of the film. Prem came at a time when my other film Raja was releasing and people loved me in the song Ankihyan Milao which was the rage. Prem was a reincarnation film and it looked old.
Sirf Tum was a surprise hit. When it released, no theatre was ready to show the film. They would say, 'Kaun jayengee Sanjay Kapoor aur Priya Gill ko dekhne.'(Who will go to see Sanjay Kapoor and Priya Gill).
But the content was so strong that the film worked. These subjects come once in a while and I would like to remake that too.
Is there anything that you are producing after Tevar?
I am listening to scripts, but right now the entire focus is on Tevar. It's my first film and it's the first time that Arjun is working for his home production.