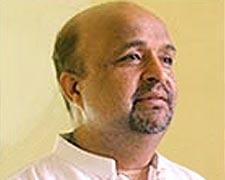 Lyricist Sameer's father -- noted lyricist Anjaan -- had worked with Dev Anand on numerous films. Sameer talks to A Ganesh Nadar about his meetings with the late legend.
I never got a chance to work with Dev Anand but my father did many films with him like 
Swami Dada
and
Anand Hi Anand
.
I missed two chances of working with him. We were in talks with Anu
ji
(
Malik
) for a film but it never got made. When my dad was writing for him, I used to go with him to meet Dev
saab
. The meetings were always fun as he was full of life. We used to meet at his place or at Pancham
da
's (
R D Burman
) place.
Listen to Dev Anand's songs here.


He was so passionate and full of energy on the sets. It was contagious. I had met him recently on the sets of his latest film,
(Chargesheet)
. I had seen him on the sets 25 years ago before that. There was no difference in his attitude. He was still as enthusiastic.
There are two things that I noticed about Dev
saab
-- he always put in a great effort to look good and he kept working. I don't remember seeing him sleeping on the sets or even resting. He was very active. It was his work that kept him youthful. He is an inspiration to every youngster in the country.
He always said to me, 'When I see you, I always think of your father Anjaan. He was a very good man.'

He was a great human being. Inspite of being a superstar, he was down to earth. Once my father was not feeling well. I had taken him to a hospital in Bandra. We met Devsaab on our way back from the hospital. He saw daddy and asked him where he was going and where his car was.

Daddy told him that he did not have a car and that I would take him home in a cab. 'You cannot do that when I am here.' Devsaab said. He drove us from Bandra to Juhu, and then went back. Only a great soul like him could do such a thing.

There were three pillars to the Hindi film industry: Raj Kapoor, Dilip Kumar and Dev Anand. We have lost yet another pillar. He was an institution in himself.

He had a great sense of music. All his songs were hits. He knew what kind of music will be liked by the audience. He and Panchamda were dear friends.

It's a great loss for the film industry and the country. God makes very few people like Dev Anand. The void he has left behind will never be filled.

Please post Your Tributes to Devsaab here.