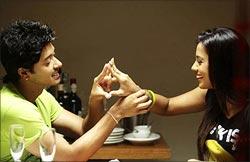 Preeti Arora feels Will You Marry Me follows the oft-trodden path of ingenuous sex comedies but fails.

It's a huge crowd waiting to throw their graduation caps in the air. A threesome is seen bickering. Cuss words are thrown about. There are beeps and an occasional a*****e and pimp that have probably escaped the censor's notice. 
Shreyas Talpade (Aarav), who is normally cast in age-appropriate roles is seen as a man in his early twenties. He lacks the social skills necessary to forge a casual relationship with a woman. As the frustration builds, he finds the perfect punching bag in Rajeev Khandelwal (Rajveer), a smooth talker who changes his modus operandi every time a new woman walks past him. 
Crude, yes, and low-brow too. But completely convincing. This raggedy trio, which includes Muzamil Ibrahim are people you would expect to find enjoying the happy price menu at the closest burger joint. They talk loudly, crack lewd jokes and break into fistfights on minimal provocation.  
Will You Marry Me
follows the path taken by many recent films where the protagonists hate women, find them manipulative and wished they could do without them. These men showcase bi-polar personalities -- they are charming and polite to women but harbour vicious feelings for women at whose hands they have 'suffered'.
Pyar Ka Punchnama, Dil To Bachcha Hai Ji
are two of the names of such films that come to mind. 
And it seems to have become an accepted fact that the lack of a saleable 'star cast' must be compensated for with over-the-top gags, pelvic thrusts and incessant double-meaning dialogues. 
Muzamil Ibrahim (Nikhil) is the so-called stud of the group. His time is spent playing peacemaker between his two warring friends, or convincing his fiancée how his chums may say and do all the wrong things but they have hearts of gold and in times of stress, they will stand by him. 
A couple of years after they finish school, about a dozen friends gather together for a pre-wedding bash. It's that time in their lives where each one is willing to give up his peace-of-mind and mend their wild
ways for the promise of wedded bliss. Aarav comes up with this half-baked scheme about how each friend must invest some money and the entire jackpot will be given to the one who resists the joys of matrimony and vows to remain a confirmed bachelor. In other words, an unashamed, unapologetic womanizer. 
But then even the most cynical of us succumb to the idea of everlasting love at least once in their lifetime.
So Nikhil proposes to Anjali (Tripta Prashar) and nuptials are set to happen soon in Dubai. Muzammil is the least known actor out of the three but he undoubtedly deserved a better co-star. Tripta looks old, can't act and comes across as pathetic rather than irritating. While the rest of the cast struggles valiantly, Tripta's performance disrupts the flow.  
Shreyas Talpade experiments with his look, refrains from the heavy make-up and effectively slouches and prances across the screen the way only a 25-year old can. Shreyas takes what's thrown at him -- mainly a lackluster script and some pithy dialogue -- and attacks it with gusto, giving you at least a few LOL-worthy moments. Most particularly the scene in the bathroom where he curses himself and his fate. 
Mugdha Ghodse as the brides' best friend gives us adequate skin show and underplays her role. A wise decision considering the male brigade was each trying to outdo the other for the Ham-of-the-year award.
Paresh Rawal moves away from the comic roles he's been inundated with for the last few years and puts in a brief appearance as the 'gutka king'.  He's sleepwalked his way through the role. Given that even an actor of his stature wasn't given the scope to 'act', we wonder what director Aditya Dutt was doing. 
The redeeming feature about
Will You Marry Me
is the complete lack of pretensions. Vulgarity, crass humour (including a scene with a bare-chested Muzammil sporting a black-and-white candy striped bra) comprise the ethos of the film. While most of us may dismiss the film outright, there are always a few takers for these so-called 'ingenuous' sex comedies. 
Maybe that's why they're being dished out with such amazing frequency.
Rediff Rating: