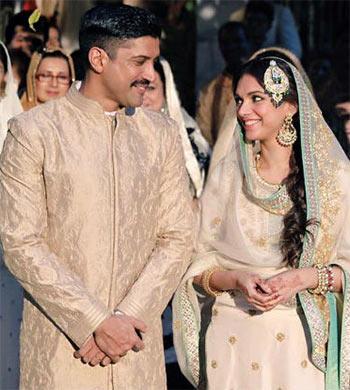 Wazir has some good songs but they will not be memorable, feels Aelina Kapoor.
The soundtrack of Vidhu Vinod Chopra's Wazir seems to be inspired from his earlier film, Parineeta.
Composer Shantanu Moitra puts together the opening number Tere Bin in the same mode as Piya Bole.
The styling, setting and even the singers are same: Sonu Nigam and Shreya Ghosal. The poetic appeal (courtesy Vidhu Vinod Chopra, as a lyricist) is what takes forward Tere Bin well into its four-minute duration. Nonetheless, Tere Bin is a good hear.
However, it's surprising to find composer-singer Ankit Tiwari and lyricist Manoj Muntashir collaborate for Tu Mere Paas and step into the arena which is dominated by Chopra's sensibilities. The idea probably was to bring in a commercial element.
Tu Mere Paas is a good follow up to Tere Bin.
Then there the mandatory 'sufi' number Maula, by Javed Ali. This one is a quintessential situational number.
Shantanu Moitra, along with lyricists Swanand Kirkire and Vidhu Vinod Chopra, have kept things simple with this soothing number. But you will not be compelled to hear the song again.
Things turn dramatic with Prashant Pillai's Tere Liye Mere Kareem. Written by Turaz, this appears to be the song which will played during the film's climax where a man avenges the death of his friend and gets all fired up to destroy the evil around him.
Gagan Baderiya and Prashant Pillai do well behind the mike to add on to the dramatic appeal.
Amitabh Bachchan comes up next with Khel Khel Mein. It's a wonderful number put together by composer Advaita and lyricist Abhijeet Deshpande. However, it would have been better if the song was longer and if Mr Bachchan had more lines to sing. It would have added to the haunting appeal.
Newcomer Gaurav Godkhindi concludes the album with the Wazir Theme, which adds to the mysterious element of the film. With a good pace and western instruments, it's a fitting finale to the album. Let's hope it is used well in the film's narrative.
Wazir has good situational soundtracks that don't aim to set any records but go well with the theme of the film.
Rediff Rating: