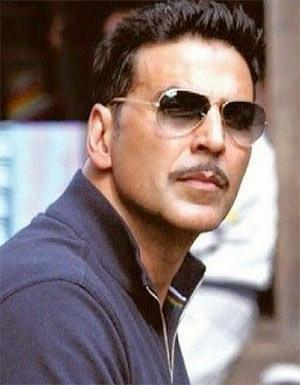 Neerja Pandey's Baby, one must say, wouldn't have been as interesting without the lead troika, writes Prasanna D Zore.
Rakesh, an Indian counter-intelligence officer, has been double crossed, and is captured by terrorists, somewhere in Istanbul. A bunch of six or seven toughies take turns to slap him, punch him in the face. They torture him. There is lot of blood on his face. His eyes are swollen. But when he spits, there is no trace of blood.

One wonders, how a director like Neeraj Pandey could have overlooked such technicality. Remember Special 26 and A Wednesday?
There are lots of instances when you wonder if Pandey is actually the director of Baby.
Can you imagine special agent Akshay Kumar and his boss Danny Denzongpa getting down from a car at South Block (Ministry of External Affairs), entering its hallowed precincts and suddenly find themselves inside a tall, glitzy building, with a glass-covered facade? When did MEA undergo this makeover, Pandeyji?

Can you imagine a scene where a dreaded terrorist, who claims he has killed more than Kasab (Mohd Ajmal), being ferried out to the court and back in a convoy that is just a little bigger than those that take undertrials with theft charges to courts?

Can you imagine, that in peak Mumbai hours, there is hardly any traffic on the roads, and this more-dreaded-than-Kasab terrorist succeeds in escaping after a bang-bang encounter with a bunch of cops?

And yes, Akshay Kumar needs to tell his make-up guys to not dye his hair so shiny black. It hits you in the eye, especially when you spot a little strand of grey close to his ears.

Pandeyji, please note that the background score is supposed to compliment a thriller, not overwhelm the proceedings on screen.
Coming back to the film, Rakesh is obviously in great pain, but is not showing it. Perhaps, he is half dead. But he has not lost hope.
He drags on through the proceedings.

The first half of Baby makes you feel you are Rakesh.

But when you make it till the film ends, you will feel happy that you sat through the torture in the first half.

Pandey makes up for all the inconsistencies in one fine stroke: By not letting Rana Daggubati talk much, that is, whenever he makes his presence felt. That, in itself will save the audience many blushes.

Taapsee Pannu, as Kumar's partner-in-crime in Nepal, shows lot of promise, both in the looks and acting department. She plays a cameo, but an impressive one.

Baby picks up only in the second half. The film shows you never-seen-before, picturesque Kathmandu and Saudi Arabia, as we go in search of Bilal Khan (Kay Kay Menon), an Indian Mujahideen top gun, who escaped from Mumbai in broad daylight and is planning an attack on Mumbai or Delhi.

And then enters Anupam Kher, Bollywood's answer to Hollywood's Vingh Rhames helping our desi Tom Cruise achieve his Mission Impossible!, by hacking cameras and shutting power circuits.

With Anupam Kher entering the scene, the plot thickens. You begin to enjoy the movie. You feel, you are in the midst of a spy thriller. Add to it, Akki and Kher repartee-ing, pulling punches at each other, and it gets better.

While the plot in the second half holds itself nicely, Akki-Danny Denzongpa-Kher (Daggubati is just an add-on here too) offer their best to play it as real as it gets.

The second-half, especially the climax is where the film has scored well and keeps you on the edge of your seat.

Pandey's Baby, one must say, wouldn't have been as interesting without the lead troika.

Go watch Baby for Akki-Kher-Danny troika!
Rediff Rating: