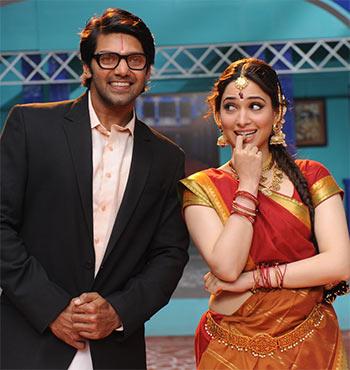 Vasuvum Saravananum Onna Padichavanga is a silly and tasteless romantic comedy that's not worth your time, warns S Saraswathi.
Director M Rajesh's brand of comedy is getting quite stale.
The template that once worked in movies like Boss Engira Bhaskaran and Oru Kal Oru Kannadi makes you cringe now.
There is much screaming, shouting, ridiculous punch-lines and irrational women, whose chatter gives you a headache. Rajesh seems to have a knack of reducing his women to stupid and unreasonable characters.
In fact, actor Vishal, who makes a cameo as the assistant commissioner in the climax, attempts to sum up the film for us. He explains how women are like beer, which has to be consumed without any mixing while men are like brandy, which can be mixed with just about everything. This means that women are lonesome creatures, who prefer to be alone and men get along well with everybody and are born to have fun.
The film is cleverly titled Vasuvum Saravananum Onna Padichavanga (VSOP: don't miss the liquor connection in the title).
The plot is very simple. Saravanan (Arya) and Vasu (Santhanam) are childhood buddies. Vasu is newly married to Seema (Bhanu) and Saravanan has a girlfriend named Aishwarya (Tamannaah). Both Aishwarya and Seema want their men to break the friendship, as they find it too intrusive and interfering.
The entire film is all about how Vasu and Saravanan continue to remain friends without upsetting their lovers.
With the tried and tested combination of Arya and Santhanam, there is no lack of jokes. Some of them are fun, but mostly they are crude and tasteless. It is Arya's 25th film and he has produced it himself. But the actor appears too detached, consciously taking a back seat and letting Santhanam bask in the limelight.
Cool and sarcastic, it was Santhanam and his sharp comebacks that got most of the audience applause.
Tamannaah, as the stubborn girlfriend and Bhanu, as the unreasonable wife, are pretty convincing.
Karunakaran, who appears briefly as their third friend, brings in plenty of laughter.
Director Rajesh projects a world where the men are portrayed as tortured souls and women are shrews. And the best way to marital harmony is to lie to your wife, while continuing to drink and make merry. It is hard to say whether he is jesting, or if he actually believes that he has found the solution to a happy marriage.
Whatever the motive, the offending script make Rajesh's Vasuvum Saravananum Onna Padichavanga a silly and tasteless film that does not deserve your time.
Rediff Rating: