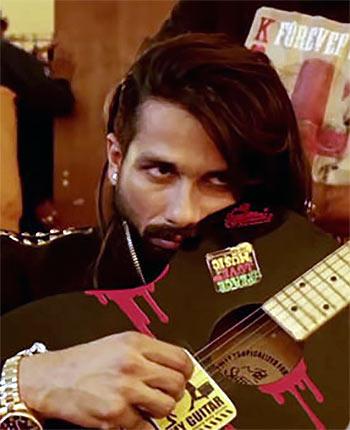 Udta Punjab is a wake-up call, an important film and a mighty impressive one at that, carrying a loud anti-drug message, raves Sukanya Verma.
Under a starlit sky, tall green trees flanking vast fields nod their heads to the swish of the cool midnight breeze as if caught in a trance.
It's the sort of magical setting that sparks romance and poetry.
Just then, the serenity of the night is rudely interrupted by the appearance of a spherical package. What looks as wholesome as a wheel of Gouda cheese conceals a supply of pure and potent heroin.
Right at the onset the message is clear -- even if preceded by an unusual number of disclaimers -- the only high Abhishek Chaubey's uncompromising Udta Punjab aims to probe has little to with the gifts of nature but rather the prolonged abuse of it.
The experience is so fiercely consuming and staggering, I cannot decide where to begin.
So I'll start by saying how well researched it is, weaving available information and episodes into a compact narrative yet retaining its own artistic identity in a manner most stunningly original and idiosyncratic.
For many years, Punjab's severe drug epidemic, powered by freely operating cartels, sneaky cross-border trafficking, phony de-addiction centres and a mutually-beneficial nexus between greed-driven politicians and narcotics police has debilitated the state's economical and social progress, wolfed down an entire generation or its psyche, hindered every possibility of reform and sucked the land of five rivers dry.
It's a disturbing, incomprehensible reality, one the inhabitants of Mexico would instantly relate to, as cheekily pointed out in the movie on a couple of occasions.
Chaubey incorporates a significant deal of the reportage and a cinematic sprinkle of the reference to fashion a gutsy drama that boldly alternates between dreams and nightmares, agony and adventure, loss and epiphany, bleak and ballsy, weakness and willpower.
As in his previous films, Chaubey picks a fine ensemble of stars and character actors to convey this disorderly journey of individuals both directly and indirectly in grip of/or responsible for Punjab's indiscriminate drug scourge.
Of the four, Kareena Kapoor Khan gets the least in terms of length. She's the narrative's most conventional character but the one Udta Punjab greatly relies on for warmth and virtue.
As a doctor engaged in rehabilitation, she's the voice of sanity and optimism. And because it's gifted Kareena, it comes wrapped in oodles of luminous grace too. Even if the romantic track between her and Punjab star Diljit Dosanjh, marking his Hindi film debut, is a tad abrupt, it progresses sweet-naturedly enough to rankle.
In a film justly critical of highs achieved from injected dangerous drugs, it's only fair to celebrate the ones we reach in the grasp of new love.
Meanwhile, Dosanjh packs in a compelling screen presence. He is precise and discerning in his portrayal of a police inspector familiar with both the sides of the story -- the victim, the victimiser.
Despite the ostentatious surface, Shahid Kapoor's bursts of manic energy never once hit a false note. Like an actor who's honed his skills and understands the essence of timing, Kapoor is spectacularly unbridled as the high-strung, expletive-firing, irreverent pop star who pees in (and at) public, only a portion of it makes it on screen. But the believability he brings to his complex transition while preserving his inherent flakiness deserves all the praise.
As the Bihari immigrant, with whom he shares a flawless 'strangers in the night' moment, Alia Bhatt's is the most unsettling arc in Udta Punjab. A tangible illness wears her discoloured being and disturbing interactions around even more unhinged folk, Bhatt and her skilful accent convey this formless existence, in the absence of past, presence or future, with an extraordinary mix of melancholy and madness.
Udta Punjab doesn't spell out the withdrawal syndrome its characters endure or the addiction's all-consuming cravings. It's apparent in the irregularity of their behaviour, which lends the film an unequal texture. This conflict in tone is appealing as it not only conveys a chorus of issues but also plays up its uncertainty. Like a certain cold twist in the third act caught me completely unawares.
What didn't is the strong language, mostly in Punjabi, some Hindi and little bit of English, which blends seamlessly into the mood and the narrative. Only there's a lot more to its nuanced writing and eclectic soundtrack than the controversy-courting offensives. Some of the most casually said lines (penned by Sudip Sharma) 'Pehle banda banja phir banna VIP' or 'Tune S-class le li' or 'Koi problem hoy toh WhatsApp kar di' earned a more full-throated laugh out of me than the Coke-Cock rap.
Udta Punjab is a wake-up call, an important film and a mighty impressive one at that, carrying a loud anti-drug message.
It stands for everything that is opposite of what it was accused of. The extreme nature of its actions strives to stress on the absolutely pathetic state of Punjab's affairs, perfectly encapsulated in a scene featuring a stoned gatekeeper who can neither guard nor confront.
Rediff Rating: