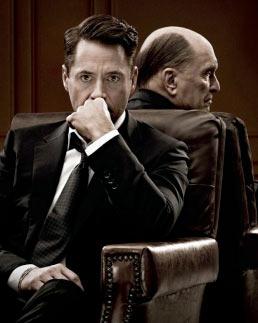 The Judge formulaic but never mechanical, says Paloma Sharma.

David Dobkin's new film sees Robert Downey Jr play a version of Tony Stark who, only this time he fights enemies with the aid of mind games and laws.
Downey Jr does that voodoo that he do so well, one that we've become so accustomed to that we're not even going to complain about him giving Shah Rukh Khan's many Rahuls a run for their money.
Downey Jr's Hank Palmer is basically Harvey Specter on Ecstasy and will do whatever it takes, manipulate as many people as he possibly can, in order to win a case.

Obviously, Palmer is, according to Palmer himself, too expensive for the innocent (read: poor).
While he's in the middle of separation from his wife and a court case, Palmer receives news that his mother has passed away.

This forces him to return to his family home in Carlinville, Indiana -- a small, sleepy town -- that houses all that Palmer has so desperately tried to leave behind, including his moralistic father, Joseph Palmer (Robert Duvall), who happens to be Carlinville's long serving judge and a highly respected member of the community.
Needless to say, the judge doesn't approve of his son's work ethic and both of them find themselves in constant ideological conflict.
Unwelcome at his own mother's funeral and unable to escape his troubled relationship with his father, Hank Palmer makes the quickest escape possible, vowing never to return.

However, even before he can get back to Chicago, Hank is forced to turn around when he gets a call from his older brother Glen (Vincent D'Onofrio) about their father having been implicated in the murder of a man whom Palmer Sr had sentenced to 20 years in prison.

Determined as Palmer may be to defend his father, the trouble is that the aging judge cannot recall whether he actually did or not.
Slightly reminiscent of Fireflies in the Garden, The Judge relies on time tested themes such as the big city hotshot finding his/her roots, the need for parental approval for troubled children who grow into even more troubled adults, small towns bringing out the best in people and, of course, what a pain in the behind the Atticus Finches of the real world can be, especially when they happen to be your parent.
Featuring well developed primary characters but severely underdeveloped (and largely unneeded) secondary ones, The Judge opens up too many subplots for a courtroom drama to keep the viewer's interest alive.
The film takes an excessive amount of time to establish the facts before the action can begin.

Dobkins and his writers turn increasingly self-indulgent as the film progresses, leaving The Judge to rely on the technical aspect of things in order to keep it together.

Despite the televised novel-ish feel of the film, the lovely locales and serene countryside keep you glued to your seat as the background score attempts to help the sluggish script along.
Packed with a cast of versatile actors, including Vera Farmiga and Billy Bob Thornton, The Judge features not a single less-than-brilliant performance.
Of course, having the meatiest roles of them all, both Roberts steal the show with their biting dialogues and emotionally loaded scenes.
The Judge, essentially, is all about male bonding and a midlife crisis of epic proportions -- or, in other words, as far as the plot goes, it is the legal version of the Diane Keaton-Meg Ryan-Lisa Kudrow starrer Hanging Up.
If I didn't know any better, I'd have thought that Belva Plain and John Grisham had collaborated on the screenplay -- which would have been very silly of me because the two of them would obviously have done an infinitely better job.
The Judge makes you wipe away a tear or two every now and then solely because of the strong performances and some applause worthy work from the technical teams.
Formulaic but never mechanical, The Judge is one of those movies that Will and Grace keep making fun of but watch anyway -- and you will too.

With an uncomfortably high number of elements borrowed from an insane amount of places, The Judge is the refined, severely toned down version of basically every Yashraj/Karan Johar movie.

This is Kabhi Khushi Kabhie Gham for Americans.

Sure, it won't make you bawl and pledge allegiance to oppressive traditions like karvachauth, it will definitely make you a bit more appreciative of whatever kind of family you have.

If you're still sitting here, reading this, wondering whether or not to watch The Judge, I've got two words for you -- Robert, and Robert.
Enough said.
Rediff Rating: