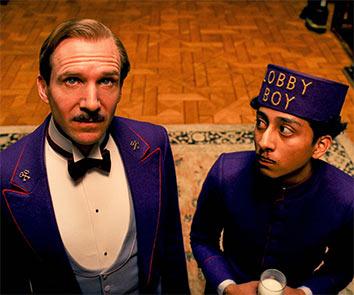 Nobody makes denial look this fabulous, says Raja Sen after watching Wes Anderson's The Grand Budapest Hotel.

Pastry is a beautiful thing.

Layers of differing consistency, perfectly harnessed flavours inventively brought together to complement each other as well as to throw up the odd surprise, covered with icing and embellishment to make for a seductively attractive treat, one that beckons those within range -- and tempts those watching from afar.

Nobody does cinematic confectionary quite as painstakingly as the delightful Wes Anderson, a director who unabashedly tosses aside realism in favour of dreamy impressionism.

Everything is lovely; everything is in its place; things, and, indeed, people, move with the precision of choreographed puppets… It is all mesmerising, a dollhouse world with oh so much to make jaws drop.

And it is within this immaculate world that Anderson throws in broken marionettes, exquisite but deeply flawed characters, their lives stretched to tether-defying limits by discord or adventure.

Each is fascinating but faulty, as if their clockwork is -- ever so slightly -- off-kilter.

Around these creatures of whimsy and the stunning, often-insular worlds they inhabit, there is much genuine magic, taking place so naturally and ineffably that even talking about it feels like precariously grazing a bubble with a tentative fingertip.

It is genius, and, in his latest film, Wes Anderson uses his considerable imagination to brighten up what may well have been a dirge.

The Grand Budapest Hotel, despite its pink-as-icing facade and pop-up book visual style, is a romanticisation of the saddest of times, of a fictionalised Europe before the Nazi invasion, of a world that was never as ideal as in Wes' vintage-Hollywood loving imagination.

It is a carving-up of nostalgia, a satirical embellishment, an evoking of pure wistfulness -- a spoonful of (castor) sugar to make the medicine go down.

Anderson explored this craving for what-ought-have-been instead of what-does marvellously in his last outing, Moonrise Kingdom, but this time his story -- a story within a story within a story within a story -- is nestled between many layers of memory, with perhaps each narrator reflexingly throwing in what they yearned for instead of what merely/banally/really was.

In the present day, a girl visits a writer's grave and read's his book; in 1985, the writer gives an interview about The Grand Budapest Hotel; in 1968, the writer visits the then-decaying hotel and runs into the hotel's owner, Zero Moustafa, who tells him how he came to own the empty, fading establishment; and in 1932, young Zero walking around gobsmacked by the glory of the hotel even as his mentor, Gustave H, throws him into a swirl of adventure.

Cinematographer Robert Yeoman shoots in striking 35mm, and brilliantly endows each narrative timeframe with a different aspect ratio, looking at it through different pairs of eyes, masterfully using the intensely squared 1.33:1 format for the longest sequence, the 1930s, giving it a now-uncommon
vitality akin to that of classic comic panels.
In fact -- with a plot involving death and secret wills and evil heirs and purloined paintings -- it smells distinctly of Hergé.
Yet, through the unique blocks of eye-tickling colour and Wes' singular vision, the Tintinny fragrance is mostly overshadowed, and the new scent is more like that bottled up and dabbed on by the inimitable Gustave H: It is called L'Air D'Panache. And panache fuels this film more than anything.
"The plot thickens, as they say," mutters Gustave, played by Ralph Fiennes in a performance so exuberant and articulate it may well be his best.
This he mutters while breaking out of jail, but despite the urgency of the situation -- like the film and Wes himself -- he immediately and helplessly digresses, wondering about the turn of phrase. "Why, by the way? Is it a soup metaphor?" Fiennes' Gustave is a charismatic tornado, a concierge so wonderfully equipped to every situation that the almighty Jeeves might have felt threatened, offering his guests every assistance including -- for the rich and blonde -- more than he absolutely should.
Let's just call it a too-thorough turndown service. Ahem.
Fiennes is spectacular, but the entire ensemble has a freakishly fun time.
And what actors!
A withered Tilda Swinton, Jeff Goldblum as an elaborately-whiskered attorney, Willem Dafoe as a menacing enforcer, Adrien Brody as a black-clad scoundrel, Edward Norton as a ZZ officer (this film's equivalent of an SS officer), Saoirse Ronan as the "always and exceedingly lovely" girl who works in the bakery, F Murray Abraham as the dignified old Zero, and Tony Revolori -- a bright and gifted youngster, his eyes widened by naivete and impossible devotion -- as young Zero, the film's hero.
And the only actor we don't already know and love. There is also, in one standout scene featuring concierges across the Continent, a slew of Anderson regulars making fleeting but flawless cameos, even as round irises frame them further inside the tight 30's square.
So it is an adventure, surely, a gloriosky tale of wonder, but it is also a tale we are told long after it ceases to matter, after the dreamscape has been stomped on with hobnailed boots and after Alexander Desplat's enchanting, rainbow-coloured background score -- as much of a leading man as Fiennes, truly -- has faded away into bleak blizzard sounds.
Everything is over, then, and yet we're left enchanted, soothed, nearly hypnotised by the candied loveliness washing over us.
Wes rarely sermonises, but what he gifts us with
The Grand Budapest Hotel
is quite the balm: it is a realisation that if we close our eyes (or, indeed, open them wider), history is just as we choose to remember it.
And nobody makes denial look this fabulous.
Rediff Rating: