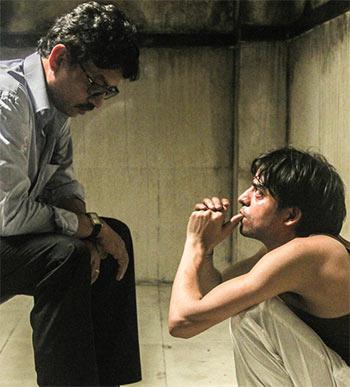 Well done, Team Talvar. Savera R Someshwar applauds the film.
As you leave the cool, dark, impersonal innards of the theatre and step into the bright, welcoming, noisy foyer, a sigh.
And a small heartfelt prayer.
An overwhelming sense of gratitude that Life is still mundane, still sane. It is not being tossed around by whimsical Fate or swirling out of control, firmly in the grasp of someone else's capricious whims.
More than anything else, what Meghna Gulzar's Talvar does is bring home that horrifying reality -- that the life you knew could, in a blink, get flushed down the toilet, like an 'alleged' murder weapon maybe, never to be seen again.
But that is just one side of this hauntingly etched tale.
There is the story itself, one that anyone who has read the newspapers or watched television or, even though one may not admit it, idly gossiped about, knows... the Aarushi Talwar case.
The gruesome murder of a beautiful teenager on the cusp of life.
The salacious gossip that followed -- of rape, of underage sex, of partner swapping by the parents -- played on both on our darkest fears and our basest instincts.
Our eagerness to lap it all, our hunger for details fed by an eyeball-chasing media... with no one to stop and see if, in this stampede, Truth was actually a player.
Of an investigation so confusingly, shamefully shoddy, it forces one to suspect if justice was actually done.
Gulzar's Talvar gathers all of these in its unrelenting gaze. And allows you the relief of knowing that is it not your life playing out there, on the big screen.
Yet, despite Vishal Bhardwaj's tight script and background score, Talvar would not be what it is without its impeccable cast.
Konkona Sen Sharma and Neeraj Kabi -- as Nutan and Ramesh Tandon, the parents -- have perhaps the most challenging roles. Three times, they reprise the parents as the film takes a Rashomon-like look at the murder. If they had not been able to play their parts in these contrary scenarios well, Talvar would been the casualty.
And that goes for each of the actors -- from Gajraj Rao as the indifferent, paan-chewing inspector who ham-handles the forensic evidence to his turbaned boss interested in only saving his job (Gulzar's grasp over the case, incidentally, is evident in her attention to some of its real-life details, as seen in the scene where the senior cop proudly announces in the press conference that Kruti's case has been solved, only to be corrected... the teenage victim name was Shruti... and the blasé manner in which he rumbles over this seemingly minor detail, more intent on milking the fact that case which had been in the public spotlight had been solved by his department).
From the maid servant to the CBI boss who'd like to retire having cleared the rust that has blunted the sword of justice.
From the Nepali servant who'd like his revenge to the ministry official who wants to do the right thing to the ex-cop, called back to head an investigation that needs to go in a certain direction only.
And, towering over them all, very, very tall, is the fantastic Irrfan Khan. He slips under the skin of lead CBI investigator Ashwin Kumar with such ease, bringing in such a finely nuanced performance, that he elevates every scene he is in.
What makes his performance even more likeable that is fact that he is enjoying himself as he sinks his talented claws into a well-etched meaty role and savours each juicy bite. Kumar's character -- human, fallible, laced with anger, frustration and humour -- as brought to life by Irrfan is one you cannot forget easily.
What you will also not forget is a character not listed in the film's cast -- the unseen player, the voyeur in each of us who's unwittingly influenced the turn of events in this murder case. And the sinking feeling that things are not what they seem, because there are so many things -- oh so very many behind-the-scene things -- that we don't know.
At the end is a question that we all need to answer, a question that Gulzar forces us to ponder over -- did Shruti Tandon (Aarushi Talwar) get justice?
Well done, Team Talvar.
Rediff Rating: