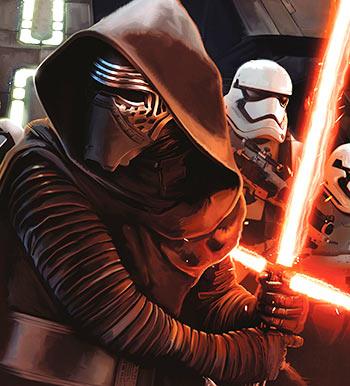 Star Wars Episode VII: The Force Awakens 'can be likened, in essence, to a new Salman Khan actioner where the core audience goes in with a checklist knowing they'll get some cheeky dialogue, some trite punchlines, an item song and one eventually shirtless fight scene,' says Raja Sen.
If you placed a lightsaber in the hands of director JJ Abrams, it would glow blue.
His new Star Wars film is a fine spacecraft, a blockbuster that knows its place. The hunt in this Star Wars Episode VII: The Force Awakens might ostensibly be for the vanished Luke Skywalker, but -- be not fooled -- the flight plans for this gigantic motion picture only ever point to one destination: Nostalgia.
This is the grandest and most unashamed throwback of them all, a Star Wars film that triggers love for the original Star Wars trilogy by, well, belting out a cover version of the George Lucas classic.
The band fronted by Abrams is, thankfully, a talented cover band and they do an entertaining enough job hitting familiar notes in order to take the song to new generations -- but the song remains the same.
So much the same, in fact that one of this film's most unlikely -- if questionable -- assets is its utter predictability. I'm not a Star Wars person, and saw the original 1977 film four days ago after at least two decades, and it was fun, certainly, but because Star Wars is itself such a pastiche of influences and, more importantly, has itself been so influential, the plot machinations constantly appeared obvious and cliched.
Watching the new film which essentially recycles the trilogy's greatest hits, I was alarmed by how accurately I could tell each twist coming, even the big whoa moment we mustn't talk about. This is disappointing because, while a rollicking ride, I'm not thunderstruck by Episode VII as much as I am comforted.
It is blatantly transparent filmmaking, and can be likened, in essence, to a new Salman Khan actioner where the core audience goes in with a checklist knowing they'll get some cheeky dialogue, some trite punchlines, an item song and one eventually shirtless fight scene.
This is a film made to pleasure the fans and give them everything they wanted from the franchise. And it works. There is such universal love for the new Star Wars because it is, in too many ways, the old Star Wars.
Thus we have again a little android with a map everyone wants, a villain in a menacing mask and a baritone, a young protagonist (of curious parentage) who will be this generation's greatest Jedi, people squashed in a trash compactor, ships stolen, gigantic father-son issues and, of course, people having 'a bad feeling' about what is to come. Even the headquarters of all evil is, simply, a super-sized DeathStar.
This constant celebration and regurgitation would wear itself thin were Abrams not also a highly efficient filmmaker who put together a great cast: There's something rather special about watching this, the biggest of movies, kick off with a slugfest between Oscar Isaac and Adam Driver, two smashing talents last seen together singing a song (funnily enough, about 'Outer Space') in the best of movies, Inside Llewyn Davis.
And, it must be confessed, it's even cooler to watch 73-year-old Harrison Ford, silver-haired but with smirk intact, playing the roguish Han Solo as swashbucklingly as ever.
Abrams, in putting together characters new and old, gets the balance of his remix just right -- and that's harder than it sounds. (Just ask Bryan Singer, who tried to do a Richard Donner with his Superman Returns.)
He also very successfully folds in some diversity. We have Finn, a young black stormtrooper who doesn't like stormtrooping, played by the very likeable John Boyega, but -- most notably -- this generation's Luke Skywalker is a girl.
Daisy Ridley, a striking English actress who looks like Keira Knightley and speaks like Pierce Brosnan used to back when he was a television detective, is refreshingly unfamiliar and the film is poised on solid shoulders, even though this chosen-one character, Rey, appears a bit one-dimensional and depressingly free of flaws.
Still, this is the first blockbuster series to give a female character the reins, and for that -- in this lopsided world full of cinematic universes -- we should be glad. (The bestselling action figure, however, will undoubtedly be that of the doubly spherical new droid, the insanely cute BB8, and my favourite visual from this film will always be BB8 tentatively but determinedly negotiating a flight of stairs.)
Even to a non Star Wars devotee, however, I must confess the film hits hard. Those scrolling opening credits, set to that John Williams score, does strike right between the ribcage of all us once-children, and it's great to see Williams still masterfully making the film soar. Even if all we're watching is A New New Hope, the franchise indeed awakens. Even if it weighs in a half hour too long.
One only hopes that now, with old tropes having been applauded and new characters coming into play, the unending Star Wars films of the future will do their own thing instead of trying to sound like Uncle George, who has -- thanks to Disney -- no say in any of it.
It's a bunch of brave new whippersnappers at the helm now who need to subvert convention, defy expectation and, like Han Solo, may cockiness be with them. For while Episode VII is definitely a step toward the right side, it sure does feel... forced.
Rediff Rating: