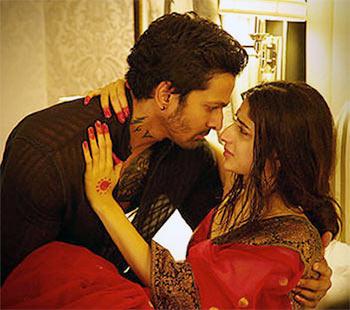 Apart from the music, Mawra and Harshvardhan's chemistry is the only saving grace, feels Namrata Thakker.
Sanam Teri Kasam would have been a *decent* watch if the makers hadn't stretched it like a rubber band.
And if the script wasn't full of Bollywood cliches.
I emphasize on 'decent' because the film is seriously regressive.
The first half of the film reminds me of hit television serial Jassi Jaisi Koi Nahin.
The female protagonist Saru (Mawra Hocane) is a not so good looking nerd, who just can't find herself a guy.
Her parents try to find a good educated groom for her but their efforts go in vain.
If Saru doesn't get married, her sister can't either. But she is much better looking, has a boyfriend and desperately wants to get married. So Saru decides to get a makeover, so that she can solve her younger sister's problem.
Saru seeks help from Inder (Harshvardhan Rane), who is a criminal of sorts and no father would want a guy like him for his daughter.
Inder and Saru stay in the same building but things go haywire when the latter's father finds out about their meeting. Saru is disowned by her family and forced to live on her own.
Inder helps her with everything including getting a makeover. He falls in love with her but doesn't express his feelings.
The second half of the movie is a bit like A Walk To Remember. Yes, Saru is diagnosed with cancer and Inder decides to marry her.
There is a lot of melodrama, which includes Saru almost getting married to someone else, a lot of rona-dhona, and then a hideous makeover song which has Vijay Raaz dancing with a few hotties.
I couldn't help but wonder why these two promising actors decided to debut in Bollywood with a film whose script is the biggest letdown.
Had the makers cut short the running time by a good 45 minutes, Sanam Teri Kasam would have been less traumatic. The film is so long that by the time it ended, I felt I had aged by a few years.
Mawra and Harshvardhan's chemistry is what saves the day. They look good together and can certainly act. While the Pakistani actress is absolutely stunning (even before the makeover), Harsh flaunts his chiseled body whenever he can in the film.
The music is also good, but there is nothing to boast about the story.
Skip this one because you won't be missing out on anything special.
Rediff Rating: