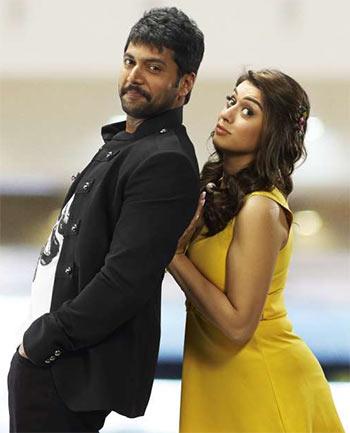 Director Lakshman pitches love against money in Romeo Juliet and there are no prizes for guessing which one wins, writes S Saraswathi.
Debutant director Lakshman's Tamil film Romeo Juliet is a predictable modern-day romantic comedy full of clichés.
Lead actors Jayam Ravi and Hansika Motwani have previously worked together in Prabhudheva's Engeyum Kadhal, and share good on-screen rapport but sadly, no chemistry. They just seem like two friends, trying to one-up each other.
Aishwarya (Motwani) and Karthick (Ravi) are contrasting characters. Hansika is an orphan, working as an air hostess with dreams of making it big in life. She is determined to find a partner, who will shower her with all the luxuries of the world. She believes love is overrated and that it is money that makes the world go round.
Karthick is a middle class hard-working gym trainer, who believes in true love, marriage, family and children. His work as a personal trainer to celebrities gives him the opportunity to move among the higher circles of society.
Believing him to be a rich business tycoon, Aishwarya ensnares him with her charm and Karthick falls in love. But the minute Aishwarya discovers his truth, she kicks him out of her life.
Arjun (Vamsi Krishnan), a powerful business magnet, enters the scene with Nisha (Poonam Bajwa), and they are made scapegoats in this fight between the lovers. Both are wasted, as the movie revolves around Hansika and Jayam Ravi.
The constant fighting between the lead pair gets quite tedious after a while.
Ravi effortlessly showcases his dancing skills and is good with both emotions and comedy.
Hansika looks glamorous but seems too dramatic.
VTV Ganesh, as Ravi's friend, evokes some laughter.
Arya puts in a brief cameo.
Music by D Imman, especially the Dandanakka number sung by Anirudh Ravichander, is a delight to hear.
The opening credits portray classic love scenes from films across decades, featuring actors like MGR, Sivaji Ganesan, Rajinikanth, Kamal Haasan, Ajith and Vijay and were greeted with thunderous claps and deafening whistles.
The film does have some fun moments, but overall meanders aimlessly with ridiculous plot twists. The climax is highly melodramatic that seriously tests your patience.
Lakshman's Romeo Juliet is just a rehash of old clichés. He pitches love against money and there are no prizes for guessing which one wins.
Rediff Rating: