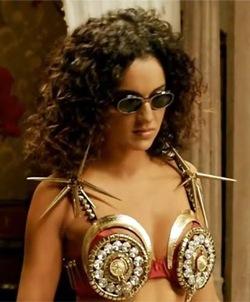 Revolver Rani could have been the movie of the year. It ended up as a confused film that can't decide who, or what it wants to concentrate on instead, says Paloma Sharma.

The era of dacoits in India may have passed, but Bollywood's fascination with the Chambal valley has just been revived with Revolver Rani.
Set in the badlands of interior Madhya Pradesh, Sai Kabir's directorial debut follows Alka Singh (Kangana Ranaut), a feared dacoit, as she navigates the murky world of politics and the murkier world of love.
Alka Singh is your average hot-headed daku with an almost insatiable appetite for alcohol and sex and her paramour Rohan Kapoor (Vir Das), a struggling Bollywood actor, is her toy boy.
Not only does Alka excel at going "thyan, thyan, thyan" as the title track will have you know, she also dabbles in local politics under the guidance of her guru/guardian Balli Mama (Piyush Mishra) with the Tomar family as her arch nemesis.
The Tomars, although not quite villainous enough to give competition to the Rani, manage to dole out a couple of jokes here and there.
Revolver Rani is exclusively for those who can grasp the subtleties of black comedy.

It features some amazing dialogues spoken in Hindi so shudh, it could give Hindi scholars a run for their money.

Kangana takes on the role-of-a-lifetime with much fervour and is absolutely brilliant throughout the film but there are certain moments when the acting goes a tad over the top.

Vir Das struggles to fit into the role of Rohan Kapoor. All you see is the actor -comedian as characters from some of his previous films like Namaste London and Badmaash Company.
Piyush Mishra shines as Alka's Mama -- a ruthless politician who must choose between his politics and his prodigy when push comes to shove.
But the actor to look out for in this film is Mishkka Singh as Payal Parhihar, the news anchor on Sagat Samachar, who is a potent blend of shayari and breaking news.

To say that Payal Parihar is the maa of a certain Goswami won't be an overstatement.
The first five minutes of Revolver Rani are immensely entertaining.

But the scenes last for longer than they should.

Although the last shot of a film with such an amazing concept should be one where you stand up and whistle your lungs out, the lack of intensity in the case of Revolver Rani is disappointing to say the least.
This is definitely not a good sign.
Director Kabir creates an interesting, relatable character in Alka (minus the revolvers, of course) and her journey through infertility, love, marriage, betrayal and her constant wish to be fair/more beautiful will resonate with many women.

That said, the focus unfortunately keeps shifting from Alka to other characters and themes at a manic speed.

Revolver Rani is perfect on paper but if it really wanted to generate that spark, it should have probably taken the character-centric route.
Somewhere along the way, the story disappears and so does the editor, or so it seems.
A lot of Revolver Rani seems inspired from Quentin Tarantino films -- the powerful female character with guns template, the title track and the aesthetically portrayed violence are strongly reminiscent of many of his previous fims.

Even the animated bits seem to be borrowed from Kill Bill Vol 1. This does end up spoiling the novelty factor.
Revolver Rani could have been the film of the year. It is sad that it chose to be a confused story instead.

Rediff Rating: