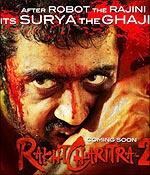 Sonil Dedhia reviews Rakht Charitra 2. Post YOUR reviews here!

It looks funny when a film starts with a disclaimer saying, 'All the characters, plots etc are fictitious and any resemblance to persons living or dead is purely coincidental,' and is followed by another message saying the film is 'Based on a true story.' But then again, you can expect the unexpected from Ram Gopal Varma.

The first 30 minutes of Rakht Charitra 2 is just a recap of the first part. But that slows the proceedings so much that by the time the second part actually starts, you've lost interest.

For those who missed the first film, here's a quick background of the story:

Narasimha Reddy (Kitty) is a big-time politician in Anandapur, a small town in Andhra Pradesh. One of his close associates Veerabhadraiah (Rajendra Gupta) belongs to a backward community. His brother Nagamani (Kota Srinivasa Rao) is not happy with their relationship and creates a rift between them. Then he uses Manda (Ashish Vidyarthi) as a weapon to kill Veerabhadraiah.
Veerabhadraiah's son Paritala Ravi is pursuing his studies in the city, and wants to get married to Nandini (Radhika Apte).
Paritala learns about the murder of his father and goes to the village. Then he gets busy avenging the deaths in his family. Actor-turned-politician Shivaji (Shatrughan Sinha) takes him under his wing and, after winning elections, makes him a minister.
He then asks Paritala Ravi to wipe out all the bad people in the community. How he takes his revenge forms the rest of the first part.
The second part revolves around Narasimha Reddy's son Surya. Surya is a happy-go-lucky person living in the city. He is in love with Bhawani (Priyamani) and wants to settle down with her.
At this juncture, Surya learns about the murder of his father, who is killed by Paritala Ravi. So he goes to the village.
Unlike Paritala, Surya is not interested in revenge. He plans to take his family to the city and settle down. But an incident changes his life, and he now makes it his mission to kill Paritala.
Both films are similar -- the only difference is that they have been narrated from two points of view. The first film shows the rise of Paritala Ravi and the second shows the rise of Surya. With so much similarity and such an outdated plot, there's not much RGV can do to salvage the show.
RGV's direction is effective but the script lets him down. It lacks the narrative style required, and fails to hold the audience. Post-interval, the film loses pace and just drags to the end. 
The action of the film is as raw as it can get. Action directors Javed-Eijaz have continued where they left off in Rakht Charitra 1. One might feel that there is an overdose of violence but the script asks for it.
Cinematography by Amol Rathod is poor. There are too many long shots, close ups, irregular movements and unnecessary turns. The soundtrack is too loud but it does add to the drama.
Qyite a few scenes are worth a mention:
* The opening scene where Surya fails to kill Paritala Ravi. You can see the hatred in his eyes and he fumes like a tiger.
* Surya's expression when he sees his mother dead.
* The dialogue between Surya and Vivek when the latter meets him in jail.
Vivek Oberoi continues where he left off from in the first part. The actor gets into the skin of the character, and lives his role from start to end. 
If Abhimanyu Singh (Bukka Reddy) stole the show in the first film, the second one belongs to Surya. He emotes through his eyes. His transformation from a simpleton to a criminal is among the high points of his stellar performance.
Shatrughan Sinha does not have much of a role. Ditto for Zarina Wahab. Sudeep is wasted once again as a cop, who is only interested in lighting cigarettes.
Radhika Apte is convincing. Priyamani performs her role well.
RGV doesn't have anything new to offer in Rakht Charitra 2. The film does have some high points but they are too few to keep you engaged. 
Rediff Rating: