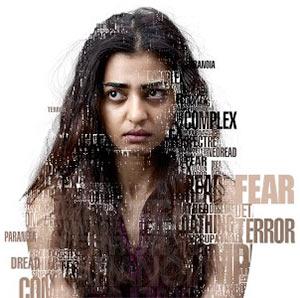 If you love the thrills and heebie-jeebies then Phobia is for you, says Namrata Thakker.
Bollywood has often followed the conventional path when it comes making horror or thriller films.
However, Pawan Kripalani's latest venture, Phobia, doesn't fall into that category.
Starring Radhika Apte in the lead, Phobia is easily one of the best psychological thrillers to have come out of Bollywood.
From performances to camera work to narrative, all the elements are so finely tuned and in sync that you will be hooked from the word go. At least, I was and that doesn't happen to me very often, especially when I am watching a Bollywood thriller.
As the title suggests, the film revolves around a person who has a phobia.
In this case, it's Mahek (Radhika Apte), a very talented artist. After a traumatic incident, Mahek develops agoraphobia -- a fear of public places. Also, she is intimated about meeting new people.
Her situation aggravates with each passing day and that creates problems for her sister and nephew, who live with Mahek.
Mahek's good friend Ishaan (Satyadeep Mishra) steps in and decides to help her. He shifts Mahek to a new place where she befriends Nikki (Yashaswini), a pumped up college going teenager.
But Ishaan's move doesn't really help Mahek overcome her phobia. Instead, she starts sensing that something is wrong with her apartment. She starts seeing and hearing things.
To make matters worse, her neighbour, Manu (Ankur Vikal), is a creepy guy who has been attending laughter therapy sessions to deal with his anger issues.
While Mahek tries to adjust to the new place, she finds a personal diary in the apartment that belongs to its former occupant, Jiah.
After reading the book, Mahek concludes that Jiah is dead and that Manu is the one who killed her.
Is Mahek right? Or is she imagining things because of her phobia? You will have to watch the film to find out and, trust me, you won't regret it.
The first half of the film is engaging, terrifying and exciting, all at the same time. The camera work, too, is very sharp. There are quite a few scenes which will scare the hell out of you. The one right before the interval will certainly send shivers down your spine.
Kripalani explores the theme of agoraphobia very well. Kudos to him for trying a new concept.
I was super impressed with the first half and expected a thrilling ride in the second half as well. However, the film stretched a bit post interval.
Also, I was wanted Phobia to end on a high but that didn't happen. The story got a bit predictable and the whole build-up to the climax just didn't hit me hard.
Having said that, Phobia is undeniably a well-made thriller worth watching only in theatres.
Radhika Apte is stellar as the victim suffering from agoraphobia. Her performance is so believable and convincing that you feel her pain, her anxiety and you sympathise with her situation.
She is vulnerable yet very strong. And Radhika, with her acting, gets that across effortlessly.
I can't imagine any other actress in this film but her. The leggy beauty deserves a lot of awards for this one. I hope she continues to do more films every year because its an visual delight to watch her on the big screen.
Satyadeep Mishra, Ankur Vikal and Yashaswini do justice to their characters and lend good support to the story.
Kripalani does a fine job as director and gives us a compelling narrative which may not appease to the regular Bollywood audience. But if you love the thrills and heebie-jeebies, then Phobia is for YOU!
Rediff Rating: