It is not the predictability but the lop-sided sentimentality of Sooraj R Barjatya's narrative that hurts Prem Ratan Dhan Payo's intentions the most, says Sukanya Verma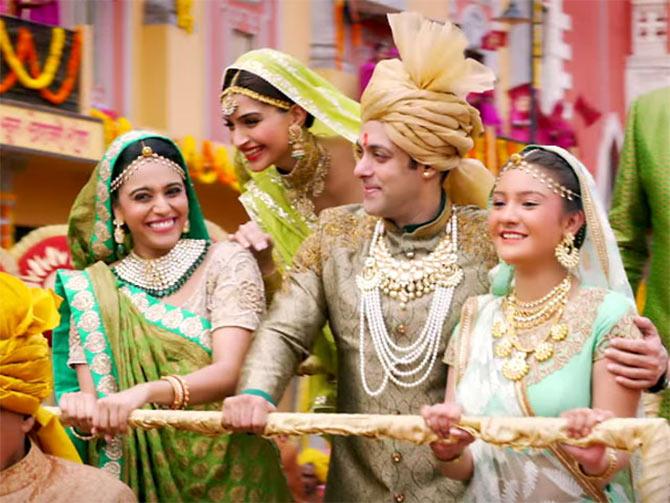 Long live comfort zone.
Few minutes into Sooraj R Barjatya's Prem Ratan Dhan Payo and it is obvious where this out-dated melodrama set amidst far-fetched royalty is heading.
Barjatya, the soft-spoken, immensely likeable filmmaker, is not looking to jab a pin in his reality-proof bubble inhabited by noble, gracious folk and its most popular citizen Prem, played by Salman Khan.
It is not merely a name but a title exclusively held by the superstar, wherein he ceases to be the shirt-ripping Bhai and transforms into an epitome of sanskar and virtue whose gleaming eyes alone, among many other myths, are sufficient proof of his unquestionable integrity and loyalty.
Except he achieved this feat, not too long ago, more memorably than ever in and as Bajrangi Bhaijaan. Salman's latest avatar as Prem falls pale in comparison.
But he is not the one at fault. If anything, Salman is the dazzling star and entertainer of this archaic, tedious script that should have never left the 'defunct Bollywood formulas' file -- think The Prince and the Pauper meets Kasme Vaade or Jhootha Sach where brain injuries show on the back, people change into 40 costumes in four days and childhood accidents are replayed as adults too.
Be it as the sprightly nautanki star or a solemn prince or somewhere in between after Salman goes through his My Fair Lady transition and scoffs at aristocracy with characteristic charm and spunk -- its moments like these, when Prem acquires a mocking tone towards everything, including this underdeveloped drama that it truly takes off.
Mostly though PRDP is saddled with Barjatya's penchant for throwing in one song after another. Even if resplendent to look at, there are just too many of them and barring the title track, not particularly catchy either.
Speaking of music, think I caught a hint of the Game of Thrones theme performed by a wedding band in the background. Cannot imagine the genteel Barjatya is a fan of the famously violent TV series.
Back to Prem, if Salman's presence is a boon for the movie, his enormous charisma, which receives a lion's share of the screen space, leaves precious little for his co-stars to do.
While Sonam Kapoor is luminous in Anamika Khanna's dreamy creations, looks appropriately besotted by her hero and shows noticeable restraint in her dialogue delivery, her Maithali is so blandly written, it makes Bhagyashree's Suman look like a vixen.
As Salman's respective bhai and behen, Neil Nitin Mukesh and Swara Bhaskar are limited to tearful scowls and tearful smiles whereas a smug Arman Kohli reprises his snake-man performance from Jaani Dushman: Ek Anokhi Kahani sans the costume.
Like all Barjatya movies, PRDP sticks to its beliefs on sibling affection, family values and coy courtship and takes a lengthy (nearly three hours running time) route to assert so. Yet it is not the predictability but the lop-sided sentimentality of his narrative that hurts PRDP's intentions the most.
Without ever establishing the bonhomie, it jumps to demonstrate the bitterness and reconciliation between bickering brethren depriving the viewer of any emotional connect whatsoever.
Plainly put, phony tears. Quite a let down, given Barjatya's greatest strength is the warmth his characters exude.
Instead they are pursuing prudish objectives, speaking clunky, soap star lines like suhag ki raksha and facilitating clumsy albeit blatant product placement of brands like Haldiram and Croma.
Grandeur has its limitations too. It can render photographic freshness but it is no substitute for charm or frolic.
A lot of visible effort has gone in designing Prem Ratan Dhan Payo's opulence and scale but ultimately it is just lacklustre, recycled fare from a man stuck on men versus women sporting contests, midnight kitchen rendezvous and the pristine aura of Prem.
The last one still holds good. Rest is just rah-rah.
Rediff Rating: