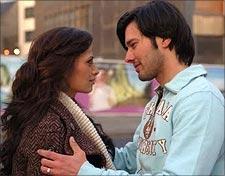 Melissa Nazareth feels Phhir is old wine in a new bottle. Post YOUR reviews here!

Some films, despite having common story lines, can keep their audience glued to the screen from start to end. Phhir is one such film, revolving around reincarnation and the paranormal.

But one fails to understand why the movie is titled Phhir. It does not bring out the gist of the movie.

Directed by Girish Dhamija (who has written dialogues for films like Gangster, 1920 and Dushman), and written by Vikram Bhatt, the film is based on the idea of karmic debt.
Kabir Malhotra (Rajneesh Duggal) is in love with his wife (Roshni Chopra), and lives a good life. Suddenly, one fine day, his life is ripped apart when his wife goes missing. In his search for her, he meets Disha (Adah Sharma), who can foresee the future.
Rajneesh does justice to his contrasting characters in the film -- a soft romantic and a violent man.
Roshni performs decently well too. Her character Sia is responsible for a major kahani mein twist that comes towards the end of the thriller.
Adah Sharma's Disha comes into the scene when the story takes a sharp turn just before the interval. She steers the story in all directions before the mystery is unraveled. Her fine acting skills make the character interesting. Rajneesh and Adah share interesting onscreen chemistry.
The film moves ahead at a consistent pace. Though the suspense is predictable, the audience is kept entertained throughout. It has been shot at interesting locales as well.
The music is passable and doesn't really do the movie much good.
Leave your brains home, and watch this film.
Rediff Rating: