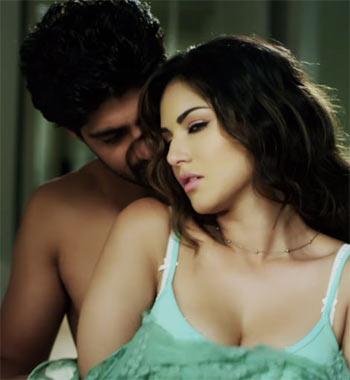 One Night Stand isn't yet another tawdry skin-flick; it actually has something to say, feels, Raja Sen.
This isn't quite what I bargained for.
Contrary to what the film's publicity and songs would have one believe, One Night Stand isn't yet another tawdry skin-flick with exploitative cleavage shots in place of a script.
It is, in fact, rather strikingly, a film without a hero and with two strong female characters, a film that has something to say.
I expected a film celebrating a romp but I was pleasantly surprised to watch a cautionary tale instead.
The idea of a protagonist losing his head over a fling and turning into a complete jerk is a solid one, made more interesting as the two well-defined female characters in the film appear to know exactly what they want in life.
Alas, if only it'd been made with more finesse.
The film's writing is clunky, and the cast, despite an overall earnestness, are nowhere near good enough to rise above the eventually cliched material.
The overall effect is that of watching a true-crime show -- like Channel V's Gumraah -- stretched to a feature-length duration.
Come to think of it, they could have used a bombastic Hindi speaking narrator like those shows, if only to underline the exaggeration unfolding on screen. Without underpinning the preachiness, things appear tragically amateurish.
Urvil (Tanuj Virwani) comes to office, starts his day by checking Facebook, and has a receptionist who says bye to him in a sing-song voice on the phone even from 10 feet away.
Celina (Sunny Leone) holds a camera like it's a completely alien object, despite calling herself a photographer.
Simran (Nyra Banerjee), is, by contrast, so markedly innocent that she makes macaroons and cupcakes and wears a t-shirt that says 'Totally Sweet.'
Directed by Jasmine D'Souza and written by Bhawani Iyer, the film manages to stay watchable when making points against slut-shaming and double standards, and while the gender-politics is rather obvious, it is good to see a film starring Sunny Leone at least try to position itself on that pulpit.
The quality, as said, leaves a lot to be desired.
Leone is waxen and blank throughout the proceedings, while her co-star Virwani -- pretty alright when being cheeky or villainous -- is at a loss when trying to look sad, or drunk. There is something to him, though, and I find him more intriguing than most of the insipid new kids, say, a Sooraj Pancholi.
One Night Stand may well win him villain roles, but he has a long way to go.
As does the film itself, which -- for all its noble feminist intent -- ends up balancing a 'hard-hitting' Sunny Leone soliloquy back to back with a skimpy Sunny Leone item song. Sigh.
Rediff Rating: