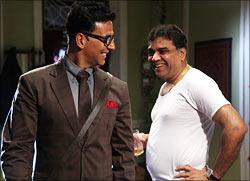 Oh My God is a brave and absorbing blend of satire, fable and fantasy that brings our attention to the misuse and commercialisation of religion, writes Sukanya Verma


God is a personal choice and open to interpretation. His origins are undefined and range from mystical to scientific. He is someone, we are deeply conditioned to have faith in and never question. 
Religion is man-made. Its original purpose was to function as a discipline and technique, guiding the progress of spiritual conscience, before its ideals were completely distorted to set up a dogmatic rulebook of blind devotion, intimidating myths and ritualistic lifestyle.  
OMG-Oh My God
creates a hard-hitting premise where its lead protagonist decides to dispute this rigid system by dragging God and the business of religion to court.
Based on the successful Gujarati play
Kanji Viruddh Kanji
, also adapted in Hindi as
Krishan vs Kanhaiya
, which itself drew inspiration from
The Man Who Sued God
,
Oh My God
, co-written (with Bhavesh Mandalia) and directed by Umesh Shukla, is a brave and absorbing blend of satire, fable and fantasy that brings our attention to the misuse and commercialisation of religion.
It all starts after an agnostic antique seller Kanjilal Mehta (Paresh Rawal) loses his shop in a (super)natural calamity.  He can't claim insurance for the damage since its falls under the 'Act of God.'
Enraged, he files a case against God and submits the address of all prominent religious establishments triggering nationwide hue and cry. Even though Kanjilal does not subscribe to the idea of a supreme being and addresses idols of worship as 'toys,' he's respectful of others' beliefs (
Main sab Dharmon ka aadar karta hoon aur kissi dharm ko maanta nahi hoon
.) 
His own wife maintains a small temple space and believes in the power of prayers and fasting. Most of his scorn is expressed through witty banter and dismissive conclusions --
Yeh Aastha channel mat shuru karna
.
Through the development of this lawsuit,
Oh My God
strives to seek metaphors between Kanji's absence of faith and an ardent struggle to expose the ugly face of the ridiculously rich Godmen and their widespread political connections. All of this, of course, is parodied to hilarious effect so that the message is both relevant and entertaining.
A bald, banana-chomping Hindu preacher (Govinda Namdeo who after a subdued turn in
Heroine
is back to his trademark hamming in costume) sneaks into the washroom to wolf down a hidden vada pav in the dustbin even as the country assumes he's on a, ahem, hunger strike. 
A creepy spiritual guru (Mithun Chakraborty delivers a caricaturish performance that sporadically works if you can focus beyond his hand movement) leaves his footmarks on a white tile which is then sold for an obscene amount. A heavily made-up Sadhvi (Poonam Jhawer,best-remembered for playing Sunil Shetty's expressionless wife in
Mohra
)
walks in and out of the frame holding a mini trishul in hand.
This curious looking troika or 'Bhagwan ki franchise'  is backed up by an entire army of junior artists dressed in the most adventurous versions of Sadhus, Babas, Gurus and Pandits in hues of yellow, orange, red and white straight out of a catalogue constituting exotic India.
Lampooning several well-known heavyweights in this sphere,
Oh My God
is furiously irreverent when it comes to making a point and telling its viewer what a fool he or she is. This audacity is its very strength. Ditto for its powerful dialogue and sharp logic richly articulated through Kanji's furious criticism of callous wastage of resources, discrimination in devotion and ridiculous expenditure under the pretext of grand customs and hollow traditions.
Here are a few nuggets:
'
Jahan dharam hai wahan satya ki jagah nahi hai. Aur jahan satya hai wahan dharam ki zaroorat hi nahi
.'
'
Hanuman itni chillar ka kya karenge
?'
'
Yeh log mujhe (Bhagavad) Gita sikhayenge? In logon ki IQ bhi room temperature se low hai
.' 
Although fleeting, there is an attempt to show some genuine representation (in the ever benevolent presence of Arun Bali) of this side as well. Shukla also depicts how religious differences are put aside when there's a threat to the combined industry revealing the hypocrisy of so-called protectors of morality and faith. 
What hurts
Oh My God
somewhat is the long-winded climax. After a hammering pace, Shukla slows down to arrive to a preachy (which is fine), lacklustre (which is not) conclusion. Moreover, Akshay Kumar's (also the producer alongwith Paresh Rawal) contribution as the story's divine intervention is a middling one. He shows up just before the interval and plays God with an unceasing smile and gentle radiance. Surface value aside, he just doesn't hold up as someone who'd know better than Rawal.
Also, that stained front tooth, which the camera so carelessly focuses on time and again, is not exactly a heavenly sight.
Unlike most movies adapted from stage,
Oh My God
doesn't wear an overtly indoors-y look and is more small-screen in its aesthetics. But production design isn't the reason to watch this film. Paresh Rawal is.
It's heartening to see one of our
finest
in a mainstream project centred entirely around him. It's a role he's obviously familiar with considering he featured in the original play too.
But there's no sign of character fatigue or repetition. Armed with superb writing and a keen understanding of Kanji's convictions and qualms, the actor grabs his viewer's attention from start to finish. Like the remark of the guy in the shop, '
Bande mein dum hai, yaar
.' 
The same can be said of the movie.
Rediff Rating: