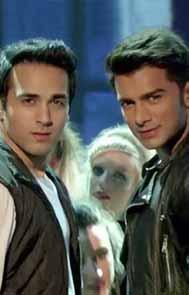 From snatches of dialogue (about adulterated cement) to plot-points (about disappearing corpses), even lifting bits of the background score to try and underscore its salutation, O Teri borrows constantly from Jaane Bhi Do Yaaro and drowns it all in slapstick so noisy it all comes off as more lame than loving, more blasphemous than beholden, says Raja Sen.

Satire isn't what it used to be.
Neither, of course, is the nation. We are a country who tunes in every night to watch an apoplectic news anchor shout till he's blue in the fact with righteous indignation, a country whose national sport is match fixing, a country whose politicians are so farcical that they spoof themselves better than any stand-up comics can… A country, in short, that needs a good walloping more than it does a subtle wake-up-call.
This looks like a job for black comedy, and the makers of O Teri came up with what may well be, on paper, the most suitable of ideas: what if Kundan Shah were to make his Jaane Bhi Do Yaaro today? What if two bumbling, well-meaning protagonists were faced with the Commonwealth Games Scam, Niira Radia and the 2G brouhaha? What if the system was skewered while a homage was constantly paid to the most memorable Hindi comedy of all time?

Um, here's the thing about movie tributes: to pull them off, they need to come from a place of great competence. A book, for example, was written about Jaane Bhi Do Yaaro a few years ago, a book assiduously compiling stories told by the classic film's cast and crew. There was nothing wrong about this telling, per se, save its depressing dryness; it was like hearing your Hindi schoolteacher dictate a jeevani of your favourite limericist. Factual correctness can't make up for a horrid lack of whimsy, and as one of the many lifelong JBDY maniacs, I felt cheated by a book that showed none of the spirit, the inventiveness, the vim that any work about the 1983 masterpiece deserved.

Which brings us to Umesh Bist's O Teri, a film that borrows constantly from the great one -- from snatches of dialogue (about adulterated cement) to plot-points (about disappearing corpses), even lifting bits of the background score to try and underscore its salutation -- but drowns it all in slapstick so noisy it all comes off as more lame than loving, more blasphemous than beholden.

The loudness of the film seems intentional, especially considering the frighteningly oversaturated palette, one that makes a Ferrari look way, way too red and Mandira Bedi's lips look like she were auditioning for an Aqua video. Every single character in the film constantly speaks with some manner of silly accent; it was as if the actors were told to ham it up during the shoot and then told, again, during the dub, that the face-stretching was all well and good, but that they now needed to bring out their best keshto-voices.

There are a few fine actors so bulletproof they can wade through this manner of tripe unscathed -- Manoj Pahwa, Razzaq Khan and Vijay Raaz, the latter even delivering a few actual laughs, and Mohan Kapur appears particularly well-cast as lobster-loving editor Vir Sanghvi -- but the rest of them flounder fatally in this sea of overacting. Especially the leads. Pulkit Samrat, a feller I've liked from the get-go, is pretty damned unwatchable here, and along with him -- and sporting the name "AIDS" in this film -- is the debuting Bilal Amrohi, who is essentially the Mtv Roadies version of Suniel Shetty. (Make of that what you will.)

In fact, that goes for the whole film. In case you've always wondered how JBDY would look if made with all the subtlety of Phir Hera Pheri/Grand Masti, then this is your lucky day. (There's even a peculiar song about "butts.") Which is a pity because O Teri, despite being loud enough to jolt any laash alive, targets the right scumbags and has more than a couple of fun ideas, not least a soothsaying dog who -- like Paul the Octopus, or a particularly cute magic 8-ball -- predicts the future. Now if only they'd kept the pooch around during the edit.

Rediff Rating: