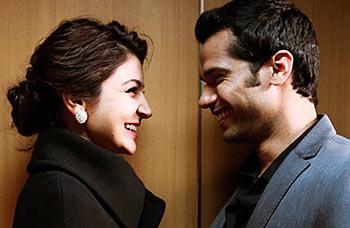 NH10 has consistently good music, writes Joginder Tuteja.
Anushka Sharma's dark thriller NH10 surprisingly has nine songs in its soundtrack.
The album starts with composers Sanjeev-Darshan making a comeback with Chhil Gaye Naina. They give their all to this rock number.
Kumaar's lyrics are poetic to the core.
Singer Kanika Kapoor is a revelation. She shows that given a platform, she can go beyond Baby Doll, Lovely and Chittiyaan Kalaiyaan. It's a good start to the album.
The song that follows, Le Chal Mujhe, occurs five times in the album. And rightly so, as it takes time to seep in after repeated hearing.
The song is composed by Bann Chakraborty who has also written the lyrics together with Abhiruchi Chand. It is well sung by Mohit Chauhan.
The song appears in two 'reprise versions' with Shilpa Rao and Arijit Singh going solo.
Mohit Chauhan returns with Neeti Mohan for another version of the song that is titled Khoney De. Towards the end of the album there is an instrumental version as well.
Newcomers Nayantara Bhatkal and Savera Mehta come together to sing the lively Main Jo. The song presumably comes at the beginning of the film when the protagonists are in a much happier environment
Main Jo is composed by Ayush Shrestha and Savera Mehta with lyrics by Manoj Tapadia.
Another newcomer, Samira Koppikar, is the composer-singer for Maati Ka Palang, which is written by Neeraj Rajawat. It's a philosophical track that talks about how all journeys eventually culminate in death.
The final track is Kya Karein, composed by Savera Mehta and Ayush Shrestha.
It has a western sound and is sung by Rachel Varghese. The Varun Grover written number has the flavour of Maati Ka Palang. It's a sad song that moves at a very slow pace.
One thing that is consistent about NH10 is its pace and setting. There is nothing commercial in the album.
Rediff Rating: