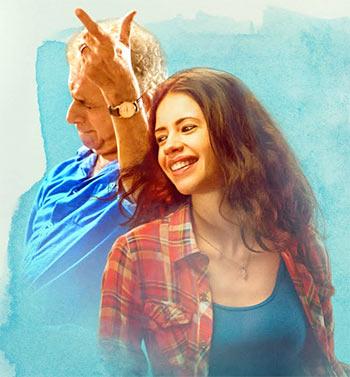 Anu Menon's true triumph lies in how she doesn't vilify a profession or its uncomfortable reality to gather empathy for her characters, says Sukanya Verma.
In times of inconsolable grief, comfort is a luxury not everyone can offer.
Misery craves company not isolation but from someone who suffers exactly like you do, instead of well-meaning but empty solace.
Director Anu Menon's Waiting, a tender tale of love and letting go, recognises this largely neglected sentiment and builds its premise around two strangers bonded by despair.
In their first interaction, a bewildered Tara (Kalki Koechlin) looks around the hospital waiting room and spots a lone Shiv (Naseeruddin Shah) scribbling notes on a paper.
Acting purely on impulse, she approaches the elderly gentleman with an air of hope. He looks like someone who will have something comforting to say.
He does. It's familiarity.
Shiv is in a similar situation. For the past eight months, his wife (Suhasini Mani Ratnam) lies in coma with no hope of recovery whereas newly married Tara is coping with the likelihood of losing her husband (Arjun Mathur) to acute brain damage.
Trapped indefinitely in the sterile confines of a Cochin hospital, Shiv and Tara take turns to ease each other's pain. Often Tara wonders -- Tu itna 'zen' kaise hai, Shiv? (How are you so calm, Shiv?) -- amazed by his composure in times of uncertainty.
I am at a different stage of grief, he explains in Waiting's most profound and haunting scene. Their mentally arduous journey into the final leg of this inevitable juncture is the crux of the layered, lyrical Waiting.
Despite its sombre setting, the mood is far from brooding. Waiting communicates normalcy around the given trauma in ways as genuine as one's need to breathe.
When its characters laugh, they're only being human and hopeful. Menon casts just the actor -- to ensure the comedy doesn't seem out of place -- in the unaffected naiveté of Rajeev Ravindranathan, as Tara's husband's office subordinate.
Humour is only a means to candy coat perfunctory pragmatism and superficial concern mocking its own purpose. At times though, this constanting assertion of self-control, especially when Shiv and Tara go lingerie shopping, hits a contrived note.
While we never really get to know their spouses beyond their enthusiasm for fitness, Menon strokes her leading protagonists with curious complexities.
In an overly written script, these would be jarring, but Waiting's serene narrative relies on their ambiguities for soul.
Tara is a fiery young woman, unapologetic about her candour but also desperate enough to compromise on her religious beliefs if it helps. Though furious at the lack of support by the social network community, she's unwilling to share the news of her husband's accident with their immediate family.
There's something stunningly unhindered about Kalki and her aura. She uses this quality in the most mesmeric fashion to create a woman we sympathise with and wish well for, in spite of her petulant, cagey bouts.
Naseeruddin Shah's tremendous gift to inhabit the character he essays elevates every single frame he appears in. He conveys the understandable frustration of Shiv who, as it turns out, is not so together after all. Indifferent to the warmth of his benevolent neighbours, he harbours sharp cynicism towards the medical fraternity. Having read a zillion medical journals, he believes he has achieved an authority on the matter.
Naturally, the real doctor on the scene, played by Rajat Kapoor, doesn't agree. It's not a lengthy role but Kapoor imbues it with just the right amount of conceit and charm.
Though it leaves a few areas unexplored (Kalki's strained ties with her mother, a telling picture of a teenage son on Rajat Kapoor's desk), Menon's film is mostly deftly thought out and speaks on many levels.
It addresses the relentless struggle an ailing one's family goes through to help them stay afloat, the rehearsed nature of the hollow assurance medicos subscribe to and a steadily disappearing support system outside the cyber world.
And yet, the world is still not bleak enough to give up on.
Menon's true triumph lies in how she doesn't vilify a profession or its uncomfortable reality to gather empathy for her characters. Nor does she berate Kalki's self-absorbed friend (Ratnabali Bhattarcharjee) for excusing herself to attend to her own. They're just ordinary people caught up in their fast-paced lives.
Stuck in a loop, it's a privilege Tara and Shiv don't have as they take refuge in anticipation till crisis has its closure and memories turn into nostalgia.
Rediff Rating: