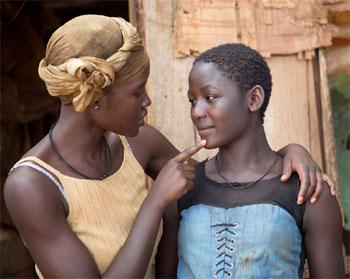 Queen Of Katwe feels almost like Mira Nair is making a Bollywood film in Africa, notes Raja Sen.
Comprehension is a beautiful thing.
Cinema wows us by opening our minds to the unexpected and the unimagined, and, in turn, it is special for us viewers to witness a character grow, learn, become more aware.
In front of our very eyes.
When we get to see the jigsaw pieces of clarity click satisfyingly into place inside a character's mind, these tangible moments of epiphany -- set sometimes to a dramatic, rousing background score, like in Mira Nair's new Disney film -- tug at us in elemental fashion.
Thinking has always been the brightest colour.
It is far from the only colour on Nair's palette, though.
Queen Of Katwe, a film about an underdeveloped Uganda as much as it is about a chess prodigy, is a visually thrilling riot, a hyper-detailed sensory overload that heaps on texture so thickly you'd be forgiven for imagining you've smelt the spice and tasted the porridge.
The flavour is utterly local to the poorest corners of Uganda and yet spread across an overwhelmingly universal template, the director assuredly serving up an underdog story for us all.
Phiona is a girl with a not-quite-right name living in what seems like a not-quite-right world. Her family has no money and they have nothing resembling a life. It is only when a missionary introduces her to a chess-board that she sees a glimmer of light.
A naturally plucky girl, she is applauded both for fighting boys and for beating them in chess, leading her to back her love for the game and take it as far as she can dream.
With an energetic and swooping camera, Nair takes us along on the girl's journey, transitioning from the chalk-white pieces she shuffles at first all the way to the gleaming ivory chessmen she graduates to.
It is a vibrant, evocative film, though its attempts at being evocative feel transparent at times as it simplistically lays on the emotionality and predictably follows an upwards-only trajectory.
To me, it felt initially jarring to hear the characters speak doggedly in English, speaking like they were reading out subtitles, their words pressing directly upon meaning rather than leaning on nuance. Unfortunately, far too much expository dialogue hides behind this distinctive patois, with characters spelling out too much.
In many ways, in fact, this feels almost like Nair making a full-on melodramatic Bollywood film. Except she's doing it in Africa. About chess.
It is Nair's excellently picked cast who lift the film beyond the Disney sports movie that -- despite its real-life roots and grounded detailing -- it undoubtedly is.
The infallible David Oyelowo is fantastic as the missionary Robert Katende, memorably launching into an animated dog-and-cat fable to amuse his porridge-drinking 'pioneers,' the kids playing chess.
The game matters little to Lupita Nyong'o, who plays Phiona's mother Nakku, a haughty, defiant woman trying to keep her head high despite all odds, wishing the trophies her daughter brought home were edible. The way Nyong'o harrumphs is astonishing in itself, and, while laden with most of the film's obviously manipulative bits, she handles them well.
The children are all wonderful, with Madina Nalwanga's gorgeous Phiona naturally leading the pack. She is a girl you want to root for right from the devastating minute you see other children avoiding her because she stinks.
It is this strength of this film's imagery -- its smell, if you will -- that really lingers.
'Bring the flavour to the fish, bring the flavour to the rice,' insists a ridiculously catchy song about the spices hawked by Phiona's mother; characters swaddle themselves in boldly upholstered fabrics; and the filming of the chess itself is reliant on body language, so we learn more from the slump of Phiona's shoulders or the twinkle in her eye than we do from her on-board gambits.
One of the most telling moments for me is when the slum children, hurtling in a bus toward a big school tournament to "beat the city boys," are singing folksy songs and laughing but suddenly, as they enter the compound, their mouths dry up and they quieten down without being asked.
Around them we see cricket -- the game inescapably associated with apartheid and class in Africa -- and these boys in whites are fascinating to our knee-high Kasparovs in torn cardigans. It is a different world they're stepping into, and they know it.
Based loyally on the real Phiona's remarkable true story, the plot is basic, predictable and, while easy to get behind, feels ultimately a bit tedious at 124 minutes.
The film ends with numerous fade-to-black endings as if the filmmakers wanted to keep all of them in, and this dilutes the overall climactic high. Still, what happens matters less than how it happens, and the film is worth it just for sights like those of sleepless and passionate chess teams from Uganda, China and Germany patriotically practicing their individual games on board a flight to that all-important of chess nations, Russia.
Queen Of Katwe is, as I said earlier, a film about realisation.
About a coach's realisation that his pupil is far too many moves ahead.
About a mother's hand-on-mouth realisation that she is finally home.
About a striking young woman, one who looks like she walked out of a poem, and how she feels her poise and grace fade away as it dawns on her that the girl sitting across from her is special.
And about that young girl understanding what a pawn can become if it marches far enough.
Comprehension is a beautiful thing.
Rediff Rating: