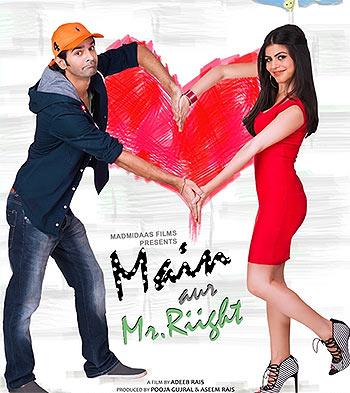 Main Aur Mr Riight is a tad too pretentiously philosophical to be taken seriously, says Paloma Sharma.

"Pyau, pyau, pyau,"
Sing the six sidekicks of Aliya Raj (Shenaz Treasurywala), while Aliya and Sukhi (Barun Sobti) look into the distance and imagine how their first meeting would have been if Aliya wasn't paying him to be her boyfriend.
Main Aur Mr Riight is the story of an obssessive compulsive casting director in her late twenties who is constantly badgered by her friends to find a man before she turns into an old, wrinkly cat lady.
Enter Sukhwinder Singh, a down-on-his-luck struggler from "the Delhi" who has come to Mumbai to become an actor.
To put an end to her friends' nagging, Aliya promises Sukhi a role in the upcoming big budget production Kabhi Kabhi Luv and a tempting amount of cash in exchange for him pretending to be her rich, well educated, "cultured and well spoken" and London-residing boyfriend.
The ploy works for a while, until Sukhi starts inspiring the high-society sociopaths that Aliya calls friends, to come clean and lead their lives honestly. All hell breaks loose and Aliya finds herself attracted to Sukhi.
Will her Mr Wrong actually turn out to be Mr Right?
I think you already know the answer to that.
The villian of the story is the casting couch and the hero, Ms Treasurywala's cosmetic surgeon.
Main Aur Mr Riight is an a desi-fied, darker and deeply deranged version of the Debra Messing-Dermot Mulroney starrer The Wedding Date.
I wish I could tell you about things like direction, script or talent but I would have to see some of that myself.
Bappi Lahiri's music comes across as juvenile.
Barun Sobti fares better than his costars in the acting department.
Main aur Mr Riight is a tad too pretentiously philosophical to be taken seriously.
Rediff Rating: