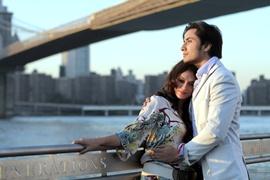 Preeti Arora feels that London Paris New York is a run-of-the-mill romantic comedy but scores in the cinematography department.
Coming-of-age films have become the current craze in Bollywood. So after the recently released
Ek Main Aur Ek Tu,
Anu Menon makes his directorial debut with
London Paris New York
. For this genre, certain ingredients are must-haves. The angst which stems from a break-up, the confidence of leaving your mark on the world, the lashing out when expectations fail and finally (say approximately ten minutes before the end credits) making peace with yourself and hopefully the others around you.
This scenario has now been played out several times over the last decade with films such as
Wake Up Sid
, and
Love Aaj Kal
. When working with familiar plot points, a competent director must work hard to flesh out fresh, charming characters, where the audience loses track of time and is busy rooting for them.
Nikhil Chopra is a Mumbai-born 'eternally confused rich kid' on his way to film school in London. Ali Zafar as the slightly debauched yet not entirely corrupted brat is totally, lovably believable. He moves energetically on the screen, and the half-smile which constantly hovers around his lips keeps you engaged.
In a shopworn theme that love can strike anywhere at anytime, Ali bumps into Aditi Rao Hydari (Lalita Krishnan) the bouncy, energetic out-to-change-the-world feminist venturing on foreign shores for the first time. The sparks fly; their chemistry is obvious as they spend their days exploring London. The flirtatious conversations lead to attraction and takes both of them by surprise.
Aditi appears to be a tourist on her first '
phoren'
holiday with a knitted muffler around her neck, the sneakers and the casually plaited hair. Some promises are made, but they're
both sensible enough to realize the futility of building a relationship across continents. It's time to move on…
Beginning on a light-hearted note, the director is unable to sustain the mood. When the characters are in a state of turmoil the dialogues lose their conversational feel. It's here the film starts running out of steam. The director uses melodrama to depict anxiety and stress.
The film has its moments though. Aditi speaks her mind, barfs all over her lover boy in a drunken haze and doesn't set out to make herself alluring or enticing. But then there are also some major gaffes in the screenplay. Like Ali Zafar repeatedly using the same cuss word to make his point.
Where Aditi Rao Hydari is concerned, her appearance reflects her state-of-mind. In Paris, she appears chic with her short stylish hair cut. And then in New York sees her with unkempt hair falling on her shoulders and thick glasses.
The director wants us to believe we change at every stage of our lives, both in terms of appearance and our wants. An interesting theme which fails to take off. A sense of boredom sets in and the film drags. The clichéd climax doesn't bring any sense of relief either.
But
London Paris New York
isn't a love story about the actors alone. It does manage to effectively capture the spirit of the cities where the film has been shot.  For those who recognize New York only through Karan Johar films see the same locations, with different lighting patterns, creating a distinctive mood.
The film undoubtedly belongs to cinematographer Sameer Arya , who has aimed for a certain look-and-feel which he maintains consistently through out. Hand held shots, the grainy documentary effect in so many outdoor sequences, unconventional camera angles isn't something we see in rom-coms. And for that alone give this film a chance.

Rediff Rating: