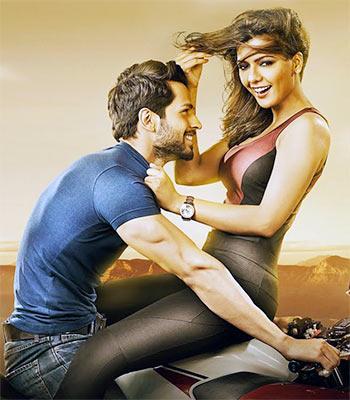 The biggest let down of Ishq Forever is the story, writes Namrata Thakker.
February is the month of love and so it's the best time for romantic movies to make their way to cinema halls.
No wonder then that three loves stories have already hit the screens so far: Sanam Teri Kasam, Sanam Re and Fitoor.
Sadly, none of them managed to create any magic on screen.
The latest release Ishq Forever joins the bandwagon.
Starring Ruhi Singh, Krishna Chaturvedi, Lisa Ray and Jaaved Jaaferi, Ishq Forever is the desi version of the Hollywood rom-com Chasing Liberty.
It's not an official remake but it would have been better if the makers had just bought the rights instead of lifting the basic story and making a sad rip-off.
Ishq Forever is about a free-spirited rebel Riya, played by Ruhi Singh, who is studying in South Africa. She loves her freedom but when her father becomes the Prime Minister back home, her life changes completely.
Ruhi gets tight security, and that's when RAW agents Naina (Lisa Ray) and Amitabh (Jaaved Jaaferi) enter the picture. They follow the young girl wherever she goes and Ruhi starts feeling stifled.
So on her birthday, she runs away from her party, as she wants to be free and away from all the security.
Helping her escape is none other than the hero of the film Krishna Chaturvedi, whose character is called Aryan Shekhawat.
From then on, Ishq Forever is like any other cliched Bollywood film with done-to-death dialogues.
Yes, there are a few twists in the plot but nothing that makes the film extraordinary, or even enjoyable.
Chasing Liberty was mostly shot in and around Italy, whereas in Ishq Forever gives you a tour of South Africa. The makers have captured the place breathtakingly well.
Music composer Nadeem Saifi makes comeback with this film but he hardly delivers. The music and songs don't have the wow factor that you would expect from a composer like him.
Performance wise, Ruhi Singh and Krishna Chaturvedi are just okay. While Ms Singh is seen flaunting her curves throughout the film, she really needs to work on her acting. There are times when she acts over-the-top. Her dialogue delivery also isn't quite there.
As if that wasn't enough, her chemistry with Krishna is plain boring despite all the lip-locks.
Lisa Ray and Jaaved Jaaferi do their best to play out their parts but there is nothing to boast about their acting.
Jaaferi, who is known for his comic timing, did get a few chuckles out of me but that's it. The makers haven't really explored his acting in the film which is a pity because he has given many fine performances in his career.
Like Jaaferi, Lisa Ray barely contributes to the film, and we really wish we saw much more of them.
If you have seen Chasing Liberty, stay away from its Hindi doppelganger. If you haven't seen the English film, still stay away from latter anyway!
Rediff Rating: