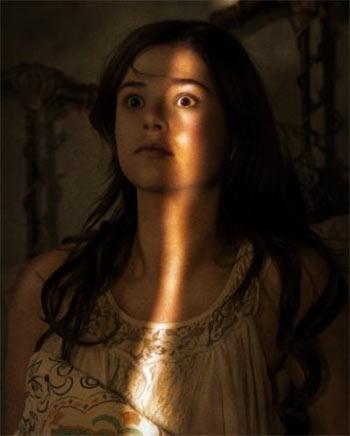 Much like a bumbling partner in a three-legged race, the second half of Insidious: Chapter 3 lets its first half down, says Paloma Sharma.
Considering that censor rules have gotten stricter and the general sociopolitical atmosphere of the country has acquired a more traditionalist slant, Insidious: Chapter 3 just might be the perfect horror film for Indian audiences.
Allow me to explain.
First timer Leigh Whannell takes over the directorial reigns from James Wan after two Insidious films to make an installment so unnecessary even Krrish 3 looks at it and goes, "Why?"
Chapter 3 is a prequel to the first two films of the franchise. Set before the Lambert haunting, it follows the tale of yet another demonic possession of a young person by demon from the Further.
Wannabe actress Quinn Brenner (Stefanie Scott), a teenager who has lost her mother, Lilith Brenner (Ele Keats in a minor role), to cancer recently, believes that her mother is trying to contact her from beyond the grave.
Quinn ends up knocking on Elise (Lin Shaye's) door and asks the psychic to help her talk to her late mother.
Elise, now retired due to unknown trauma, reluctantly complies with the teenager's request only to find that Quinn's feeling of having someone with her in her room is correct, only that, that someone isn't her mother.
Though Elise warns Quinn not to try to initiate contact with her mother without the help of a psychic, it is far too late.
The shadow that is after Quinn is getting closer and it won't be long before it takes over her completely.
Insidious hits all the right notes as it starts off.
Suspense is in the air.
Shadows linger at the edges of the screens.
The atmospheric sounds and the background score are perfectly engineered to raise the hair on the back of your neck.
The first half of the film -- the parts during which the entity that is haunting Quinn, aka The Man Who Cannot Breathe, is revealed only partially -- has some genuinely terrifying moments.
The build up is wonderful.
The revelation is not.
Insidious: Chapter 3 quickly deteriorates from creepy to cringe-worthy.

Whannell lets the focus of the film shift from Quinn's struggle against The Man Who Cannot Breathe to Elise's journey of self empowerment.

He steers the scenes set to terrify with precision but normal conversations between actors seem awkward and strained.
Dermont Mulroney, Lin Shaye and Stefanie Scott are, individually, good actors.

However, putting them all together in one scene may not turn out to be a good idea.

Mulroney, who plays Quinn's father, and Scott share none of the tense father-daughter chemistry that the script calls for while Lin Shaye seems to be one eye roll away from throwing said script at somebody's head as she kung fu fights her way through the Further.
However, ultimately, Insidious: Chapter 3 is truly a family film.

The angsty teenage girl gets possessed and her widowed father and much younger brother must save her (from herself).

Good wins over evil the moment good begins to believe in its own power.

An old black woman can see into the spirit world since persons of African origin have magical abilities, according to Hollywood.

Elise slips into the role of a mother figure to two overgrown man children, because ovaries. Never has such a culturally rich film been made by white people.
A simple story of demonic possession seems to have gotten lost in the mists of the Further while one was away during the interval, the ends of which are tied up with laughable simplicity and a saddening lack of creativity.
Much like a bumbling partner in a three-legged race, the second half of the film weighs its first half down.
Insidious: Chapter 3 is less insidious and more insipid.