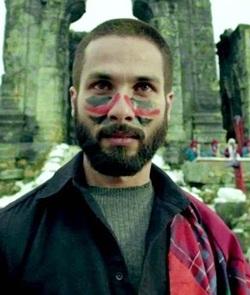 And it will haunt you long after you've left the theatre, promises Sukanya Verma.
By its very virtue, melancholy is a lonely, lingering, tedious and consuming emotional state. It simply cannot be hurried. Except if you persist sympathetically by the side of the man devastated by its grip, the upshot is more heartfelt than 'words, words, words' can articulate.
In Vishal Bhardwaj's Haider, an adaptation of William Shakespeare's Hamlet, Kashmir's trials are mirrored in its eponymous hero's ruin and rude realisation of betrayal from the ones he perceived his own.
A retelling so clever, so bewitchingly clever, a further validation of Bhardwaj's deep-rooted understanding of the Bard that gets more and more intimate with every passing Shakespeare he tackles. After testing his mettle in the dark guilt of Maqbool (Macbeth) and honing it further in the regrettable impulses of Omkara (Othello), Bhardwaj not only recreates Hamlet but also takes the liberty to rewrite it -- such a bold move but such a darn beautiful one.
There's a line, "I must be cruel only to be kind. This bad begins and the worse remains behind," which is attributed to Hamlet in the play but refreshingly redefines the motivation of someone else in the adaptation.
Bhardwaj plays with Hamlet's structure and timeline to inspiring results and so before it becomes a full drawn saga of indecisive avenging of a father by his son against his uncle and mother, Haider familiarises the viewer, with generous help from co-writer Basharat Peer, to the hostile, early 1990s atmosphere of the snow-covered paradise (captured to delight in Pankaj Kumar's sweeping frames).
Peer, who I have a fleeting memory of in rediff.com's office, strokes the script with unflinching scenes of terror and tension that afflicted the population of Kashmir, caught in the crossfire between militants and army. I haven't read his acclaimed Curfewed Night but I do recall this heart-breaking diary, which offers a disturbing glimpse of the horror he encountered personally. He even appears in a brief cameo doing what may seem amusing at first but is mostly a painful reminder of scars left on a tortured psyche.
For those constantly living on the edge, madness seems like a foregone conclusion if not a much-needed escape, Haider plays on it shrewdly. Even when its delicately crafted walnut wood carved décor, crewel-embroidery namdas and drapes colour the screen with prettiness that belies its reality, so potent is the film's distrustful vibe, even a warm gesture to embrace seems like an unfriendly move to frisk.
Only this is Vishal Bhardwaj and his signature whimsy and chutzpah, which acts as both -- an attitude and pun, is highlighted in Haider's light-hearted departures where Salman Khan is the only glimmer of cheer in this war-torn hell.
Haider's first fifty minutes are like a prologue allowing us to form an opinion, a first, second or third impression of its key characters and their reasoning through teasing imagery but isn't quite neutral where its politics is concerned. But if you agree to Haider as a poignant account instead of a comprehensive study, the somewhat one-sided picture may not offend.
I found myself a little restless by its initial pace but Haider's deliberations are essential and, eventually, rewarding because it sensibly concerns itself beyond its titular man.
Some of the most classic scenes (and verse) from the play are faithfully reproduced but Bhardwaj's true calibre shines in his reinventions that lend Haider an ideology and individuality that is entirely its own. (It also makes complete sense to have released on October 2.)
Its visual narrative is just as significant, like how Haider's prelude to wild behaviour finds an eye-catching metaphor by way of gray langur in the backdrop. Whether it is intentional or not, I do not know. If not, what a breathtaking coincidence.
Though never taking precedence over the spoken word, sound –as melody, as design, as background bears a thoughtful presence in Bhardwaj's film. Its stirring songs by Gulzar and Faiz and a background score dominated by violins (the most human of all instruments, in Louisa May Alcott's words) and sirens require a certain experience with sorrow if not the sensitivity to understand or appreciate.
Bhardwaj is an actor's dream. And the cast, so many wonderful actors even in five-second roles, realise this opportunity in different ways.
I liked the benign tempered Narendra Jha as Haider's wronged father and Kay Kay Menon's composed rendition of the corrupt but not completely deplorable uncle. I enjoyed the three elderly gravediggers as well as the Salman fanboys (Sumit Kaul and Rajat Bhagat) and a certain carrier of a plot twist I will not mention. I found radiant Shraddha Kapoor's depiction of fair Ophelia a confused mix of gullibility and guts. Her (needlessly) ill pronounced English spoiled two good scenes.
I was impressed by the crescendo of Shahid Kapoor's performance. He doesn't talk often but his eyes do. Sometimes pale like a ghost, sometimes burning with hysteria and insanity; sometimes tender with moist tears that is recipient of gentle kisses from the women he loves. The lattermost is a subtly explored territory in Haider.
He's absolutely electrifying in the scene where he goes all out to pronounce his madness. His work as Haider is a challenge well met, a film to be proud of. His younger avatar, played by Anshuman Malhotra, is quite a find as well.
But the one I am going to bow to is Tabu. Tabu, oh my god, Tabu. A world is said without uttering as much as a word. She plays us through her slightly puffy eyes and enigmatic, cold smile. Occasionally, the veil of steely composure slips and her insecurities come through.
Gertrude is almost impassive in Hamlet but as Haider's young mother, Ghazala, she is granted the benefit of mystery. And Tabu lets on the secret in a manner that will haunt you long after you've left the theatre.
Rediff Rating: