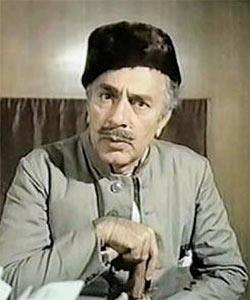 Garm Hava is a product of like-minded artistry and resourceful acumen that hasn't spared any effort to reserve its special place in movie history, says Sukanya Verma.
In the words of Winston Churchill, "The farther backward you can look, the farther forward you are likely to see."
Watching a film that objectively examines the after effects of 1947's Partition on Indian Muslims, forty years after its initial release, certainly rings true to this sentiment.
M S Sathyu's Garm Hava's framework of mileage-seeking political climate, separatist ideology and a stifling atmosphere of growing prejudice is not merely an impression of post-partition despair but a wry reminder of how we arrived at the times we live in by not learning from past mistakes and making even bigger ones.
And it's always the Salim Mirzas who suffer.
Based on celebrated Urdu writer Ismat Chughtai's short story, developed into an incisive script by poet Kaifi Azmi and screenwriter/costume designer Shama Zaidi, this National-Award recipient unfolds through the lives of a Muslim joint family in Agra headed by Balraj Sahni's Salim Mirza.
1948 hasn't begun on a pleasant note.

The news of Mahatma Gandhi's assassination and the ensuing rioting has persuaded many a Muslims to take the train to Pakistan including Mirza's relatives whom he bids adieu in the opening scene of the film.

Even though his shoe business is on shaky grounds, Mirza is convinced Bapu's sacrifice wont go in vain.
Things spiral downwards after his politically ambitious elder brother Halim (Dinanath Zutshi), in the tradition of the hypocritical neta archetypes flees to Karachi.

Soon after, Mirza's eldest son too gives up on their situation and moves to the newly formed nation (where he wouldn't stay in minority) in search of better career prospects.
Mirza's resolve to stay back stands out even more pointedly in the face of their consecutive departure.

A man, most likely in his late 60s, he's seen better days and experienced warmer camaraderie from the ones exhibiting distrust and distance.

It's inconceivable for him to sense he belongs elsewhere whether implied in the tone of remark or recommendation by strangers or sympathisers.
What's impressive is, considering Garm Hava's chronology is so soon after historically significant events, its characters discuss crucial chapters without elaborating on the topical subtext.

It is like any normal living room conversation, which is too recent to articulate conclusive confidence or cynicism.
Moreover, Sathyu's examination of this targeted isolation and scepticism is all the more effective because it openly questions the relentless pressure on Muslims who chose India over Pakistan (an option not everybody asked for) to prove their allegiance from members within and outside their community.
In their own way, Mirza's family too feels the pinch of post-partition change of dynamics.
His mother (Badar Devi in Dina Pathak's voice) fails to comprehend why a custodian has taken over her ancestral home leaving her to languish in a rented space.

His disgruntled wife (Shaukat Azmi is sensational in her outburst scene) fails to see the point in staying behind.

Unemployment triggered by discrimination plagues his younger son Sikandar (Farooq Shaikh makes a fabulous first impression).
But it's daughter Amina (a rather lovely Gita Siddharth) who's repeatedly let down in the matters of the heart by her inevitably Pakistan-bound suitors.

In a society and age where a woman's value is absurdly linked to her virginity, Garm Hava opts for a foreseeable conclusion allowing leeway for more dramatic imagery than its otherwise realistic content permits.
Made at a pittance with limited resources at their disposal, Garm Hava is a product of like-minded artistry and resourceful acumen that hasn't spared any effort to reserve its special place in movie history.

Re-released in a digitally restored format as part of PVR Director's Rare -- Sathyu's film, now boasting of enhanced picture quality and improved sound, proves skill precedes budget.
Extensively shot on location, the arresting landscape of its narrow lanes, washed-out walls, dingy tea-stalls, galloping tongas, discoloured havelis, its nostalgic nooks and forgotten corners, multi-storeyed houses of tapering staircases and rope railings alternates with magnificent vistas of a pastier Taj Mahal and sprawling Fatehpur Sikri.
But it's the image of a persevering Balraj Sahni, clad in crisp sherwanis and karakul topi that lingers on even after four decades of Garm Hava.

The master of restraint and dignity is a perfect fit for Salim Mirza.
Whether he's ragging his 'chudail' daughter or comforting his razor-tongued amma or speaking in silence through moments of humiliation and tragedy, his innate goodness shines through his compassionate voice and soulful, suffering eyes.
"Why should I leave? This is my home," protests the old woman, close to a century, even as her visibly distressed son struggles to explain the ancestral haveli doesn't belong to them anymore.
"Why should I leave? This is my home." The resolution of his Salim Mirza at the end is far more hopeful and inspiring.