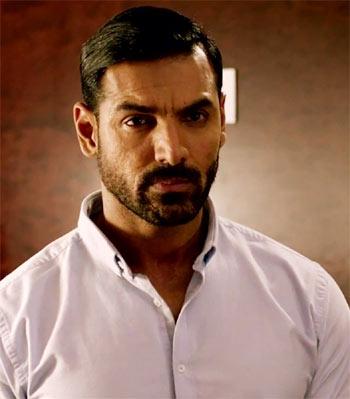 Despite some efficiency, Force 2 is never impressive, says Raja Sen.
The problem with making a slick action movie is that it has to be slick enough.
That is all the genre demands and it is, quite frankly, a tall order.
We yawn at Bourne movies now, for God's sake.
After watching Keanu Reeves amid the gorgeous artisanal beauty of John Wick, we'd steer clear of anything with Vin Diesel in it.
We aren't tolerant of old action movies -- the genre gets dated quicker than most -- and they frequently seem unforgivably cheesy even a few years after they first come out.
The old Bond movies are, I concede, a notable exception, but they always coasted on charm and smugness as much (if not more) than they did on slickness. Plus, the cars were a damned sight better.
No such aesthetic nuance gets in the way of relentless action in Abhinay Deo's Force 2, a film that chugs along quite zippily right upto the halfway point, until its utter scriptlessness and predictable plotline collaborate to derail it somewhat fiercely.
But -- and here's the kicker -- the cliches and the preposterous climax would all have still been fine if the action looked genuinely impressive.
It doesn't.
It isn't bad action, to be fair.
John Abraham, well cast as a musclebound Frankenstein -- complete with a nail sticking out of his shoulder, at one point -- is ACP Yashvardhan, and while the actor might have trouble saying his own character's name, he does suit the film's brief well.
Abraham is a freakishly well-built man, a fact Deo constantly stresses on by letting his camera caress his leading man's arms and frequently shirtless torso, and he brings some comic-booky authenticity to fights. (John Weak, I daresay?)
He's off his rocker, you see.
The script goes out of its way to spell it out, and Abraham himself mouths something to the effect of "five years ago my wife died, and now I'm crazy inside."
This declaration, accompanied by the Maharashtrian word 'satakli' made so popular by Ajay Devgn's painful Singham movies, makes the numb behemoth sound a bit more like a supervillain than it should, but ah well. At least Force 2 actually has one of those.
A super villain, that is.
Tahir Raj Bhasin is sly and slithery and throws out his dialogues menacingly, and while he certainly deserved a better film around him, does his best to lift this one above water. It is a surprisingly effective performance, one that is hard to ignore even if it is admittedly thrown into sharper relief by the two protagonists.
Ah yes, that's right.
Abraham has company, and she is RAW agent Sonakshi Sinha.
Sinha plays a straightlaced agent who appears to know what she's doing -- though it is regrettable that most of what she's doing is hiding behind Abraham.
I might have been forced to watch Force 2 (sorry) but I didn't hate it. The stuntwork is fine, and Deo -- who also makes the commendably crisp 24 on television -- has amped up the stakes in this thriller, set in Berlin and Budapest.
The budget shows, the intent shows, the biceps show. (Many times over.)
The fundamental flaw in a film like this -- other than the repetitive wowlessness of it all -- is the fact that by creating too dry and no-nonsense protagonists instead of fleshing them out as characters, you end up failing the genre. There is only one thing a smashing action movie should aim to be: fantastic nonsense.
Rediff Rating: