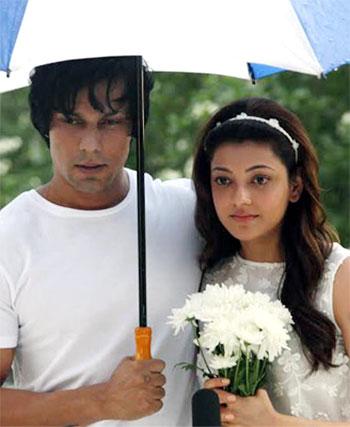 The film is somewhat bearable till the interval because of Randeep and Kajal's chemistry, feels Namrata Thakker/Rediff.com.
Actor-turned-filmmaker Deepak Tijori has directed films like Oops!, Fareb and Tom Dick And Harry but none of them has impressed the audience or the critics.
Sadly, his latest venture, Do Lafzon Ki Kahani -- a love story starring Randeep Hooda and Kajal Aggarwal -- will join the bandwagon.
Storywise, the film has nothing new to offer in the romantic genre. It seems as if the director is stuck in the 1990s and has incorporated every cliched Bollywood element in his film.
While Do Lafzon Ki Kahani has good music and a terrific actor like Randeep, it doesn't make up for the loopholes in the script.
Sooraj (Randeep) is a boxer who has retired from the profession due to a mishap. He now does three different jobs for a living.
His life changes when he meets the visually impaired Jenny (Kajal), a sprightly girl who loves talking. Their personalities are totally opposite and so, obviously, they end up falling for each other. After all, opposites attract!
With Jenny in his life, Sooraj decides to give boxing another chance so that he can have a normal life.
But his plans change when he learns that he is partly responsible for Jenny's loss of sight. Sooraj now wants to make things right by helping Jenny see again.
The operation requires a lot of money but Sooraj is ready to go to any length for the love of his life.
Will Sooraj succeed in helping Jenny? Will their love story have a happy ending? You will have to watch the film to find out but, trust me, it's not worth it.
The first half of the film basically establishes the love story between Randeep and Kajal's characters. Their chemistry is cute and two look good together.
In fact, the film is somewhat bearable till the interval because of Randeep and Kajal's chemistry. But, performance wise, it's the Sarbjit actor who stands out. It's clear that Randeep has given everything to the role. The boxing scenes are a visual treat, so is the overall action. He is good in romantic scenes as well. What lets him down is the story.
It's sad to see such a good performer wasted in a film that just doesn't do justice to his acting abilities.
Kajal, on the other hand, is decent but there is nothing much to boast about in her performance.
The editing is sloppy and there are quite a few scenes that pop up randomly, making no sense in the story. The plot is predictable and so Bollywoodish that, after a point, I just didn't care where the film was headed.
Give this film a miss and thank me later.
As for Deepak Tijori, I guess he will have to wait a little longer before he tastes success as a filmmaker.
Rediff Rating: