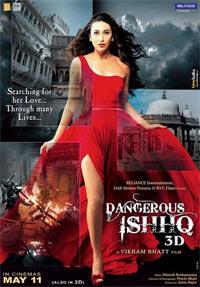 Dangerous Ishhq is a reminder of an era in Bollywood when filmmakers could grossly underestimate their audiences' thinking capacity and get away with it, writes Puja Banta.
Before the release of
Dangerous Ishhq,
I had heard that the film is about past life regression. After having watched the film I can confirm that it is indeed about past life regression. I can also confirm that the regression here is not confined to past life. It is also a regression into an era when Bollywood filmmakers could grossly underestimate their audiences' thinking capacity and get away with it.
The film brings Karisma Kapoor back on the big screen after a six-year hiatus. In the interviews that Karisma gave as a run up to the film, she described her role in
Dangerous Ishhq
as the most challenging role of her career. She essays four different characters across four time periods in the film.
Starting with a supermodel Sanjana whose fiancé Rohan ( Rajneesh Duggal) is kidnapped under mysterious circumstances, Karisma goes on to play Geeta, Salma and Paro across five centuries. All this made possible by her doctor who makes Sanjana delve into her past lives in order to identify Rohan's kidnappers. The doctor casually throws in references to famous psychiatrist Dr Brian Weiss and his past-life therapy in support of her treatment of Sanjana. And from here on things get increasingly bizarre.
Despite her claims of having worked very hard for the film, none of Karisma's four characters leave any impact on the audience. A ridiculous and faulty plot, superficial dialogue delivery and weak direction leaves the audience completely untouched and mighty annoyed at being taken for such a dumb ride.
However, a couple of impressive dialogue deliveries by Karisma's period characters do assure us that her acting prowess has not dwindled over the years. Given an opportunity, she can still pull off a
Zubeidaa
with the same
panache and possibly more depth and maturity.
In the looks department, Manish Malhotra's impeccable styling ensures that Sanjana struts around in six inch heels through all the chaos and trauma of trying to find her kidnapped fiancé. And that the city slicker turns into a village belle with style and flair. While her wafer thin frame is compatible with Sanjana's supermodel looks, Salma and Paro's bodies could have done with better definition.
Rajneesh Duggal is a model-turned-actor. And whenever anyone mentions a male model turned actor, the first image that comes to my mind is that of a wooden Deepak Malhotra squeaking out "Pallo" in Yash Chopra's 
Lamhe
. Lets just say Rajneesh Duggal does better than that.
Divya Dutta's natural performance tries to bring some semblance of realism into a preposterous plot but elements like Meerabai's (Gracy Singh) '
vardaan
' to Paro and Durgam Sigh's (Ravi Kishen) shoulder mark across many rebirths  render any such effort ineffective.
The film was also being touted as a supernatural thriller. Supernatural it surely is, what with far-fetched characters like a sorceress (Natasha Sinha) and a villain who chases Sanjana through generations. But there is nothing remotely thrilling about the film -- unless some exasperated laughs at the sheer absurdity of the plot can pass off as thrills. And a convoluted ending doesn't make it any better.
Cinegoers have always been happy and willing to suspend their disbelief before entering theatres. And many great filmmakers thrive on this trait. But
Dangerous Ishhq
demands a suspension of not just disbelief but of all our thinking powers and even that does not make us take this incredible farce spread across five hundred years in our stride.
So here's a plea to all filmmakers -- regressive or progressive -- for the sake of Indian cinema and its viewers, Mirabai and Dr Brian Weiss should be kept as far away from each other as possible.
Rediff Rating: