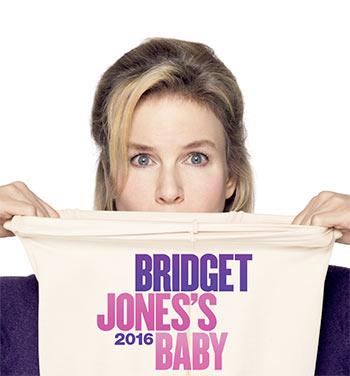 It all feels like something you've seen before. And yet, Raja Sen calls Bridget Jones's Baby a pleasant experience.
How do you solve a problem like Bridget?
Thing is, she doesn't really have a problem.
Bridget has loving friends and family, a nice job, and a first name that sounds misleadingly close to that of the greatest of cinematic sex-kittens. And as we know because of the Bridget Jones movies -- and books, by Helen Fielding, she of the stellar literary pedigree and the eye-rolled narrative tone -- things work out for Bridget.
Attractive men tussle for her, bosses are eventually charmed, and most moments of embarrassment are compensated for in grand style.
In the new film, the (refreshingly apostrophe'd) Bridget Jones's Baby, she falls into mud only to literally be plucked out by a man usually called McDreamy. Such is the lot of this whiner-winner.
The film, directed by Sharon Maguire, is about a pregnant Bridget Jones and two absurdly attractive suitors fighting over paternity, and proves to be a trite confection of a 90s vintage.
If you poured some Wet Wet Wet onto the soundtrack you could fool your wife into believing she's already seen this movie a few times on TV -- thus freeing you up to change the channel.
Yet, you might as well leave it on because somewhere between Colin Firth and the phenomenal Emma Thompson, it all turns into a reasonably pleasant experience.
Firth, of course, plays the invariably named Mr Darcy, an aloof man who has previously in the series worn bad jumpers with gallant derring-do. He exists here as the articulate antidote to a gentleman the heroine refers to as the "shiny new American," played by Patrick Dempsey, a billionaire who fawns over Bridget right from the start.
It is the kind of dilemma most women wouldn't mind, but Renee Zellweger's perpetually indecisive Bridget -- flitting klutzily through life like a talkative Mr Bean -- often misses the point.
The film opens with Bridget celebrating her birthday by dubsmashing a song with a glassful of wine by her side. She isn't broadcasting, merely singing along, but may as well have been using the app, because the idea of anyone actually tuning in to see Ms Jones is ludicrous.
Nobody, after all, shows up to celebrate her 43rd birthday.
The most self-pitying of narrators, Jones is a diarist too desperate for laughs, and often ends up too predictable.
"At least nobody knows it's my birthday," she says as she walks into work where, you guessed it, everybody knows.
Then again, perhaps that's the whole point, the everybodyknows-ishness of it all. Jones is who she always was, as are the films. Our narrator has folded in references to American television in her life -- not just is there a suitor from Grey's Anatomy but her new best friend is a Miranda -- and still things haven't really changed.
These are feminists-day-off romps about a girl who single-mindedly obsesses over men, and who men, with implausible doggedness, fight over. The new film mentions feminism, Pussy Riot, political progressiveness and television journalism, using them all as weak punchlines.
Yet there is something oddly comforting about a comedy this basic, one that resorts to all the tropes shamelessly, giving itself over even to a last-minute climactic run. All in the name of drama we've already seen.
Bless, then, Emma Thompson who plays an obstetrician and lifts the film -- simply, it appears, by not smiling.
Thompson's comic timing beats most working actors, and here she is canny and cool and makes her lines sing. She takes an unremarkable line -- about how witnessing your wife giving birth is akin to watching your favourite pub burn down -- and renders it unforgettable.
Firth is delightful as always, especially when confounded, and kisses Bridget on the forehead when told to kiss a baby's brow, but he is handed all the moments.
The biggest problem may lie in Bridget's voice. That unholy version of a British accent is too plummy, too overdone, and quite frequently unbearable. Especially, my god, when she says words like 'Blimey.' She sounds like a thin Nigella Lawson. Which is to say, entirely wrong.
Good thing you won't hear much of it over the unescapable sound of women tittering determinedly at their onetime-favourite girl. Chuckle along.
Rediff Rating: