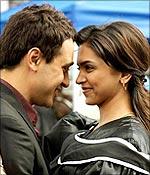 Sukanya Verma reviews Break Ke Baad. Post YOUR reviews here!

Blame it on Aditya Chopra and Karan Johar!

More than a decade ago, Bollywood found its unsought messiah in these two filmmakers with a pretty similar history and decided to hail them as something of a Steve Jobs and Bill Gates of glitz and gloss.

Both belonged to film families and are instrumental in expanding the family business of movie-making from mind-blowing to monumental by taking inspiration from Sooraj Barjatya, another young director with a similar background and successful record in sweet, sentimental, celebration-themed romances; they each wrote and directed a grand love story.

Both Dilwale Dulhania Le Jayenge and Kuch Kuch Hota Hai became blockbusters. Moreover its impact on the culture of dating and dressing was undeniable. Perhaps, in many ways, it was our very first real introduction to cool.  

But while regular fans moved on, a bunch of boys, probably in their teens, did not. They grew up and turned directors with the single-minded goal of making cool movies.

What that really meant was channeling the DDLJ and KKHH legacy shamelessly and tediously, be it as an act of premature tribute, intentional ridicule or direct reference. A pattern, which was mostly amusing before the overkill, most obvious in films like Bachna Ae Haseeno, I Hate Luv Storys and now Break Ke Baad (adding bits of Mr India and Jo Jeeta Wohi Sikander for variety). Though the latter-most belongs to neither Yashraj nor Dharma, the connection can be traced back to its producer Kunal Kohli, an YRF loyalist turned independent filmmaker.

Only in post-Friends 2000s, the depiction and dynamics of modern relationships in urban India have undergone a dramatic change. As much as one reveres the beatific professions of love between Raj and Simran or sigh over the high drama surrounding Rahul and Anjali, the Facebook generation relates better to the casual, conversation-happy boy-girl equation in contemporary fare like Dil Chahta Hai, Jab We Met, Jaane Tu Ya...Jaane Na, Love Aaj Kal and Wake Up Sid.

It would seem Danish Aslam's directorial debut Break Ke Baad is along those lines with its long-distance relationship theme. To think the first hour and half goes off like a breeze with its attractive opening credits, zippy pace, witty rejoinders, slick packaging and two extremely good-looking protagonists.

Despite the advertising overload (Kit Kat chocolates, Volkswagen Beetles, Zen mobile) and a mandatory big, fat Punju wedding, Aslam maintains a mellow vibe and concentrates on establishing the close friendship between Abhay (Imran Khan) and Aaliya (Deepika Padukone). Their Hindu/Muslim status is, mercifully, never a subject of concern or speculation.

Imran Khan revisits a character he's already essayed quite effectively in Jaane Tu...Ya Jaane Na. His Abhay Gulati is a vanilla-faced epitome of patience, sensitivity and goodness; the quintessential Mr Right putting up with his insolent, spoilt, self-seeking, nonconforming, 'Screw you' spewing childhood sweetheart, Aaliya (Deepika Padukone).  

She address her mom on first-name basis, plus she's ambitious, an enduring taboo in Hindi films. Negative connotations aside, Aaliya is hardly rooting material. She's a manipulative, cold-hearted you-know-what for us to care or invest. What's liberating about lying to a caring boyfriend and jetting out to pursue an acting career in the garb of a mass-communication course in Gold Coast, Australia (it's Mauritius, really)? If Aslam's intention is to portray Abhay as a clingy and aimless contrast, it does not come through.

Truth be told, Imran's Abhay is less of a smitten Archie and more of an accommodating Betty to Deepika's haughty-as-hell Veronica. It's hard to understand why he loves this offensive, wannabe brat. That she's played by Ms Padukone only adds to our befuddlement.

Apart from her supermodel long legs and smouldering sex appeal, which she flashes endlessly, Deepika's strained dialogue delivery and tough girl aggression is rather affected and superficial. The discrepancies in her oddly written character show up every few seconds. On one hand, she's the daughter of an affluent yesteryear actress (Sharmila Tagore) residing in a sprawling bungalow, moving about in luxury sedans. Next moment, she's bashing up some lecherous desi with unproven claims about how she's DTC-trained and well-equipped against the creepy types.

She's better suited for the lighter scenes, especially the sloshed 'Shah Rukh-Sunita' exchange between her and Imran on the terrace. Once, however, the plot slips into an extended impasse, her inability to rise above the written material becomes far more conspicuous than those perfectly-toned stems.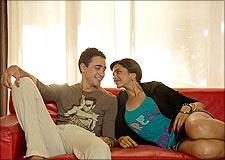 Except the mismatched lead pair, the casting is fairly on the ball. It's always nice to see infrequent veterans like Sharmila Tagore and Navin Nischol to lend the banal some renewed warmth. Even though it's a part she's played on several occasions, Lillete Dubey nails the raunchy single aunt with enough tongue-in-cheek quips to crib.

To Aslam's credit, he keeps the humour zany and understated. Many a times the jokes are blurted out in such hushed-tone, they could go unheard. Dubey, along with Yudhishtr Urs as Imran's buddy crack the funnies while an emo-inspired Shahana Goswami is wasted in a half-hearted sidekick's role.

Post-interval, the promise of delving into the complications of long-distance romance begin to dwindle as Break Ke Baad runs out of ideas, spark, focus and momentum, procrastinating endlessly, before racking up yet another addition in the list of far-fetched 'n' filmi fairytale endings.
The whole point of a reel romance is lost if the rapport between the lead pair isn't radiating dazzling passion or teenybopper sweetness. Though he's sufficiently genuine, Imran, no offence, is no SRK. As much as we deplore the King of fluff for playing Raj/Rahul over and over, he can effortlessly create magic with his co-stars, even other than Kajol. Imran cannot. Fleeting kiss notwithstanding, his pairing with Deepika fails to generate that all-important chemistry, she's more of a bullying big sister in face of his Dennis-no menace adorability.
Also, Imran, for all his Lindt-rich appeal, is officially in stereotype territory with these Dhingra-Gulati roles. His latest bears a striking resemblance to the few months-old,
I Hate Luv Storys
, which is slightly better off with a decidedly superior Vishal-Shekhar soundtrack and Sonam Kapoor, in terms of visuals, styling and production values.
Both Break Ke Baad and IHLS are helmed by first-timers for different production houses but it's hard to tell one apart from the other. Call it tribute or inspiration, the prospect of zero individuality in a creative medium is hardly a deal breaker. And it's definitely not cool anymore.  
Rediff Rating:

Download mobile ringtones, wallpapers & more!