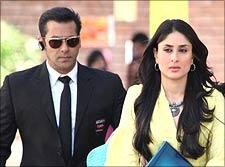 Sukanya Verma feels Bodyguard fails to live up to the hype. Post YOUR reviews here!
First day, first show, first row. It could only be a Salman Khan film.
Only five days back, I was inside the incredibly empty Screen 2 of Fame cinema reviewing
Shabri
. Today the same spot looks assuredly different. Youngsters, children, families enter in throngs to soak in the festive fervor of this Eid release and its phenomenal hero. Even before the credits begin to roll, the atmosphere packs in enough buzz and enthusiasm to warrantee an *experience*, which, for better or worse, is the purpose behind every recent Salman film.
His superstar was never in question but the last few years have been extraordinarily kind and catapulted the 45-year-old into a towering screen legend, an antic idol, a self-styled God of can-dos, a crazy cross between Rajnikant and Chuck Norris. And despite this grand personality and curiously maintained good looks, he's got that everyman accessibility that makes him such a crowd favourite. Niceties come for a price though and now it's his prime obligation to overwhelm us and the box-office with every passing film.
So the question you really need to ask here is: what is your expectation from
Bodyguard
? This query isn't directed at die-hard fans of Bollywood's beloved 'Bhai', of course. They're too dedicated to read reviews. Personally though, I have, without any snob value, enjoyed his brand of buffoonery and brawn on every occasion he justified or rose above the written material.
After
Dabangg
, my expectations were on an all-time high. Since
Ready
, they've been unswervingly low.
But the afore-mentioned audience in Screen 2 and its exuberant anticipation rubbed off on me as I braced myself for something that wasn't meant to be logical, meaningful, preachy, classy, humane or realistic. I braced myself for signature Salman in and as
Bodyguard
.
That it isn't any of those is a relief. That it isn't Salman-y enough is a bummer.
A standard entertainer with generic ingredients like action, emotion, romance, comedy, song and dance, the Hindi remake of Malayalam super-hit
Bodyguard
is like a mediocre Pizza Margherita that's gone stingy on the mozzarella, bland on the sauce with nothing except a half-crunchy base and uneven scattering of basil leaves.
Instead of utilizing its principal component Salman's unique gift to draw strength out of implausibility and garner applause out of folly, director Siddique casts him in a role that's tediously one-dimensional
and unfunny. It's not like
Bodyguard
is devoid of fanciful thrills but they're far too few and in between. For most part it's a Blackberry-endorsing romance between Salman Khan and Karisma (I have typed the right sister's name) Kapoor's voice.
In the beginning, it's the kind of film where everyone has an entry. A high-energy title song, in which he shakes a leg with a sizzling Katrina Kaif, establishes our man's credentials as resident Rambo. Another scene, shot like a cosmetic commercial, introduces us to the glitz and glamour of Kareena Kapoor. There's also an absolutely gorgeous Hazel Keech making her Hindi film debut as Kareena's bespectacled companion and
Bodyguard
's most insincere kahani-mein-twist.
Under miscellaneous, there's an obese guy who later runs half-naked in the movie along with a snarling Raj Babbar, growling Aditya Panscholi and grimacing Mahesh Manjrekar too.
Before slumping into a silly space of trashy humour and hasty sentimentality,
Bodyguard
intermittently comes alive with a swashbuckling Sallu engaging in some SFX-aided action.  Despite the clumsy technology, the actor ensures his fans get their money's worth whether he's swooping off one train top to another and landing straight inside a warehouse to beat the bejesus out of the baddies. The wolf-whistles are particularly deafening when a seemingly possessed water hose unbuttons the star to reveal his muscular torso to a visibly delighted crowd.
This is exactly what the public queued up for --high jinks. And while
Dabangg
offered a precise volume of coolness and chutzpah,
Ready
went overboard with the shtick.
Bodyguard
, meanwhile, is on the underwhelming side. It's not much of an action flick but anunpersuasive love story with a
Kuch Kuch Hota Hai
-reminiscent twist that makes the last few reels never-ending.
Ultimately, it's the Salman's undeniable presence coupled a rare ability to mock himself and Kareena's hard-hitting radiance in a role she would excel in even if she sleepwalked through it that makes
Bodyguard
seem a tad better than it actually is.
And since it's all about, '
Mujphe ek ehsaan karna, ke mujhpe koiehsaan mat karna
,' here's a two and a half star rating from me.
Rediff Rating
: