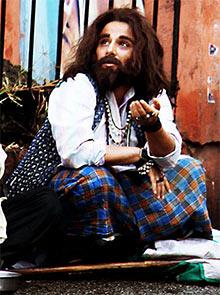 Bobby Jasoos works only because of Vidya Balan and the strong supporting cast, says Paloma Sharma.

Here's a case that Bobby Jasoos needs to solve -- there's film with a beginning and a middle but there is no end.
Where did the end go?
Bilqis urf Bobby runs her own one-woman detective agency, which sees her running through the Mughalpura mohalla of Old Hyderabad quite often -- sometimes after criminals and other times from them.
While her mother Zebo (Supriya Pathak) is encouraging and proud of her, her father has stopped speaking to her.

According to him, Bobby (Vidya Balan) has brought shame upon the family due to her profession.
Bobby makes do with small, often insipid cases -- suspicious spouses, worried parents and even creepy, stalker-y dudes -- while looking for a job in a detective agency.
Despite being rejected several times because she has neither experience nor a Masters degree, Bobby never gives up hope.
Eventually, her lucky day arrives when rich, mysterious Anees Khan (Kiran Kumar) offers her a large sum of money to track down girls for him.

Bobby complies but when she finds out that the girls are missing, she becomes suspicious and goes after Khan, who turns out to be a ghost with no past.
As far as Bobby Jasoos goes, don't judge a film by its title.
Bobby Jasoos is a romantic comedy/drama and although it sometimes rises to the challenge of being a mystery, it seems too confused to know where to go thereafter.
Debutant director Samar Shaikh can't seem to figure out how to handle the many subplots of his film, letting them fight for control and the editing does nothing to help.
Shaikh seems more focused on the visual aspects of the film, and while the cinematographer captures Hyderabad's essence beautifully, pretty pictures will take you only so far (and not nearly far enough).
Bobby Jasoos relies entirely on its performances to keep it going.

Vidya Balan is, after all, Vidya Balan and the only wrong she is capable of doing is not choosing the right script.

Prasad Barve and Aakash D
ahiya play Shetty, fixer of computers and owner of the local cyber cafe, and Munna, a waiter who helps Bobby get work.

Both of them are Bobby's friends and sidekicks, and act as the comic element in several scenes.
Ali Fazal is adorable as Tasawur, a broadcast journalist and the local heartthrob of Mughalpura and Supriya Pathak really makes you smile as she tries to defend Bobby's detective dreams.
But the holes in the script are too obvious to overlook.
Which brings us back to the case for Bobby.
The beginning, though containing a long, absurd title track, is alright.

Unnecessary songs (quite horribly composed, if I may add) interrupt the narration but still, the middle is interesting.
When the mystery is revealed, it is more of a lame excuse than a closure; and then the film is over.
But where is the end?
Bobby Jasoos boils down to one of the worst climaxes I have ever watched. It is an end for the sake of an end, not because the story demands it to be so; and even though it is present, it does not serve its purpose.
Bad songs, bad subplots, shabby direction make Bobby Jasoos a very, very confused film that is slightly better than a bearable watch only because of the strong heroine and the talented cast.
Bobby might prove to be a good jasoos, but Bobby Jasoos has no clue about where it is going.

Rediff Rating: