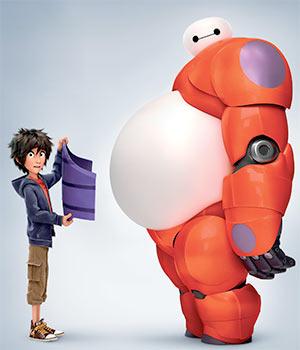 Big Hero 6 is all heart, says Raja Sen.

The film sparks off magic right from the very first frame, with the words 'Port Of San Fransokyo.'

What a name, San Fransokyo.

One that sounds like a hot sauce but one that immediately indicates the coolest of globetrotting mashups, of hipsters and hi-tech, two cultural hubs squashed together to make a city that automatically reeks of awesome.

Big Hero 6 is born out of an obscure Marvel Comics miniseries (one none of us have really read) but all I can say about the world it's set in, three seconds into this weird and wonderful film, is I want to live there.
Hiro, our conveniently named hero, is a fourteen-year-old who builds innocuous-looking robots that can bash monstrous ones so he can illegally win money at botfights.

While sharp as a tack, Hiro's as prickly, a tad too defiant and reckless -- which is why his big brother Tadashi takes him under his wing and shows his true geekery, with his nuttily-nicknamed friends inventing things that would make the folks at Wired convulse in excitement.

Hiro experiences said shivers and decides botfighting isn't everything, but things take a turn for the tragic…

And so on and so on and so on.

Yup, all of Big Hero 6 is a meet-the-characters origin story (something one of the characters realises midway through) but directors Don Hall and Chris Williams imbue the proceedings with such giddy joy and great characters that you soon realise the yada-yada-yada is the best part.

This is a gorgeous, vibrant, mostly irresistible movie, one mostly for the kids but also one I dare you middle-aged grouches to not grin at.

It's mad fun, and Disney hasn't made anything this good in a while.

Visually, it's an absolute treat.
The tech within the film looks photo-realistic with impressive emphasis on texture, but the characters themselves pop to life with such, well, character.

In keeping with the name of their city, this bunch is equal parts Miyazaki and Scooby Doo -- with sugarcoated steroids for everyone.

And while everyone earns applause, from Hiro (Ryan Potter) to GoGo Tomago (Jamie Chung) and Fred (TJ Miller), the film is stolen by the marshmallowy Baymax, a rather literal healthcare-assistant robot who is way, way too adorable.

It's a clever film, yet -- refreshingly enough in these irony-celebrating self-congratulatory times -- not one that winks at its own cleverness.

It's a film with cool female characters (I wish the gawky Honey Lemon got her own comic book, for example) and one that is besotted with technology the same way you'd expect kids reared on iOS devices to be.

It's all detail, with parts of the film even reminiscent of HBO's fantastic (but decidedly grown-up) comedy, Silicon Valley.

And, more importantly, it's all heart.

(And if all of that doesn't sell Big Hero 6 to you this weekend, well, go for Feast, the short-film that precedes the main feature, which is a work of absolute genius and features the cutest dog you'll see on screens all year. It's something special.)

Rediff Rating: