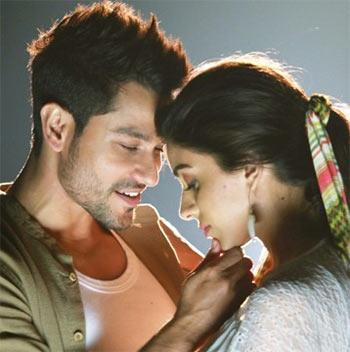 Bhaag Johnny is a mangled mess of a film, says Nishi Tiwari.
A unique concept does not necessarily make a good film.
Kunal Kemmu and Zoa Morani starrer Bhaag Johnny falls tragically short of being the zany, fast-paced and gritty thriller it aspires to be.
Directed by Shivam Nair, Bhaag Johnny opens with Kemmu's titular character being blackmailed by his cougar boss Ramona (Manasi Scott) into killing a girl he's never met in his life.
While he sits in his hotel room in Pattaya, struggling to choose between going to jail for insider trading or killing to save his skin, Johnny comes face to face with his genie, apparently appointed by the spiritual guru Johnny's mum prays to asking for his only son to be protected.
When the genie fails to nudge Johnny towards taking the righteous path, he offers him a chance to lead a double life, and see how both the paths – one following the killing and the other where he saves the girl – turn out for him in the end.
What follows is what should have been a breathless cat-and-mouse game that keeps you hooked and intrigued till the end.
However, Bhaag Johnny is reduced to being a mangled mess of confused storytelling, half-hearted acting and stylised action, set pieces that seem more forced than seamless.
While Kemmu, arguably one of the best comic actors of his time, starts off with flourish, what with his Johnny being a happy-go-lucky goof, he quickly loses steam as soon as the story assumes a darker and more urgent tone.
Zoa Morani as Tanya, the girl Johnny is commissioned to kill, is strictly wooden; her dialogue delivery is cloyingly monotonous.
Then there's co-producer Vikram Bhatt in a cameo as the worldly-wise genie, who comes across as a breath of fresh air in a film where actors seem more clueless than anything else but only if the camera doesn't stay on him for too long.
Mandana Karimi, in her debut acting role as Kemmu's love interest in one of the two versions of Johnny's life, is terribly miscast as an interpreter at the American embassy who also apparently moonlights as an expert hacker.
The background score and songs incorporated in the story are just as glaringly unremarkable as the creative liberties this film takes.

The white collar job-holding hero turns into an expert shooter and combat expert overnight, lovebirds on the run live out their entire lives' worth of fantasy in three days (hello, 1990s called, they want their script template back) and it all ends with a very passive aggressive speech about love and morality.
If you ask me, you'd do well to just let Johnny escape this weekend and find something actually fun to do instead.
Rediff Rating: