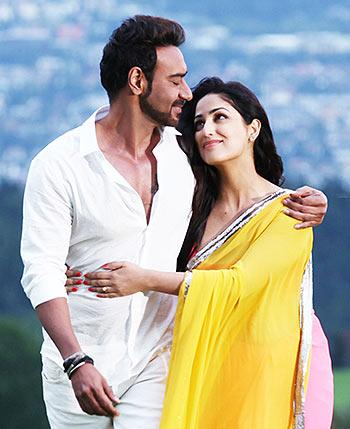 Action Jackson is a drinking game of a film, one well over the so-bad-it's-good line, its main merit being that it holds some genuine surprises, says Raja Sen.


"AJ," the girl gasps into her cellphone, breathlessly and furtively while gangsters surround her, "Some people are after me."
Efficient to the last word, her man wastes no time in getting to the point: "What are they wearing?"
This is but a taste of the relentless absurdity served up by Action Jackson, the peculiar new film from Prabhudheva.

It is an uneven, tacky, cheesy actioner, a film that has much going catastrophically wrong (the brunt of it involving Sonakshi Sinha).
But it is also -- surprise, surprise -- at times incredibly zany and, more importantly, a film that strikes back against the unending misogyny routinely perpetrated by our heroes in these larger-than-life movies.

In many ways, Action Jackson can be read as a feminist statement, a film that shows girls proactively leaping onto the top rung while the leading man languishes several footholds short of heroic.
That's right, Ajay Devgn is anything but a 'hero' in this film.

Sure, he kills way too many people too easily. But at various points in this film, he's a coward, he's a liar, he's clearly dishonourable, he's easily tempted to cheat on his girlfriend, and he's a horrible dancer. At one point, in order to laugh at the villain (with a too-elaborate gag borrowed from Farhan Akhtar's ghastly Don remake, he lets his wife get walloped around by the bad guy for a while before swooping in to try and save the day.
Meanwhile, as mentioned, the girls are the ones carrying the narrative forward and inciting the story, no matter how ridiculously they do so.

Sonakshi Sinha is a chronically unlucky girl who walks into a changing room where Devgn is trying on some new orange underwear.

Yes sir, the superstar likes to try his briefs before he buys them.

Anyway, she is thus scandalised by a look at Devgn Jr, following which her luck changes.

This happens again, and she's convinced that viewings of his schlong are key to her good fortune. Therefore she (naturally) plans to drug him in order to sneak a peek, which will, in turn, give her the luck required to dazzle potential America-based in-laws. (No, not kidding. Tell me you've seen this film before, I double-dare you.)
Also, a gangster's sister finds herself abducted by a lecherous villain who starts peeling off her shirt buttons.

This lady, played by Manasvi Mamgai, the unquestioned highlight of the movie, seems to be enjoying the attention.

Devgn, samurai sword in hand, breezes in as an odd, Bond-inspired English song plays, and the film turns to a Wild Stone deodorant commercial as the girl -- still tied to the chair -- looks increasingly (and cartoonishly) aroused by the bloodshed.

She huffs and puffs to show off her brassiere, developing quite the crush on Devgn. A couple of scenes later, she's rising out of the water in a yellow bikini, reaching out for the fellow's zipper.

But he's having none of it; leaving ambiguity to the wordsmiths of the world, he cuttingly tells her "I don't like you" and walks away eating a candybar. (Because, as we all know, chocolate really takes the edge off these poolside situations.)
Mamgai too, like Sinha, decides obstinately to stay aimed at Devgn's pants.

The film, from this point unfolding with all the slick-but-unsubtle schlock of a video game cutscene, explores both her libido (as she sits on couches with her legs splayed wide) and her obsession, as she decides to hack away at Devgn's loved ones till he's forced to be with her.
Therefore both halves of the film -- which involve an Ajay apiece, since the film has two of them -- are about women wanting Ajay's, um, piece.

Flattering as this may seem, it turns the leading man into a led man, a prop for girls to fight over and build a story around.

And considering how rare it is to see a masala blockbuster actually giving girls the reigns, for this we must give Prabhudheva props.
Analysts of between-the-lines repression and sexuality, too, will have a field day with this metaphoric film, positively throbbing with visual and verbal innuendo: the Mamgai girl vamps it up and shakes her bottom in a song, but the audience-applause moment, the money-shot, bewilderingly enough comes when Devgn strips off his vest, fires a couple of blanks in her direction, and kicks the girl.

Much later, just so he's left nothing to chance (and no imagination un-abused), he penetrates the villain. Yup.
It's all tremendously weird stuff, weird enough to be worth recommending.

Visually, the film goofs around a fair bit -- a villain shown in silhouette to look like The Undertaker turns out merely to be a Johnny Lever lookalike on steroids; superhero posters show up all through the film; Devgn talks about his shock and this is underscored by a flashback of, yes, him looking shocked; all the shots in Bangkok involve either samurai swords or dojos or conference rooms festooned by red lanterns -- and parts of it pass by in a silly haze.

It's a loony trip.
Which isn't to say there aren't painful problems.

The first half is a complete assault on the senses, Sonakshi Sinha cannot possibly be allowed to channel 90s Govinda anymore, and it's cruel to make us watch Devgn try to dance.

Or worse still, watch him fight to music, resulting in highly effeminate Dance Fu, where he clutches at floating toothpicks as if threading invisible canapés.

And Kunal Roy Kapoor, man, is just... No.

No Kunal, no.

For not casting you in anything following Delhi Belly, this industry owes you a million beers. But aargh. It's also at least a half-hour too long, even for a B-movie masochist.
Still, as trashy films go, this is properly nutty garbage.

Action Jackson is a drinking game of a film, one well over the so-bad-it's-good line, its main merit being that in a sea of superstar-massaging vehicles, it holds some genuine surprises.

Skip the first half and smuggle in a quart of something bitter, and you'll be just fine.

Not least because of how valiantly Mamgai shows up in the second half to combat Devgn's monopoly on cleavage.

He still does his GaGa-hands, but she more than steals the show and gives us a new-age vamp with genuine potential.
Prabhudeva, bless him, gives us something too warped to be predictable, and it hurts how thrillingly close he came to getting the name just right.

A film this focussed on what lies under the jeans should really have been called Action Johnson.

Rediff Rating: