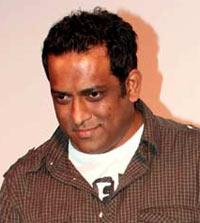 The sudden death of cinematographer Bobby Singh has sent shockwaves through the Hindi film industry. Singh was in Goa when he passed away following an asthma attack.
Filmmaker Anurag Basu, who worked with the late cinematographer on films like
Gangster
,
Woh Lamhe
and
Life...In A Metro,
is understandably shaken by the incident.
He says, "Bobby was one of my closest friends. Our relationship went way beyond work. What can I say? I can't believe he's gone. I am just hoping it's a prank and that I'll be soon told he's still around. Bobby was one of the most jovial persons I've met."
Basu flew to Goa as soon as he heard the news.
Apparently, the DOP (Director Of Photography), who was accompanied by actor Sanjay Suri for lunch, had had crab that triggered the asthma attack.
Singh is survived by wife Radhika and a young five-year-old son Sumer.
The talented Singh had started his film career as an assistant cameraman in 1989 on Raj Sippy's
Shehzaade
and later did additional photography for A Murugadoss'
Ghajini
.
He was working on two films -- Vikas Behl's
Queen
and Neeraj Pandey's
Special Chabbis --
when
he suddenly passed away.
Mahesh Bhatt, whose productions
Gangster
,
Woh Lamhe
and
Jannat 2
were shot by Singh, said, "It's a dark Christmas for me. The news of Bobby's sudden death has hurled us all into an abyss of gloom. He was a great cameraman.
Gangster
,
Woh Lamhe
and
Jannat 2
possessed that extra dimension because of his cinematic genius."
Filmmakers Kunal Deshmukh and Sanjay Gadhvi, who had worked with Singh on Jannat and Kidnap respectively, were equally taken aback with the news.
Gadhvi said, "I was close to him and his wife Radhika. He was full of life and a fun-loving guy."
Director Vikas Behl, whose
Queen
remains incomplete, said that Singh was the happiest man he knew.
While Bobby's work for
Special Chabbis
is complete, his passing away has come as a severe blow to Vikas Behl's Kangna Ranaut starrer 
Queen,
which is yet to be completed.
One hears efforts are on to complete the film without another cinematographer since bringing in a replacement at this stage, when the film in 90 percent complete would take away from the work that Singh has done.
A source close to the project said, 'We don't want to bring another cinematographer in the picture. We want Queen to be Bobby's swan song."