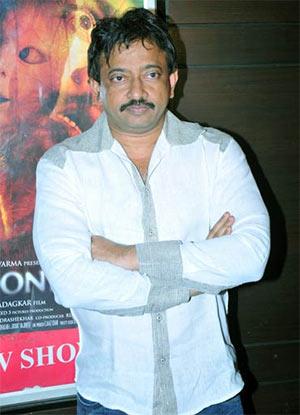 He's done it again.
Ram Gopal Varma has sparked off another round of ill-will and resentment with his comments on Sridevi.
In his book titled Guns & Thighs, Ramu has spoken on how he was influenced as a filmmaker by Sridevi's thighs.
Obviously, the observation has not gone down well with her husband Boney Kapoor.
Speaking about the issue, Kapoor's friend says, "What does he mean by talking about Srideviji's thighs? This is scant respect for a woman and mother of two grown-up daughters."
"Srideviji is iconic. Even if she was just an ordinary housewife, she deserves respect. Ramu has no respect for family values."
The friend also claims that Boney intends to take legal action against Ramu.
"I sent Ramu a long SMS telling him what he wrote was in bad taste. Now I leave it to Boney to do what he likes."
Incidentally, Boney Kapoor and Sridevi recently sent Ramu a legal notice when the latter named his Telugu voyeuristic film Sridevi.
Guess there won't be any fence-mending between the filmmaker and his favourite actress now that he has courted yet another controversy!