'John Lasseter gave me such good advice. He said the reason why he wanted me to tell the story was because it was about my dad and me. He said if it is a father and son story, it will relate universally.'
Star Pixar animator Sanjay Patel's animated film Sanjay's Super Team has been nominated for the 88th Annual Academy Awards.
Sanjay tells Aseem Chhabra/Rediff.com the back story behind his film, which features Hanuman, Vishnu and Durga as superheroes.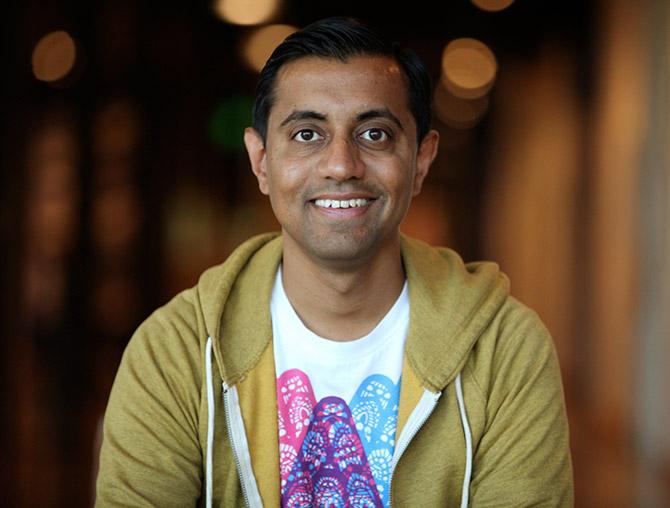 IMAGE: Animator Sanjay Patel, who has worked on some of Pixar's biggest hits
Sanjay Patel is a star animator at Pixar. The 41 year old was handpicked from the California Institute of Arts after recruiters from Pixar saw his student film Cactus Cooler.
At Pixar, Patel has worked on some of the studio's celebrated films -- Toy Story 2, Toy Story 3, A Bug's Life, Monsters, Inc., The Incredibles and Cars.
Patel has also written books that explore his fascination with Hindu mythology. His first book, The Little Book of Hindu Deities: From the Goddess of Wealth to the Sacred Cow, was published in 2006.
That was followed by Ramayana: Divine Loophole in 2010. The next year he published The Big Poster Book of Hindu Deities. And then a children's book, Ganesha's Sweet Tooth, that he co-authored with Emily Haynes.
Patel has now come up with his most ambitious project -- a seven-minute animation film, Sanjay's Super Team. It is a personal film, where young Sanjay recalls his father forcing him pray to Hindu gods and goddesses. And all Sanjay wanted was to watch cartoons on television. In the film young Sanjay imagines Hanuman, Vishnu and Durga as superheroes who fight evil.
The delightful film was commissioned by Pixar and has a strong chance at winning an Oscar. Patel has already shown the film at the prestigious Annecy International Animation Film Festival in France. It will release on November 25 along with Disney's The Good Dinosaur.
Patel spoke to Aseem Chhabra at the Telluride Film Festival about his childhood, his passion for cartoons and how it took him decades to appreciate his father's dedication to Hinduism.
Sanjay, I read that you were influenced by Nina Paley's Sita Sings the Blues. Have you met Nina?
A while back Nina mentioned Ashok Banker's incredible Ramayana adaptations on her blog. If it wasn't for her that sort of clued me into those books, I wouldn't have been able to absorb that ancient mythology.
But before that, we met when I had finished my first book, The Little Book of Hindu Deities.
You know Wired magazine called her the one woman Pixar team.
Awe...
She did the whole film on her Mac in her living room.
I know it is totally remarkable. I think it is also remarkable to champion Sita's story. That was a big deal.
So tell me about your life. You were born in England?
My dad was born in Tanzania. Both my parents are from Gujarat, of course. It was very common for East Indians, especially after Idi Amin came to power in Uganda, to flee East Africa to Birmingham. So I was raised in England for four years and then they bought a Patel motel in San Bernardino, California.
But before we moved to San Bernardino we stayed at my masi's house in Whittier, California.
I know Whittier. I lived in California for a few years in the 1980s.
When I pitched the film to John Lasseter (the legendary Chief Creative Officer at Pixar), he asked where I was from. I told him my first step into the United States was in Whittier. I knew he was raised there.
We lived there for a year. And then my parents bought the Lido Motel, which they still own. The Lido Motel is a roadside motel on Route 66, which is the backdrop for Cars, the film that John directed.
Right in front of the Lido Motel is a 10-lane highway, but no one uses Route 66. So no one goes to the motel and it is very quiet.
Cars really spoke to me. I understood where John was coming from in that story.
But growing up, you lived in the motel?
Up to high school.
And what was that life like?
I would say it was tough. The big difference was that even though there was a large Gujarati community and moteliers would get together, we were isolated because my mother suffers from schizophrenia.
I recently finished Akhil Sharma's book Family Life, where he writes about his brother being in a coma, from very early on in his life. He writes about how quickly a family can collapse if just one member has a problem.
So despite there being a strong Gujarati community, we were always isolated and alone.
Do you have siblings?
I have an older brother. But because of my mom's mental health, we were mostly on our own. I was left alone to draw. I loved comics and animation. My mom wasn't there to tell me otherwise and my dad was too busy.
But he would pray to his gods?
Yes, of course.
Everyday or on weekends?
Are you kidding me? Everyday, twice a day, sometimes three times a day. And you know I had no regard or respect for it.
He would drag you guys and make you join him?
Absolutely. We would sing aarti two times a day. And after aarti we would do japa-mala for about half an hour. You count these beeds and you chant Ram's name -- Ram, Ram, Ram...
And it was only after I read Banker's books that I realised the Valmiki story. I don't know if you know it.
No, tell me please. As you could tell from Sita Sings the Blues, I am a lapsed Hindu.
I am not religious also, but I love these myths. Valmiki is credited with the poem of Ramayana. Narada comes and sings it, and Valmiki writes it down. Valmiki is a robber. He realises through Narada that he is stealing from people for the wrong reasons and he wants to reform himself. So Narada suggests he should chant Ram's name.
Eventually Narada comes back after many years, and Valmiki now has an anthill grown around him. His original name was Ratnakar. But once he comes out of the anthill, he is named Valmiki, which means white ant.
When I would be sitting next to my dad counting the japa-malas, that is when I just wanted to, ya, vanish.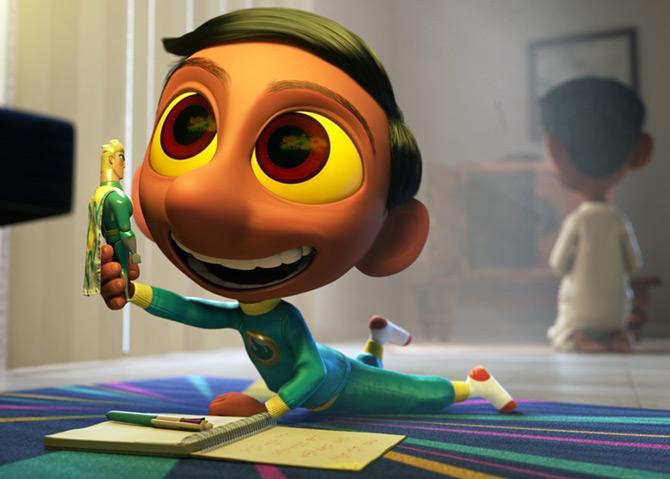 IMAGE: A scene from Sanjay Patel's Sanjay's Super Team, the first 'personal' film Pixar has made.
But would your father explain?
No, not one drop of explanation unfortunately. It took me 30 years to figure it out. Sure I grew up with the names. And through some cousin or aunt you would hear Hanumanji, or Krishna. But would I know that Hanuman was the son of the wind god? Of course, not. Or that Krishna was an avatar of Vishnu? Of course, not.
My dad would pray three times a day -- morning, afternoon and night. Morning and afternoon was when the cartoons would come on. But there would be no conversation since we would start to sing aarti. And he would turn off the cartoons.
I wanted to watch Voltron. And in the morning there would be Japanese cartoons and American ones in the afternoon. And they would both come diametrically in conflict with my dad's pujas.
But look how much your childhood has shaped you and your career.
It took me a long time to appreciate it and recognise that what my dad was exposing me to would give me a huge place to speak from, to discover all these great superheroes from his culture.
He never saw them that way. It was just a practice for him. It was like exercising or cleaning rooms in the motel. Doing puja was the same exact thing.
You were drawing, but your father had no issues with it?
My dad saw very early on that Sanjay was drawing. All my teachers in all the schools I went to said -- 'Oh he's very good at drawing.' And it worked out.
In a Patel motel you always need someone to be running it. My brother would want to go out to meet his friends. I never had any friends, because I would prefer sitting at home and drawing.
I would be right there in the front office, so I could simultaneously draw and rent rooms. It was perfect, because I was forced to be home.
What's good is that your father allowed you to pursue your passion.
He never got in the way, except when it was time to go to art school. Once it was time for Sanjay to leave, that was the only time he stopped me. My mother was not in a capacity to help. He needed someone to help and I was that person. He needed a full time manager.
My second book, Ramayana: Devine Loophole, I dedicate to my parents and my brother. My father is like an avatar of Ram: Dutiful, someone who always does his duty first, above his own needs.
I dedicated it to my mother. Like Sita, someone who suffered throughout her mythology and eventually has to sacrifice herself.
My brother, he is Hanuman.
I had won two scholarships and my father supported my interest in art. I had won a scholarship from the football team, the Rams.
So you were playing football?
No, are you kidding me? They gave me a scholarship to design artwork for them.
But at the time of going to CalArts, my father said no, you have to stay and help run the motel. This is when my brother came in and just like Hanuman -- he did what Ram couldn't do. I wasn't able to stand up to my father and say, the best way for me to help you dad is to help myself first.
But my brother was able to make the decision to stay at home and replace me, and let me go to art school.
He still works there?
No, he's moved on as well. But without his help I wouldn't have been able to fulfill my wishes.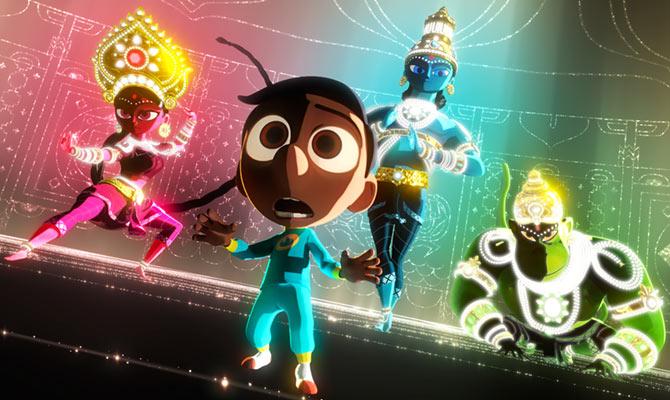 IMAGE: A scene from Sanjay Patel's Sanjay's Super Team, , which could win an Oscar next year.
I am curious at what stage did what you had been taught in classrooms and what you learned watching cartoons, all of that overlap with Hindu mythologies, which eventually became your books and now this lovely short?
While in high school I would go to the summer arts programmes at CalArts. I had such an advantage because I was getting education from a great arts school. But just a foreigner, being a desi, with a desi name, it never felt comfortable for me to find a connection to my Gujarati identity.
I knew about Gujarati culture and cooking, but good luck finding that in America.
In New York we have Rajbhog that serves Gujarati food.
Okay in New York you can find it, and maybe in LA and the Bay Area. But mainly it's your food Aseem. It's Punjabi food!
As an artist you want to first of all emulate the work that inspires you. Of course, I was in love with American animation, European art. That's what I wanted to master. That's what I did for 10 years at Pixar.
I achieved my dream. I wanted to be an animator, to make great films and we did that at Pixar.
But it was only when I felt confident in achieving what I wanted to do that I looked for new inspiration. I found a book on Hindu miniature paintings where I finally read stories about images in my dad's puja area.
The first caption I read in that book was about Shiva, Parvati and Ganesha. And I realised this isn't just Shiva, but he is a grumpy dad who doesn't want to leave the house. He just wants to sit in meditation in isolation. I said to myself this is just like my dad.
And Parvati wants to be in the world, she wants to have a child. She is the one who coaxes Shiva out of isolation. I said that is like every woman I know.
Suddenly I didn't see them as esoteric gods. I saw them as archetypical characters. That was a huge breakthrough. And I realised that it was through the union of Uma and Maheshwara, or Shiva and Parvati, that the world turns.
At Pixar what we are transfixed about is great stories and great characters. It felt utterly inspired. I closed every book of European and American art and I went deep into reading as much Indian mythology as possible.
John Lasseter's ethic -- the thing he lives by -- is whatever you do, make sure you do your homework. I grew up in San Bernardino and I knew more about Abraham Lincoln than about Valmiki.
I knew nothing about Indian art. No one ever exposed me to it. So I had to learn as much as I could about Indian art, history and culture.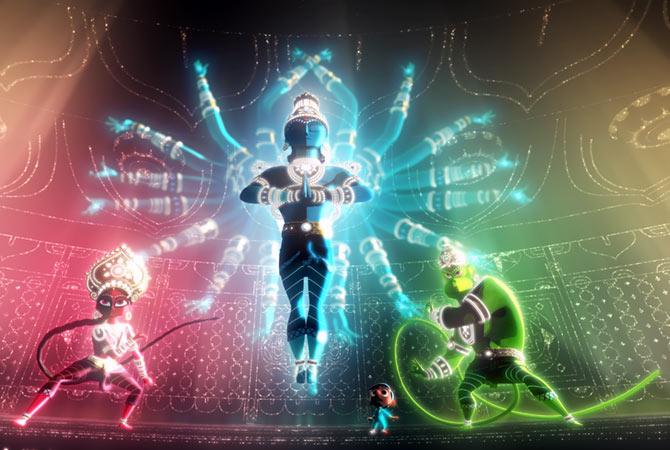 IMAGE: A scene from Sanjay Patel's Sanjay's Super Team. Pixar legend John Lasseter advised Sanjay to make it about him and his dad, which he said would appeal to audiences worldwide.
Was it hard selling this short to your bosses at Pixar?
I had no belief that anyone would be interested in it. But John was such a benefactor. He personally asked me to develop something. I felt scared, but I knew whatever I did had to be 100 percent personal, something from the Indian culture that I was in love with.
John gave me such good advice. He said the reason why he wanted me to tell the story was because it was about my dad and me. That was the most important thing. He said if it is a father and son story, it will relate universally. It was great advice.
How did your father react to the film?
My dad had not been to a movie theatre since he left England. He doesn't watch movies. He has never seen any of the Pixar movies I worked on.
I asked him what was the last movie he saw and he said something like 'Julie Andrews movies.' I think it was The Sound of Music. He doesn't know about computer animation or modern films.
He doesn't know what you do at Pixar?
That's right. Nor does he have any way to understand it. I told him I was making a film about him and how I hated sitting next to him doing puja.
Finally when we finished the film we brought him to a screening. And he got very emotional.
And he was happy about you using two of his photographs in the film?
He said, 'You used a photo of me, where I am wearing my pajama shirt.' I told him it was a big deal. We have not done something as personal at Pixar.