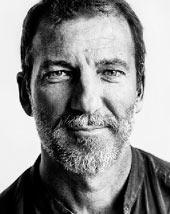 New York-based photographer Mark Bennington recently released his collection of beautiful photographs depicting the typical Bollywood life in a coffee table book called Living the Dream: The Life of the 'Bollywood' Actor.
Published by HarperCollins India, it has 112 candid pictures of the way the film industry functions, with many behind-the-scenes shots of movie stars.
Many of the pictures are accompanied by short interviews of the actors.
The book has compiled his photography spanning over five years.
Mark is also a trained actor, who worked for over 10 years in America before turning photographer. He has tried his hand in acting in Bollywood too, in a bit role in Dibakar Banerjee's Detective Byomkesh Bakshy.
A look at his wow pictures from the book, and some excerpts: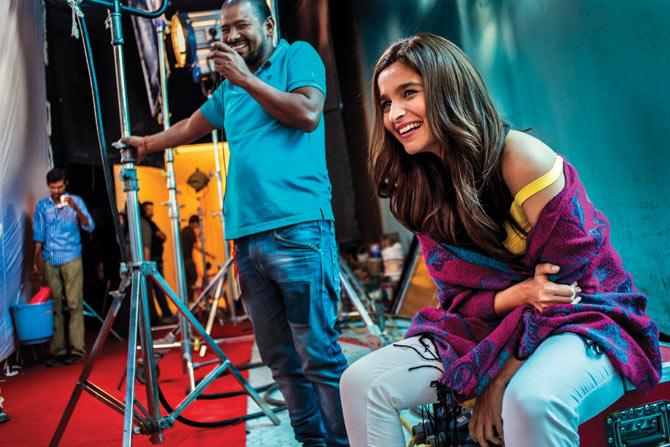 Alia Bhatt backstage at Yash Raj.
''I'm not a "sex symbol" at all. In fact, I speak much more to the younger audiences in India…see, in Bollywood, you have to be loved by the families -- the kids look up to you, you know, so you have to think about that at the end of the day.
"If they (the audiences) like you, then they're probably going to emulate you, so you have to think about what you say and do -- I mean, I can't go out partying and drinking all night because it doesn't make a good impression on the kids."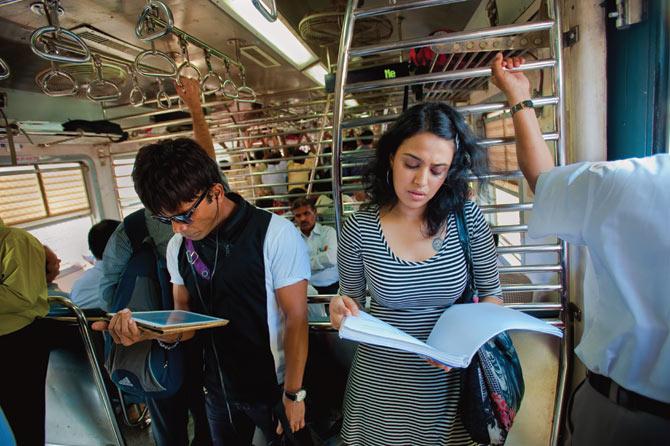 Swara Bhaskar reviews a script on the local train from Andheri to Churchgate (before her breakout success in Tanu Weds Manu and Raanjhanaa).
"Being in Bombay, wanting to be in this business is like falling for someone you know is bad for you.
"It's going to screw with your head and heart and it's going to make you a little mad, but you're in it. There's a saying, 'Dil laga bhains se, toh pari kya cheez hai,' meaning 'If you fall for a buffalo, then even a fairy will not seem attractive to you.' It's an addiction!"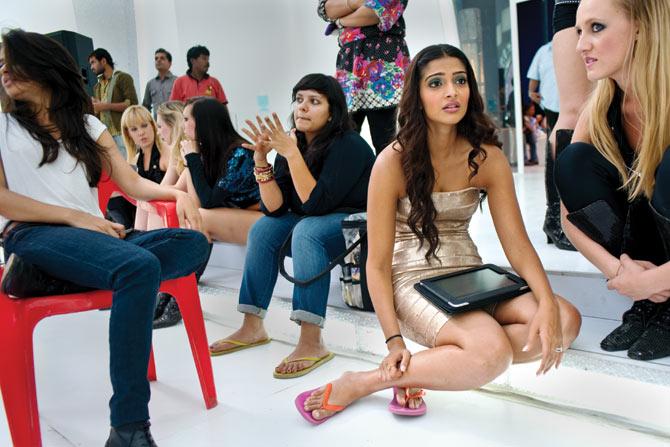 Sonam Kapoor waiting to shoot a dance scene on the sets of the film Thank You at Filmistan Studio.
She is famous for being from the 'other' Kapoor family (her father is Anil Kapoor), being a fashionista as well as one of the highest paid actresses in Bollywood.
"Starring in films is a lot of pressure (as there are millions riding on her). I never even wanted to be an actor when I was younger. In fact, growing up, all I wanted to do was write stories and be a boy. I was such a tomboy!"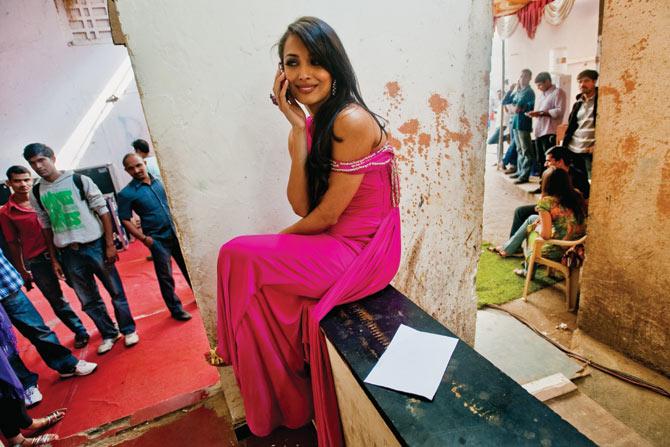 Malaika Arora Khan on the phone with her son, backstage at Filmistan Studio.
She is best known as a dancer and for her item number Munni badnaam hui, in the 2010 hit Dabangg.
"Here (in the film industry) you have an award show practically every month or two. It's all about entertainment; it's all about people: 'Who won an award?', 'Who's there?', 'Who's doing what?', 'Who's wearing what?', 'Who's saying what?' Honestly, that's what it's all about... entertainment."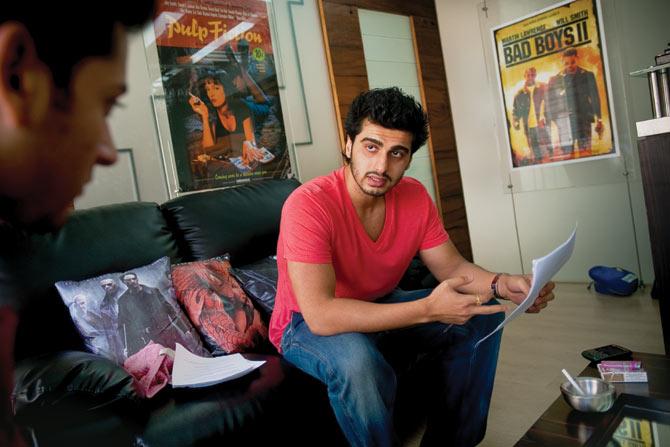 Arjun Kapoor, at home rehearsing scenes for his debut film, Ishaqzaade.
"The press builds you up, you know. They write about you for six to eight months before the film comes out. Being from a film family, the press always tries to find something. It's boring. They're not writing about my talent, they're just writing about my family. That's why we get so much importance for no reason. I find it all quite funny."
Kapoor is also known for being an overweight-teenager-with-no-acting-aspirations-turned-Bollywood-superstar.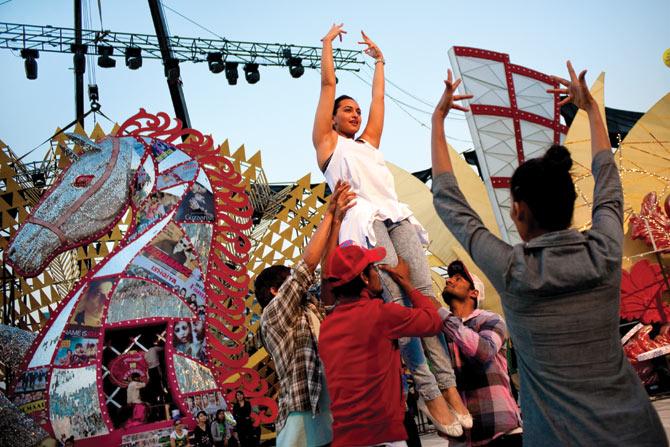 Sonakshi Sinha rehearsing for the 2011 Stardust Awards in Bandra.
"Everyone expected me to get into acting because of my dad (Shatrughan 'Shotgun' Sinha) but I was so overweight I never even thought about it. Back then when I looked in the mirror I didn't see an actor, I just saw a fat girl."
Sinha is currently one of the top 10 actresses in Bollywood.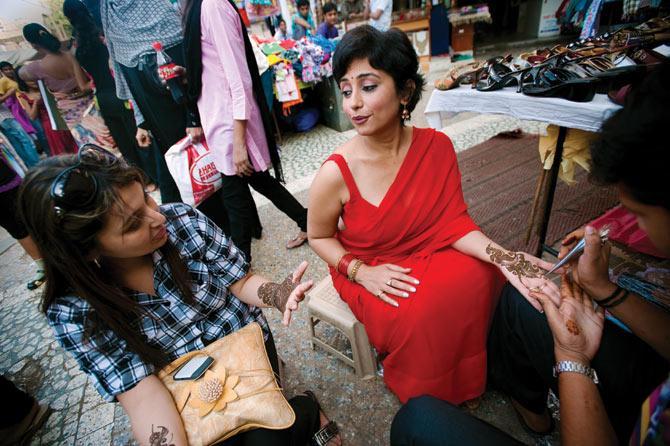 Supporting actress Divya Dutta getting mehndi at a street market in Versova.
"There are many opportunities in this business, and if a certain thing you were looking for doesn't happen, something else happens right around the corner in maybe a month's time. That's the actor's life! The high and low. So, you have to either get used to this roller-coaster ride or say, 'I want to live a straight life.' There is no other way."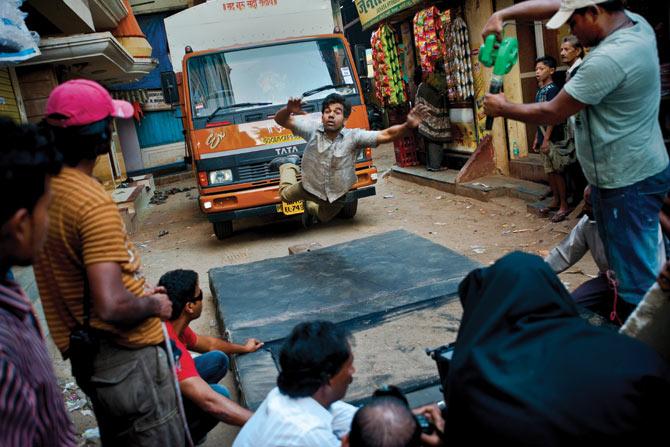 Rajkummar Rao is one of Hindi cinema's bright new stars.
Here, performing his own stunt during an action sequence on the sets of Shaitan in Versova.
"Being on a set can be exciting and boring sometimes, but I can't complain, because as I child I used to dream of being on a film set, acting, and now I'm actually living that dream."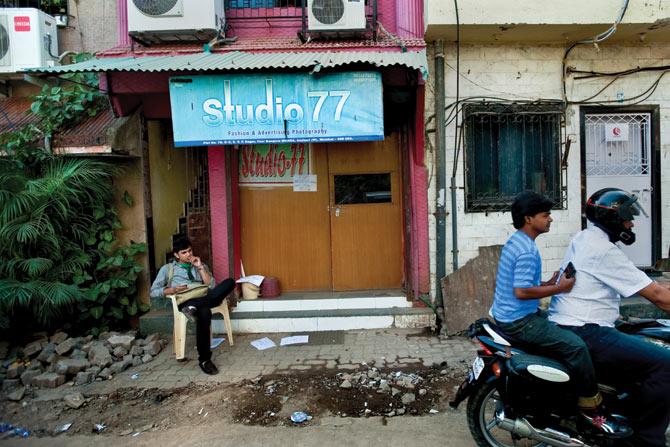 Studio 77 is one of the busier casting offices in Andheri.
Since 2008, it has been home to an average of 250 commercial auditions per year, a handful of film auditions included.
It's also not uncommon to see actors waiting outside casting offices even on days when nothing is being cast, in case a casting director arrives for a spur-of-the-moment audition, in which situation they would be the first in line.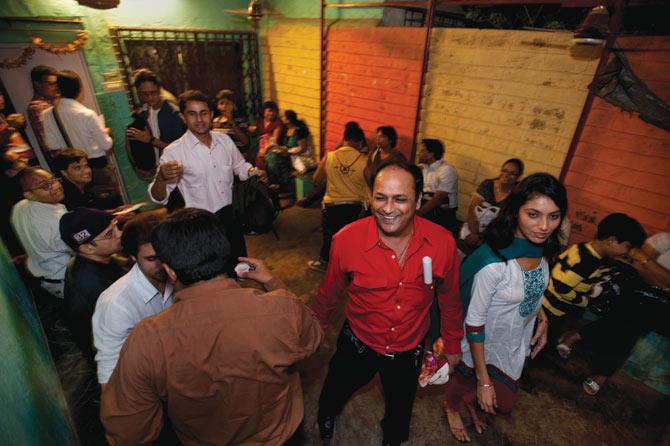 Struggling actors audition and have chai at a busy casting office in Versova.
"Nobody here wants to just work and make money...We all want to be famous!"

Excerpted from Living the Dream: The Life of the 'Bollywood' Actor by Mark Bennington, with the permission of the publishers, HarperCollins India.