Members of the right-wing outfit burn PK posters.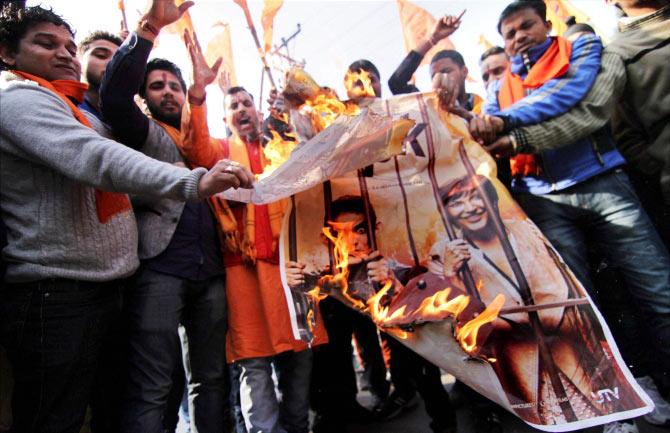 Alleging that Aamir Khan-starrer film PK hurts religious sentiments of the Hindu community, right-wing organisation Bajrang Dal today held a protest here demanding a ban on the movie.

Led by Bajrang Dal coordinator Rakesh Kumar, over 150 activists of the Jammu unit of the organisation today held a demonstration against the film for showing "objectionable" scenes about gods and goddesses of the Hindu religion.

The protesters shouted slogans against the film and demanded that the District Magistrate ban its screening here.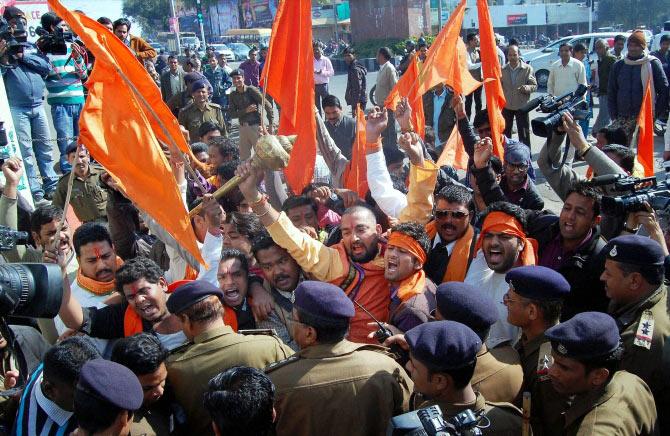 The activists alleged that the film had several scenes that "denigrated" Hindu deities and hurt religious sentiments of the people.

"There are some scenes in the film which are objectionable and hurts the sentiments of crores of Hindus. We cannot tolerate this," Rakesh said.

Bajrang Dal demands a ban on the screening of the film in Jammu, he said, adding that the organisation has held demonstrations across the country against the film.

The film that was released on December 19 takes a swipe at organised religion and godmen.

Several Bajrang Dal members staged protests in Agra, Bhopal and Ahmedabad too earlier today.

Photographs: PTI