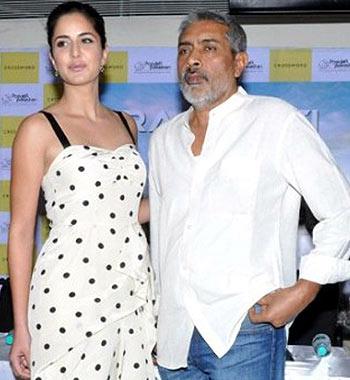 'Ajay Devgn is a very good person. It was rumoured that he was upset with me because of his role in Raajneeti. That is not true.'
'My marriage to Deepti (Naval) did not work out. I have no idea why; we just drifted apart. We realised our relationship was not growing. But we are still friends.'
'I am not aligned to any political party or ideology.'
Filmmaker Prakash Jha opens up about his life.
We know Prakash Jha as the man who made serious movies like Mrityudand, Gangaajal, Apaharan, Satyagraha and Raajneeti.
But there is a lot that we don't know about the 63-year-old director.
For instance, Jha is presently learning the piano and loves to sing.
He climbs 30 floors everyday in seven and a half minutes.
He's a good cook, and cooks chicken curry in only one teaspoon of oil!
Prakash Jha talks to Patcy N/ Rediff.com about his life and his movies, the struggle to make it on his own, and the eventual payoff.


'I left home with Rs 300'


Image: Arjun Rampal, Prakash Jha and Abhay Deol on the sets of Chakravyuh.
I was born in Champaran, in north Bihar. I went to boarding school at the age of nine, in Hazaribagh, Jharkhand.
My family is into farming; my father was a zamindar. My younger brother still takes care of our land and farm. My younger sister is married and has three kids.
My batch-mates in school were opting for the army; they have become lieutenant-generals and major-generals now.
But I wanted to be a painter.
I was not interested in studies, but I did not have the guts to tell my parents. I went to Delhi University to study but I quit midway and returned to my village.
If you belong to a zamindar family in Bihar, where they only manufacture IAS and IPS officers, you are expected to be in the civil service. There was a lot of pressure from parents, teachers and the society to join the civil service. But I said I wanted to be a painter.
I had a tough time.
I bought a Yashica camera, and left home with Rs 300. By then, my relations with my parents had soured. My father did not talk to me for nearly five years.


'I worked at a restaurant as the assistant manager in the kitchen. My salary was Rs 300'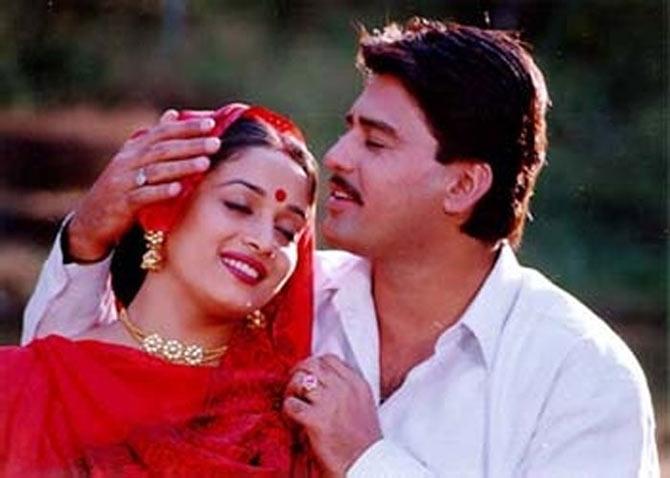 Image: Madhuri Dixit and Ayub Khan in Mriyudand.
On the train to Mumbai, I became acquainted with a building contractor. He took me with him to his building in Dahisar. Many boys stayed there -- some were his workers and some had run away from their homes.
I lived with him and in return, worked for him like writing his accounts.
I wanted to enroll in the JJ School of Arts, but the semester had started and they asked me to come next year.
I met an art director called Agha Jani. He was working on the film Dharma (1973), starring Pran, Rekha and Navin Nischol. The shooting of the film was at the Sun n' Sand Hotel, in Juhu.
I watched the shoot for one whole day and was zapped. I decided that this is what I want to do.
Agha Jaani introduced me to Chandsaab (the director of the film) and I became his assistant on the film.
I realised that I had to learn the craft professionally. So I went to the Film and Television Institute of India (FTII), in Pune, but admissions had closed.
For the course in film direction, you had to be a graduate. So I thought of doing a film editing course instead, for which the minimum qualification was first year of degree college.
I took admission at K C College in Mumbai and worked at a restaurant in Colaba as the assistant manager in the kitchen. My salary was Rs 300. Food and rent was taken care of by them.
After I finished my first year, I joined the film editing course in FTII. The people studying acting were Naseeruddin Shah, Om Puri and Tom Alter. But I had to leave the course midway because a strike was called.
I had nothing to do and nowhere to go, so I returned to Mumbai and started hunting for a job.


'My National Award winning documentary Faces After The Storm was made in the middle of a riot'
I got a chance to make a documentary on Goa. A friend introduced me to the then chief minister of Goa, Shashikala Kakodkar. She wanted several documentaries to be made on Goa to boost tourism.
I was to make a documentary on Goan festivals. Titled Under the Blue, it took me seven to eight months to make it.
I did many documentaries for Films Division of India. I travelled a lot with the documentaries -- to Germany, France, England -- between 1975 and 1981.
I made 13 films on classical dance.
My National Award winning documentary Faces After The Storm was made in the middle of a riot. I shot in jails and refugees camps. The documentary was banned by the government soon after its release.


'In those days, you could live on Rs 5 a day'

My father, who had stopped talking to me between 1972 and 1976, saw Under the Blue. My parents came to Mumbai to meet me and we became friends again.
I never took any support from my parents. But in those days, you could live on Rs 5 a day.
I would have breakfast and any one meal, lunch or dinner, and travel by bus. In those days, a bus from Vile Parle (in suburban Mumbai) to Colaba (in south Mumbai) cost 40 paise. Cab fare from Mahalaxmi station to the nearby Famous Studio was one rupee.


'In the 1990s, we couldn't do the kind of cinema that we wanted to do'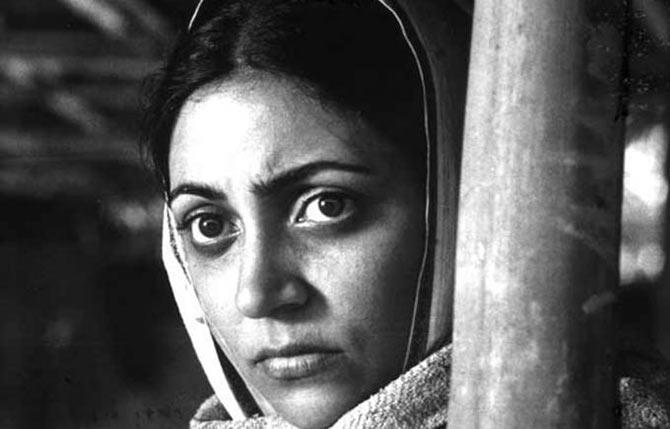 Image: Deepti Naval in Damul
In 1982, I started working on my first feature film, Hip Hip Hurray. It was a sports film with football as the backdrop.
In 1985, I made Damul, based on a story about bonded labour by a Bihari writer (Shaiwal). It was approved by the NFDC (National Film Development Corporation) and won the National Award in 1987.
Parinati also won a National Award for best costume design.
After that, I directed the television serial, Mungerilal Ke Haseen Sapne.
In the 1990s, when the economy changed and the structure of NFDC changed, we couldn't do the kind of cinema that we wanted to do.
Like-minded people such as Saeed Mirza, Kundan Shah, Ketan Mehta and I struggled. Shyam Benegal was the only one who got work. So I went to Bihar for about three or four years.
I thought that art films could not be made any more and I was not capable of making commercial films.
In Bihar, I worked with my NGO Anubhooti. I took workshops and trained people. Many people who I trained are in television today.
This was also the time I adopted my daughter, Disha, in 1988 (Prakash Jha got married to actress Deepti Naval in 1985).

'It was rumoured that Ajay Devgn was upset with me because of his role in Raajneeti. That is not true'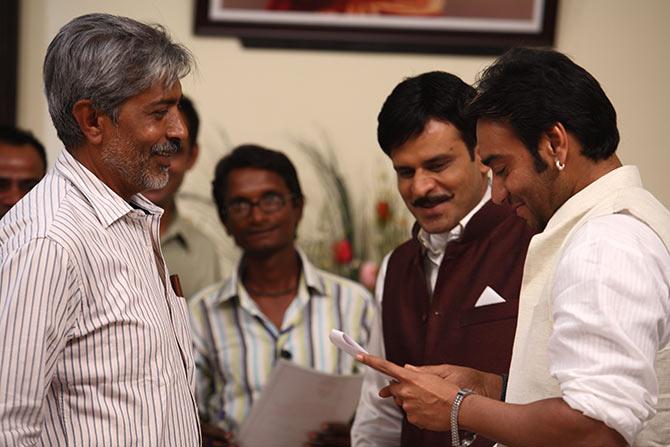 Image: Prakash Jha, Manoj Bajpayee and Ajay Devgn on the sets of Raajneeti.
I needed to work again so I came back to Mumbai in 1993. I had the script of Mrityudand but no support and no home in Mumbai.
My mother had passed away in 1993. Disha and I lived in a hotel for almost two months. Then I admitted her to a boarding school in Panchgani. She was just four-and-a-half years then.
Fortunately, people had not forgotten me. Subhash Ghai set up a meeting with Madhuri Dixit. She agreed to do Mrityudand.
Shabana Azmi and Om Puri knew me (so they were cast in the film too).
I borrowed money and started the film. I also set up an office in Andheri and lived in a friend's flat.
Mrityudand did really well at the box office and I got recognition.
I met Ajay Devgn and made my first commercial film Dil Kya Kare with him. I directed a small film, Rahul, for Subhash Ghai.
After I made Gangaajal, there was no turning back. Then I made Apaharan and so it went on.
Ajay is a very good person. We became good friends. It was rumoured that he was upset with me because of his role in Raajneeti. That is not true. We never spoke about it even once. I worked with him after that (in Satyagrah). I still work with him.

'I am not aligned to any political party or ideology'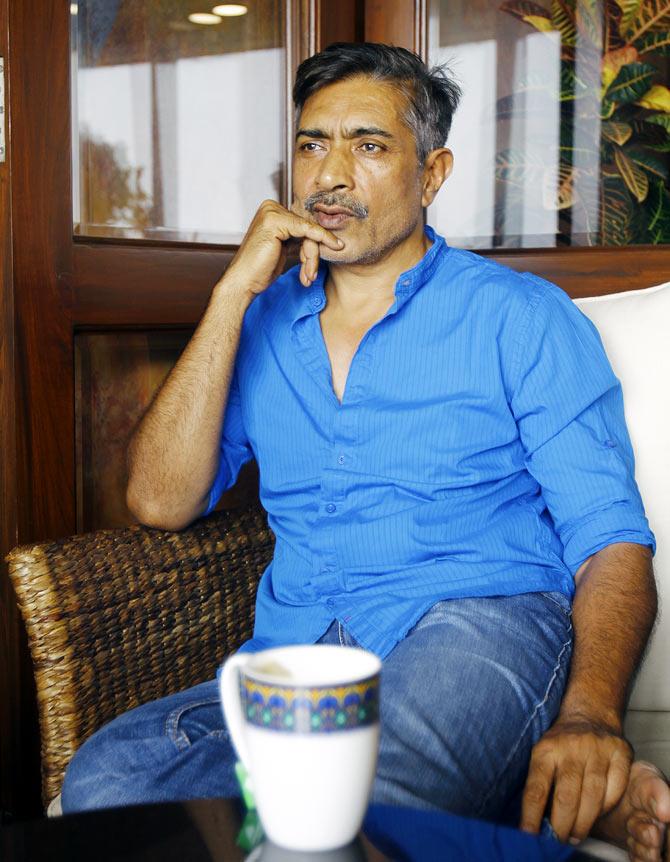 Image: Prakash Jha. Photograph: Hitesh Harisinghani.
I've never joined a political party. I felt I could do good work for people in a public position, so I tried. But I was not elected.
In the last election, Nitish Kumar forced me to stand because there was a demand from my constituency. (Prakash Jha contested and lost the Lok Sabha election from his native Champaran in 2004. He lost again in 2009 as a Lok Janashakti Party candidate from West Champaran. He contested in 2014 as a JD (U) candidate from Bettiah and lost.)
I am not aligned to any political party or ideology. I have friends everywhere in the BJP and Congress and I am friends with Nitish Kumar.

'Deepti Naval and I just drifted apart'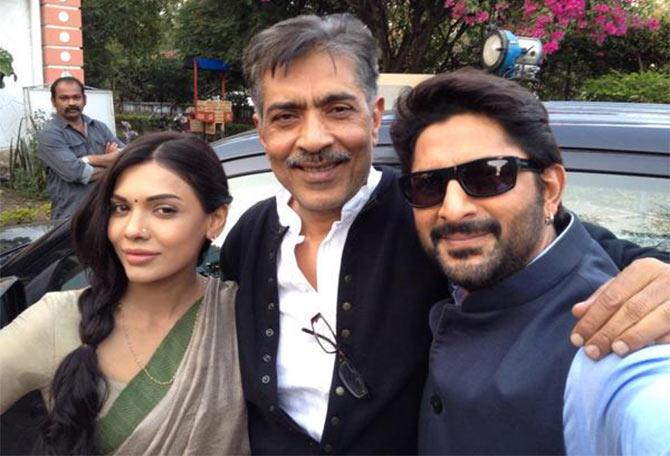 Image: Sara Loren, Prakash Jha and Arshad Warsi on the sets of Fraud Saiyyan.
My marriage to Deepti (Naval) did not work out. I have no idea why; we just drifted apart. We realised our relationship was not growing.
We are still friends. Our daughter sometimes stays with her and sometimes with me.
My daughter has worked as an assistant on many of my films in different departments -- as an assistant director, in the costume department… Right now, she is producing a film with Arshad Warsi and Saurabh Shukla (Fraud Saiyyan). She has just finished shooting
People know me for my films; nobody knows me beyond that. I make serious films but in real life, I am very different. I am very lively in real life.
I get up at 5am. It is fun to see Mumbai in the morning; the cool breeze is soothing.
I work out for an hour with my trainer, read the newspaper and then get ready for office.
I climb 30 floors every day in seven and a half minutes. I don't walk down stairs because that is bad for your knees.
I eat healthy food. I don't drink alcohol. I finish dinner by 8 pm and go to bed by 10 or 10:30 pm.
I follow the same regimen even when I am shooting. I don't shoot beyond 10:30. My night shift starts at 6 and ends at 10:30. The stars who work with me are always happy.