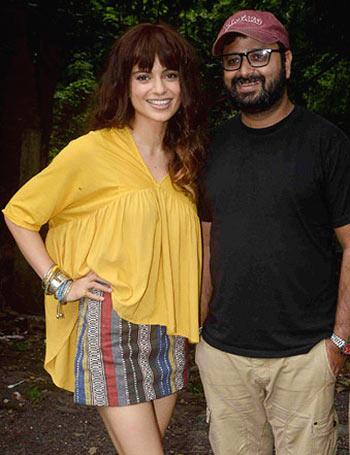 'I don't say no to Salman Khan. He is a very important part of my life. He is my in-case-of-emergency-please-contact person,' Nikhil Advani tells Patcy N/ Rediff.com
Director Nikhil Advani may be releasing two films back-to-back but he hardly looks like a happy man.
In fact, he seemed angry and defensive through the entire length of the interview.
Patcy N/ Rediff.com finds out why.
You have two back-to-back releases, Hero and Katti Batti. Do you think one film may kill the business of the other?
It's not an ideal situation but I have been informed that if my film was not releasing, some other film would definitely release.
I have also been told that one should not be arrogant to think that people would know who the director is. Only people between Bandra and Andheri know who is directing the film (this is the area where members of the film industry largely live).
There are only five directors that people know in this country -- Karan Johar, Sanjay Leela Bhansali, Raju Hirani, Subhash Ghai and Yash Chopra.

When people talk about Hero, they will say, 'woh Salmanwala gaana uss picture mein hain na? woh jaake dekhte hain.' (Let's go and watch the film which has the Salman Khan song) or else they may say 'Usme naye ladka aur ladki hain, woh jaake dekthe hain' (There are newcomers in that movie, let's go and watch it).

When they talk about Katti Batti, they will say, 'Woh Kangana ki nayee picture hain na, jisme susuwala dialogue hain, woh jaake dekte hai.' (Audience will see Katti Batti for Kangana and her dialogue on urinating).
They will not talk about me.

As a director, does that upset you?
No. It makes me very happy because I love to be anonymous.
Ask the waiter if he knows the person sitting in this chair. He wouldn't know.
People don't know (me) and they don't care. They are busy trying to survive in this country.
But if I can make a film, show it to people and get some kind of opinion from them, I would be very happy.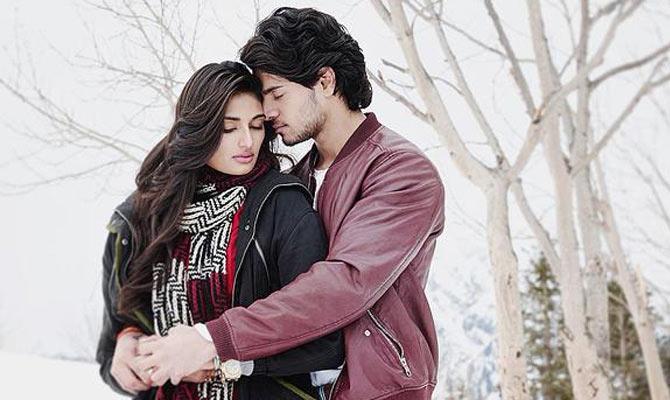 Image: Sooraj Pancholi and Athiya Shetty in Hero

Why did you think of making a remake?
I didn't think of making a remake. I answered a phone call.

You could have said no.

I couldn't. The phone call was from Salman Khan.

So nobody says no to Salman?

I don't know about others but I don't say no to him. He is a very important part of my life. He is my in-case-of-emergency-please-contact person.

Why is that?

Because I am very close to him. He is more than just a friend to me. He was there for me at a time when nobody else was there.

He told me he wanted to make Hero. I asked him if he was starring in it and he said no.
I said okay.
Salman chooses his directors.
He was very clear that he wanted to launch Sooraj (Pancholi) and Athiya (Shetty).
He decided that if somebody were to make a film for them, it had to be Hero. So he called up Subhash Ghai and told him that he wanted to remake Hero.
He told Sooraj that he would make him Hero, and told Athiya that he would make her Radha.

Then he called me and asked me what I was doing. I told him D-Day has just released, so I was relaxing. So he asked me to make a film for him.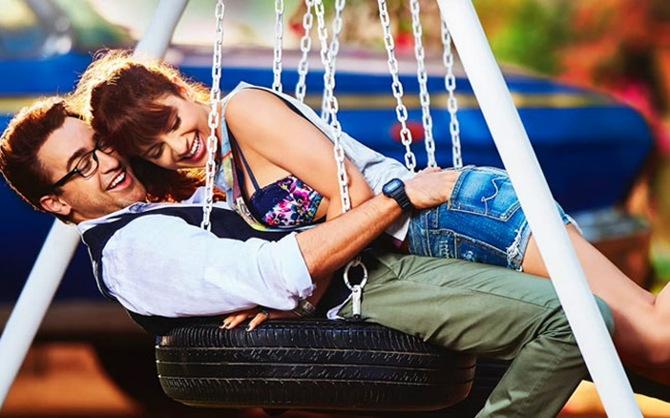 Image: Kangana Ranaut with Imran Khan in Katti Batti
You had stated that one has to put up with star tantrums a lot.
Producers like Yash Raj and Dharma can decide that they will make a certain film with certain people. I have not reached there yet and don't know if I ever will.
Today, I have a small production company that has made four films -- D-Day, Hero, Katti Bhatti and Airlift. We will announce five more in the next two years. So hopefully, we will become a name that people would recognise.

At that point, I would be able to pick up the phone and say that I want to do a film with you, and I want these dates.
But I can't do that now. What I can do now is pick up phone and say that I have a film and would they like to listen to it. If they say yes, I just crossed the first step.
So there are star tantrums?
If there are no tantrums, they are not stars.
And if they are not stars, you will not go and watch them.
Being a star allows them to have tantrums. That's what makes them stars.
So when a star kid acts in a film, does he/ she come with the same kind of attitude?
I don't know. I have launched two star kids so far and they did not have any attitude.
Sooraj and Athiya are aware that they have been given a very special opportunity, that Salman picked them.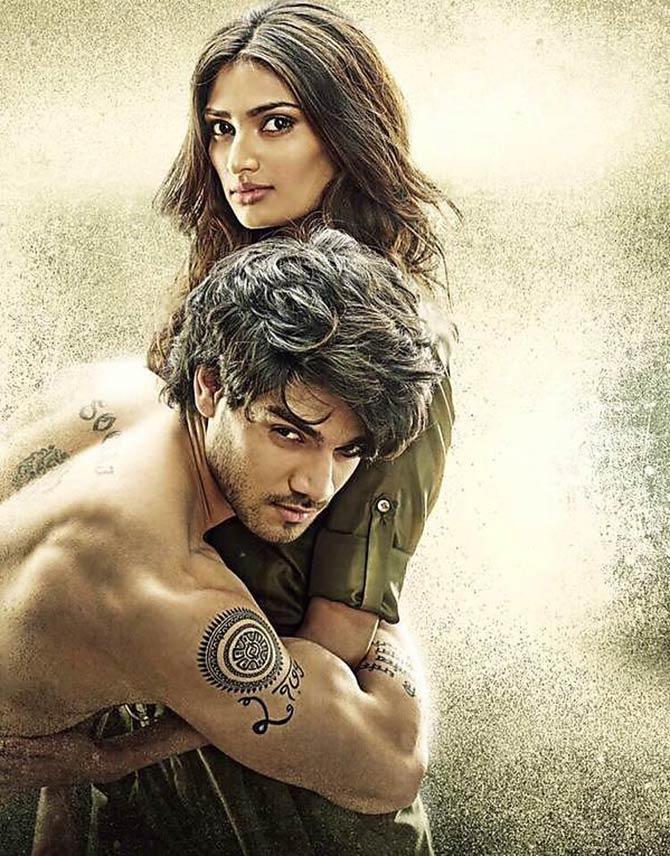 Image: Sooraj Pancholi and Athiya Shetty in Hero

Suniel Shetty said he spoke to you before the film shoot started to tell you Athiya's strong points. What did he tell you exactly?
Athiya has a sense of confidence, which is very unreal.
She doesn't get fazed by difficult scenes or difficult moments -- like performing in front of a Tigmanshu Dhulia. Tigmanshu is a big director but he is also a big actor.
Athiya comes from South Mumbai and she went to an American school. But her diction and Hindi are perfect.
I have worked with people like Kajol, who are spontaneous actors and don't bother about lines. They can pick up anything and just perform.
But then I have also worked with people like Preity Zinta, Anushka Sharma and Kangana Ranaut, who prepare very hard. Athiya is like that.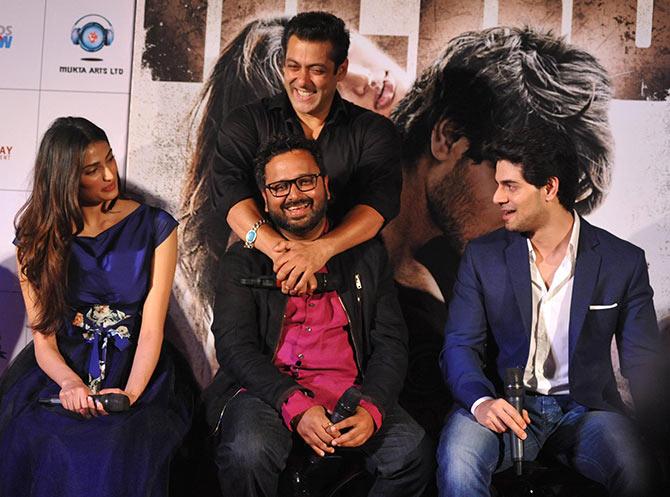 Image: Athiya Shetty, director Nikhil Advani, Salman Khan and Sooraj Pancholi. Photograph: Pradeep Bandekar
You made so many films with your own scripts. How different is remaking a film?

What is different in a remake is that one cannot change anything.
Like you said, I have written so many scripts and made films, one has this arrogance that I can make it better than the earlier film. But you can't make it better.
The reason I finally agreed to make Hero is because today's audience has not watched movies of the 1980s. They are a brand new audience. They think Jackie Shroff is Tiger's father. They don't know the antecedents of Hero. Nostalgia is something that kills a filmmaker. I can never be nostalgic.
I followed Subhash Ghai's script and also Salman Khan, who is so committed to this genre of filmmaking.
People ask me if he interfered in the editing. He did not.
In fact, I asked him to sit during the edit. He cut 30 minutes, asking me why I needed to explain things to the audiences. He told me not to underestimate the audience, they understand everything.
Funnily, when Aamir (Khan) saw Katti Batti he said the same thing.
They are the two pillars of our industry. They stand on opposite sides because of the choice of films they make. But both think the same way. That's why they make Rs 300 crores each.

You've made films before, so why ask Salman to sit in the edit?
I call my cameraman, music directors, lyricists, actors, even my parents, for their opinions.

Rishi Kapoor once told me that Raj Kapoor would show the rushes of his films to the watchman of RK Studios and ask him what he liked it or not. You cannot have an ego because at the end of the day, you are not making a film for yourself. You are making it for people, and expect them to come to theatres and watch the film for three hours.
How did you convince Salman to sing in Hero?

I did not convince him to sing. You cannot convince Salman Khan to do anything. He called me and said he wanted to sing the song.
What kind of producer is Salman Khan? How much freedom does he give you?
The first day collections of Bajrangi Bhaijaan is more than the budget of Hero. So Salman is not bothered about budgets.
He said, "Just go and make it. Don't irritate me. Make it the biggest film that anybody has ever seen."

Three people are really important in your life: Sudhir Mishra, (the late editor) Renu Saluja and Karan Johar. What have you learnt from them?
My filmmaking is dominated by these three people. Every time I decide to say okay to a shot, I think of these people and whether they would okay the shot.

Renu is very key in the way I approach the entire post-production of my films. I have never seen an editor who is concerned about every other department but editing.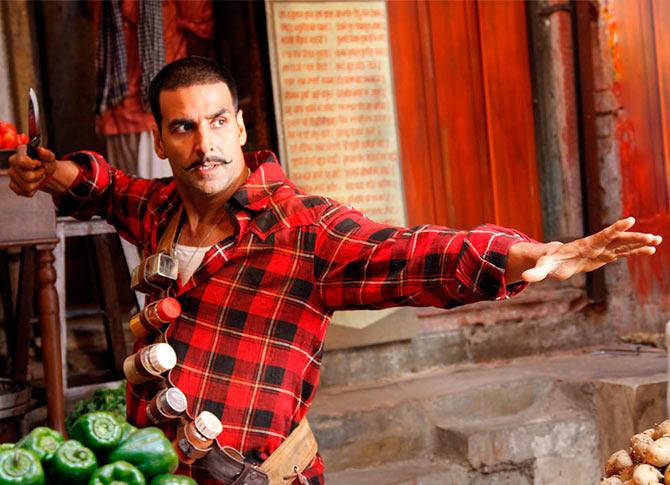 Image: Akshay Kumar in Chandani Chowk To China
You were studying for engineering when you decided to become a director. When you look back, do you regret anything?
I made a film called Chandni Chowk To China, which is possibly my biggest upset. The film, starring Akshay Kumar, is about a bawarchi who becomes a martial arts expert. But how wrong can you go? I don't regret that because that film taught me what never to do again, and that is never allow people to interfere in your creative process.
Akshay was taking it in one direction, I was taking it to another direction. Sridhar (Raghavan, script-writer) and Rohan (Sippy, producer) were taking it to other directions. Warner Brothers was taking it another direction...
I don't regret anything and definitely not leaving engineering. I did that only because my father studied science.
Your film Delhi Safari won a National award.

Delhi Safari is a very special film because I didn't manipulate it at all. It is a very honest film.

The film was delayed, right?
No. It takes several years to make an animation film. Wall-E took 10 years to get made, Finding Nemo took nine years.
Animation takes a long time.
I finished Chandni Chowk To China and Patiala House while I was making Delhi Safari.
What is Airlift about?
Airlift is a based on a true story about 1,70,000 people who were brought back from Kuwait during the Saddam Hussain reign. It's the greatest human evacuation ever.
The film stars Akshay Kumar and Nimrit Kaur. It will release in January.